The Hurry-Up is your nightly dose of updates from the Ohio State football recruiting trail, keeping tabs on the latest from commits and targets from around the country.
"Just show me how. Show me the plan."
When Donovan Edwards saw his first Ohio State spring practice during his sophomore year, he had no clue what he was looking at. Really, he was just there to check things out as his recruitment to play for the Buckeyes had not truly begun picking up steam. 
But Edwards, the No. 3-ranked running back and No. 33-ranked overall player in the 2021 class, is returning to Columbus next week, and he knows exactly what he wants to find out when he becomes the first headlining visitor for Ohio State in March.
This unofficial visit is locked in for Thursday and Friday, and he will be accompanied by Ron Bellamy – his head coach at West Bloomfield (Mich.) High School – and sophomore teammate Dillon Tatum (a rising class of 2022 running back/defensive back whose Ohio State recruitment could see some helium following the visit). 
Edwards has already visited Columbus six times, including two game-day experiences (Tulane in 2018; Michigan State in 2019), but this will be his most crucial Ohio State visit thus far as he begins to narrow down his list of top schools.  
This time around, Edwards and Bellamy have an exact itinerary of what they're looking for and a precise list of questions that they will be asking Tony Alford, Ryan Day, Kevin Wilson and Brian Hartline. The most important question:
"If you sign two backs in this class, if you signed two of the best running backs in the nation, how are you planning on using those two kids together?" Bellamy told Eleven Warriors. "Whether (the coaches) agree with it or not, they have egos. These kids are competitive, and they're warriors. They've been the best and they've been the man in their respective high schools. How do you plan that? Because it's not normal to get two players in the same class like that – two big-time prospects at the same position. They have not gotten that at the running back position. How do you plan on working that?"
Of course, the Buckeyes signed two players at quarterback in 2020 with C.J. Stroud and Jack Miller. That's not the same situation Ohio State is looking at in the 2021 cycle at the running back spot, but it's at least in the same stratosphere because it's still somewhat rare for a non-SEC team to sign two high-caliber backs in the same class. But that has become the Buckeyes' goal out of necessity. 
Alford, whom Bellamy called "an elite recruiter," has formed a strong relationship with Edwards: "I told Coach Bell that's probably the best coach I have a relationship with," Edwards told Eleven Warriors. 
But it's still well-documented that Alford missed out on signing highly touted running backs in the 2019 and 2020 classes, and this cycle has become the most important recruiting class of Alford's career. 
"So now, you can't just sign one back. If you sign just one back, you don't know what will happen with one back. You've gotta get multiple guys," Bellamy said. "That's gonna be a selling point for them, but there are gonna be some schools that negatively recruit for that: 'Everybody knows that they're taking two primary big-time backs in this class, and we're taking one in your class. You're not going to have to share it with anyone.'
"(Ohio State is) gonna have to answer that question. I know why they missed out, but it's just how are they going to coexist in the same class? It's a little challenging."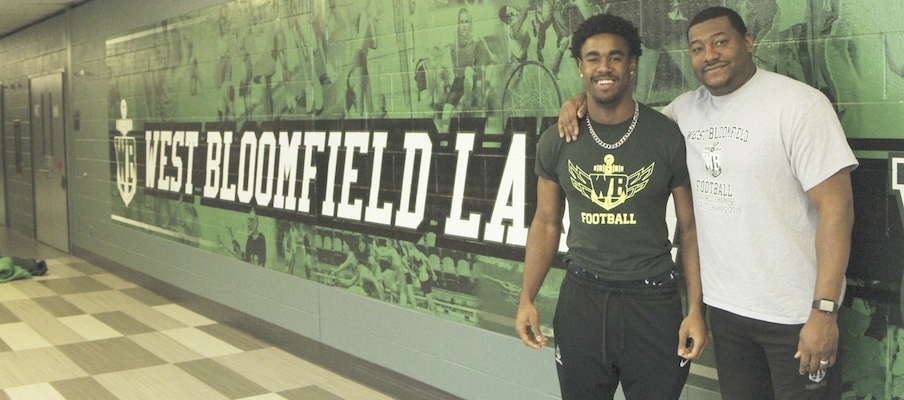 Edwards is bullish on the fact that he is completely OK with the Buckeyes signing two running backs and using a two-back system. He's not afraid of competition, and he works in a two-back system at West Bloomfield with Tatum. 
What makes Edwards a perfect target for the Buckeyes' attempts for a two-back class is that he is a complete back who could even be used as a slot receiver and out wide, which is the role he envisions for himself wherever he goes to college. He won't have to leave the field on third down, and he can be utilized all over the field.
Edwards says he has no problem with being one of two backs in a class, one of two backs to be used in a continuous rotation, or even being one of two on the field at the same time. He just wants to see the blueprint up close, and that starts this coming week at the Woody Hayes Athletic Center.
"Just show me how. Show me the plan," said Edwards, who will be shadowing Alford and Hartline during Friday's practice, seeing how each coaches their respective position group, and that will be his strategy going forward during each of his spring and summer visits – trail both the running backs coach and receivers coach. 
One of the most intriguing aspects that Edwards and Bellamy want to see is how a two-back system would work with the 2020 receivers haul the Buckeyes just brought in. If Edwards is to be used in the slot or out wide and a second running back is brought onto the field to line up next to Stroud or Miller, that means one of those receivers or a tight end will be shuffled off the field. Really, there are a number of possibilities, especially with Day's offensive mind in charge of it all. 
"I want to get on the board and see your schemes and see how are you going to use this? And how are you going to make this happen?" Bellamy said. "And they understand that. Coach Day knows. I love coach Day. He's an awesome guy. I've known coach Day for a while now, and I'm gonna come direct.
"He's gonna sit in there, and he's gonna have a plan. He's gonna answer the question. He's a smart guy, and he's an intelligent guy. He's a brilliant offensive-minded guy, and Kevin Wilson is a brilliant offensive-minded guy and so is Brian and so is Tony. They have a lot of smart guys in that room, and they would know how to answer that question."
Again, what makes Edwards a potentially perfect fit – assuming the Buckeye staff has a detailed plan that the running back and his coach both are on board with – is that he has no qualms about being one of two running backs, and his style of play of being a pass-catching running back is a good fit as well. 
Other questions to answer
A second question Edwards and Bellamy will have is how Edwards fits in culturally in the city of Columbus, where Edwards says the people made him feel welcome during his previous visits. 
Also, Edwards will be a mid-year enrollee once he signs with a program, and they will want to know what the academic plan is for graduation.
"The way I'm looking at it is if you're a top-five or top-10 back in the nation, the chances are you have a great opportunity to leave in three years, but I don't want him to leave college without his diploma. He needs to have his degree," Bellamy said.
Another key meeting will be with Mickey Marotti, as Edwards and Bellamy get more answers to how he will be developed in the weight room and nutritionally.
"From a developmental standpoint, I mean the proof is (there)," Bellamy said. "All the guys at the combine and the numbers that coach Marotti's put up. But it's just making sure he's staying developed. The strength and conditioning guy spends more time with players than the coaches do."
Crystal Ball prediction
When meeting with Edwards on Wednesday afternoon in West Bloomfield, just about 48 hours beforehand a pair of 247Sports Crystal Ball predictions – from Steve Wiltfong and Allen Trieu – had been made in favor of Edwards committing to Ohio State instead of his hometown Michigan, a campus just 45 minutes from his high school. 
Edwards knew he would be asked about that, and he simply shook his head. 
"It's just predictions, in my eyes. Anybody can predict where I'm gonna go, but at the end of the day it's on me," Edwards said. "I have no clue (where that prediction came from). That's on them.
"The Crystal Balls and stuff like that, it does not matter to me. They don't know where I'm going. They don't know what's going on in my head."
So what have the last few days been like for Edwards after that prediction dropped?
"On Twitter and Instagram, everybody's like, 'We gotta get this kid at Michigan. People in Ohio State saying Ohio State's the better option because they beat Michigan most of the time," Edwards said. "It's kind of annoying, but at the same time, I don't even buy into it."
Smartly, Edwards has his social media notifications on mute so that he doesn't see peoples' responses as often. 
Pryor, Edwards form relationship
One of Edwards' biggest recent visits was his unofficial trip to Athens, Georgia, where a somewhat famous picture – at least famous if you follow recruiting closely – made the rounds on social media of him and Evan Pryor, the nation's No. 5-ranked running back in 2021 who is another of Georgia and Ohio State's top targets at the position.
Edwards and Pryor did not know they would both be visiting Georgia that weekend, but the two began forming a relationship that weekend, with their respective recruitments a topic that went undiscussed.
Your teams worst nightmare ! @DEdwards__ #GoDawgs @DellMcGee pic.twitter.com/mtgNZU3ARQ

— Evan Pryor (@evanpryor3) February 2, 2020
Pryor plans on visiting Ohio State this spring – Edwards said he's unsure if Pryor will be visiting this coming week or not – and an April commitment is his preliminary plan. Pryor's commitment could end up becoming one of the first key dominoes to fall in Ohio State's running back recruiting, and it could have an affect on Edwards – possibly in a good way for Ohio State fans. Or Georgia fans. 
"It could be because me and him could do numbers together," Edwards said. "Another dude's decision won't affect mine. If it's a school that I really like and he's going there too, we could win a national championship."
What follows Ohio State visit
This will be Edwards' first visit to a school following the February dead period. What makes that most noteworthy is that Edwards and Bellamy – who is essentially serving as the point guard in Edwards' recruitment – allowed Ohio State to pick the date of when Edwards would visit. 
The Buckeyes chose the earliest date possible, and their plan is to convince Edwards to get back to campus at the end of April, too, so that they can make the first impression and last impression after he's taken a number of unofficial visits to other schools in March and April.
Right now, Edwards has not set up any official visits and has no commitment timeline, but a trimmed list of seven or 10 schools should be expected near the end of March with a top-five list coming in May. 
They plan on visiting Notre Dame again on March 20 and Florida soon after, or soon before, with a Michigan visit on March 30. Other than that, things get fuzzier. Not missing time at school is a priority, and track season begins on March 9 – Bellamy is the program's head coach, and Edwards runs four sprinting events (100, 200, 4x100 relay and 4x200 relay). 
"The Crystal Balls and stuff like that, it does not matter to me. They don't know where I'm going. They don't know what's going on in my head."– 2021 Ohio State RB Target Donovan Edwards
Despite Crystal Ball predictions, Edwards and Bellamy both say that the star running back has no clue where he's going at this point. New teams continue jumping in the mix, seemingly every day, and Edwards' interest continues to spread out across the nation, as Ohio State, Michigan, Alabama and Georgia remain key programs here, while Florida, LSU, Oklahoma, Texas, USC and Oregon have each come on strong. 
Edwards is planning on taking visits to as many of those programs as he can before narrowing things down. 
Of course, Edwards' relationships with his next position coach is going to be crucial in that narrowing of his list. 
"I need somebody that's in my corner," Edwards said. "Coach Bell is always in my corner. No questions asked. That's what I need, in my opinion. Someone that's gonna be in my corner for me throughout thick and thin. If I make a good or bad decision, someone who's gonna tell me if I'm right or wrong."
That's another reason why this coming week's visit to Ohio State is a crucial step going forward, as are his next several visits.
"We've gotta kick it up a notch," Edwards said. "It's getting to a time where it's almost over with, and I'm gonna be narrowing it down. So it's gonna have to be all or nothing."