MONROEVILLE, Pa. – Derrick Davis Jr. is not fazed by what can feel like, at many times, the overwhelming recruiting process. He doesn't talk about the process much, either.
When sitting down with him in the office of athletic director/head coach Don Holl at Gateway (Pa.) High School, it's clear to see why. Davis just isn't that talkative to begin with. 
"Hardly at all," Holl says, answering a question of how often the two discuss relationships with college coaches, trimmed lists or commitment timelines.
It's not as if the two don't have a good relationship or that they don't talk about it all. It's just the way Davis is wired. He just simply doesn't talk about the recruiting process that much. He'll wear a shirt with a college logo that he bought on a recruiting visit to that school, but that's about it. 
"He sees me (playing) at safety, and he just sees me as – his favorite line is 'first round and national champion.' He sees me there winning a national championship and leaving Ohio State in the first round."– Derrick Davis Jr. on Kerry Coombs
"I don't wanna speak for him, but you do see a lot of guys really kind of wear it like a burden. They're stressed about it. They're worried about it all the time," Holl told Eleven Warriors. 
"And, I don't know, have we had five conversations about who's leading?" Holl asks Davis, who sits across from him, wearing a camouflage hoodie – seen but not heard. "Have we even had one conversation about it? It's just not something where he's really burdened by it.
"I'm just talking about the idea that some guys really let it consume them and really worry about it a lot and lose focus on just being a kid and doing what they do. That's never been the case with him."
Davis is obviously taking this process seriously, but he keeps everything close to the chest and in-house. However, during nearly two hours spent with Davis and Holl this week, Davis took Eleven Warriors behind the scenes of his latest unofficial visit to Ohio State, which came at the end of the most recent contact period. 
"He was fresh off the plane"
On Feb. 1, Davis and his father – an Ohio native and former junior college quarterback/safety – made the 3-hour drive east to Columbus for a brief one-day trip that had been planned since the first week of January. Since they were on a tight schedule, the two were unable to stay long and only visited for a few hours on that Saturday. 
The most critical aspect of the visit came when Davis met Kerry Coombs for the first time. It was their first conversation, whether in-person or over the phone.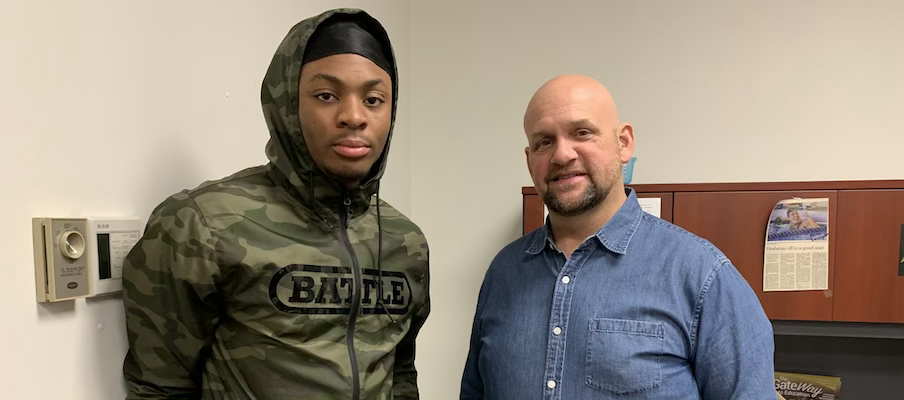 Coombs flew in from Tennessee that day, returning from a trip that included stopping in to see Ensworth (Tenn.) High School cornerback Andre Turrentine of Nashville. When Coombs and Davis met, the two gained an immediate respect and took a liking to each other. Especially when Coombs began detailing the high expectations he has for Davis, the nation's No. 2-ranked safety and No. 44-ranked overall player – one who will have a strong shot at becoming a composite five-star prospect by the time his career at Gateway ends. 
"He was coming from Tennessee. He was fresh off his plane," Davis told Eleven Warriors. "He heard that I was at the facility and came in. We talked, and (he had) great energy, really. He just sees great things happening for me.
"He sees me (playing) at safety, and he just sees me as – his favorite line is 'first round and national champion.' He sees me there winning a national championship and leaving Ohio State in the first round. He sees that from all his players, though. He expects that from all his players. Him being in the league, he knows what he's talking about."
When hearing that your potential future position coach has that high of a standard for you, when the only things he knows about you is your highlight film and word-of-mouth details, it has an impact on a person as competitive as Davis.
"It just sets the bar real high," Davis said. "Now, in your head it's like the grind really doesn't stop. It's the first round. You're thinking, 'Hey, I'm thinking first round, and I wanna be just like any other guy that's thinking they wanna get drafted first round.' You've just gotta think the same way."
As for how Coombs is going to develop Davis into that first-round pick after three or four years, the key is in the fundamentals and the in-house talent level he would be facing throughout his career, being pitted against the best receivers class Ohio State has ever signed. 
Because of the tight schedule, Davis says he didn't get to talk to Coombs a lot, but Coombs did take the time to mention that foursome of Julian Fleming, Jaxon Smith-Njigba, Gee Scott Jr. and Mookie Cooper.
"Just really working on getting great footwork and just competing in practices. Competing against the great guys," Davis said. "You talk about a receiver group that's just out of this world. Just compete, compete, compete. You're talking about the top guys in the nation and being the No. 1 recruiting class (at receiver). That's just going to work every single day. Every single day you're just gonna compete."
Barnes details plan in film room, Days talks life after football
Prior to the meeting with Coombs, Davis was able to meet with assistant secondary coach Matt Barnes, who has been the top coach recruiting Davis and who speaks with Davis every day. Before Davis later went on a campus tour, Barnes took Davis into the film room for a one-on-one position meeting, showing him game film from the Buckeyes' 2019 games against Clemson and Wisconsin. 
"We talked about where he sees me playing on the defense, how to play certain plays in their playbook (and) how to play the different positions," Davis said. "One-high safety (and) playing the bullet (is where they see me). We got to see how the bullet plays on their defense and seeing how the high safety plays, how he gets off the hash, what drops to take."
Did it give you a clearer picture of where Ohio State sees you fitting into the program?
"Yeah. it definitely did. It just showed what type of interest they have in me," Davis said. "Coach Barnes was telling me you could definitely start as a safety because playing the bullet position is a very important position to play, and not everybody can play it. Him letting me know that, it just meant a lot."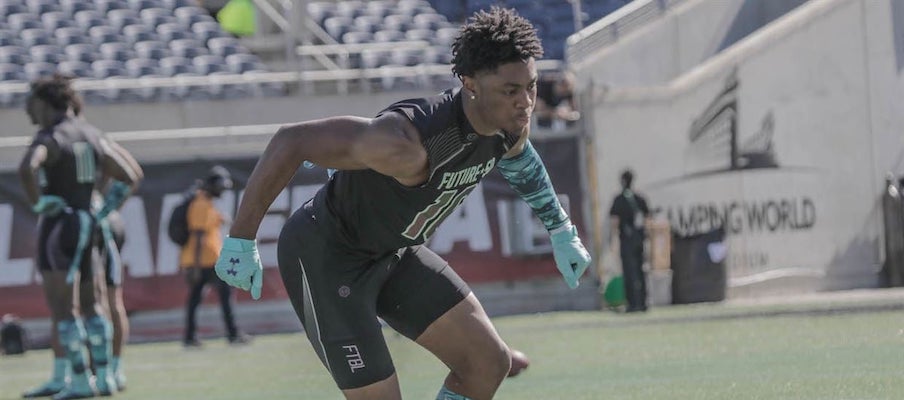 In 2019, the Buckeyes ran a base defense that used a single-high safety. They are likely to run more two-deep looks this upcoming season because of personnel, but a one-safety look is what the program is hoping to maintain in the future, especially with signees like Lathan Ransom in the 2020 class and if they can get a player with the talent and versatility of Davis – whom Holl says "can play safety, line up in the slot or outside, at outside 'backer."
"Ohio State's not gonna have any defensive ends who are 6-1, but for us, he could go down at defensive end and be one of the best defensive ends in our league," Holl said.
An offense's goal is obviously to create bad matchups for a defense in at least one position on the field – a tight end on a non-physical cornerback; a running back on a linebacker he can fly by, for example. Holl says those sort of mismatches don't exist with Davis, which is part of what makes him so special, such a highly sought-after prospect and one who could define what the Buckeyes want out of the bullet position.
"Their offense is in 2nd-and-12; now it's 3rd-and-7, and the offense is running hurry-up. You wanna get your nickel guys in, but you can't," Holl said. "Doesn't matter with Derrick in there. He can guard whoever. He can be physical enough to play against bigger receivers, and he's fast enough and has the movement to go up against running backs."
Davis is also a star running back – blending that incredible athleticism and speed that he says is now down to 4.49 seconds in the 40 – and says that Nick Saban has actually told him that's where Alabama sees him fitting in best. Notre Dame, Oklahoma and LSU have each told Davis he could play on both sides of the ball. Ohio State, Penn State and Clemson each see him playing exclusively on defense. 
Safety is the position where Davis is most comfortable and most wanting to play at the next level. 
"The Mike linebacker's the quarterback of the defense, but the safety's also the quarterback," Davis said. "You're the last line of defense so you've just gotta hold your own really. You can't be back there shy, either. You've gotta be vocal, and that's one thing about myself is I'm very vocal on defense."
Davis was one of just three players to make that Columbus visit to kick off February, in addition to Jack Sawyer and Mike Hall, but he was unable to meet either Sawyer or Hall because of Davis' condensed schedule. Ryan Day's strategy of more personal, relationship-building weekends was a success, however, as Davis and Day were able to have more of an in-depth conversation.
"It wasn't about football. We didn't talk about football until the end, really, and it was only for a couple minutes," Davis said. "We just talked about life after football. Just helping the player out mentally and physically; what Ohio State does for its players to achieve later on in life, health-wise, and mentally. They talk about mental health a lot. He's big on mental health. 
"He didn't share anything personal (with me). It was just a regular conversation about it."
Separation at the top, what lies ahead
Even though there are Gateway connections to Ohio State and Penn State, that probably won't be enough on their own. 
Former Buckeyes Corey Brown and Dorian Bell played their high school ball at Gateway, and Terry Smith, who serves as Penn State's assistant head coach, defensive recruiting coordinator and cornerbacks coach, was a neighbor of Davis when Smith used to be the head coach at Gateway and has a strong relationship with Davis. 
"He's got a lot of love and respect for (Smith), and it's mutual. But I still don't know if that's enough," Holl said. "I wouldn't wanna say that out of deference to Terry, but I don't know if it's a huge factor. I know people try to fill in blanks and try to guess, and you could make a pretty good case that that could be tough to beat. I think it's important, but they all have different things that make those places attractive."
And although there are some programs seemingly emerging if you read between the lines and the tea leaves, there is a long way to go before anything is set in stone.
Other than an April 6 unofficial visit to Clemson, Davis doesn't have much planned, and he says he will probably make a return trip to Ohio State during the spring for another unofficial "since it's a pretty easy drive."
Davis doesn't have a commitment timeline, either, and he doesn't even plan on having a top-five list announced any time soon. He just knows he'll want the trimmed list done before the start of his senior season "just to shake some of the weight off and focus on the football team and school," and it's most likely he won't have committed until after his senior season. 
Davis doesn't have his official visits lined up, either, as he has to wait until after taking his SAT to set those up. (His mother, Venneasha, is a middle school teacher, and academics will always be a focus for Davis and his family.)
Whenever he does take officials and whenever he does trim his list, it's a pretty solid, safe bet that Ohio State, Penn State and Clemson will be three of those programs to find its way into the final consideration for Davis – even if Davis hasn't narrowed it down in his heart, head or on paper. 
If it ends up being the Buckeyes, Davis would be following the Pennsylvania-to-Ohio State route that Julian Fleming, Marvin Harrison Jr. and Kyle McCord are taking, with McCord running point on the recruit-to-recruit pitch.
"Kyle McCord, out in Philly, I was down with him at the Future 50. He was just telling me to commit, commit, commit," Davis said. "Marvin don't talk a lot. It's more Kyle. He's in my ear all the time. Every time we see each other. Him and his dad. They just want the pipeline to continue, really."