The Hurry-Up is your nightly dose of updates from the Ohio State football recruiting trail, keeping tabs on the latest from commits and targets from around the country.
Brown "a great leader," visit not likely until summer
As Ohio State's pursuit of signing two running backs in the 2021 class continues, so too does us touching base with some of the best the upcoming cycle has to offer at the position.
Our latest whom we have an update on is Parkview (Ga.) High School four-star prospect Cody Brown, a 6-foot, 210-pound junior ranked No. 121 overall, No. 9 at RB and No. 10 in Georgia. 
Brown is not one of the names you may hear about often, and he's not someone we've discussed at length here. He may not be Ohio State's No. 1 target at the position, with guys like Donovan Edwards, Evan Pryor and TreVeyon Henderson laying claim to that crown, but he's absolutely a player to track over the next several weeks. Brown is a bruiser and would be a tremendous get for the Buckeyes.
"Cody is one of their top RB's and would love to get him," Parkview head coach Eric Godfree told Eleven Warriors, adding that Ohio State has told Godfree and Brown of the program's intention to sign two running backs. That isn't expected to sway Brown's decision. 
"He's an incredible person," Godfree said of Brown. "He's a great leader for us on and off the field. He serves at our local park. Very well-rounded kid. And, of course, he's a great RB with size and speed."
Brown speaks with the Ohio State coaching staff "almost once a day when allowed," Godfree says. "They communicate with Cody very often. They visited a few times over the open period."
Tony Alford is, of course, the Buckeye coach who communicates with Brown the most, but both Al Washington and Kerry Coombs visited in January, as each does extensive work recruiting in Georgia. 
"Those guys always do a great job when they come through here," Godfree said. "It was my first time meeting Kerry, and I really enjoyed it. He's done it all with high school, college and pro. I've met Al before, and he's one of my favorites too."
Ohio State, Auburn, Florida, Florida State, Georgia, Kentucky, LSU and Penn State are among the 15 offers that Brown has right now, and he has done a good job of building relationships with coaches from each program. 
"Cody does a great job communicating with people and building relationships so really, he has a good relationship with them all," Godfree said. "He does know the Ohio State coaches well."
Brown, who rushed for 1,676 yards and 21 touchdowns on 214 carries in 12 games last season, is also a track star at Parkview, excelling in sprints, shot put and discus – an impressive blend of events that epitomize what he brings to the table on the football field. Last year, Brown clocked times of 11.68 in the 100 meters and 24.34 in the 200 meters. This spring, he has marks of 42 feet, 10.5 inches in the shot put and 143 feet, 5 inches in the discus.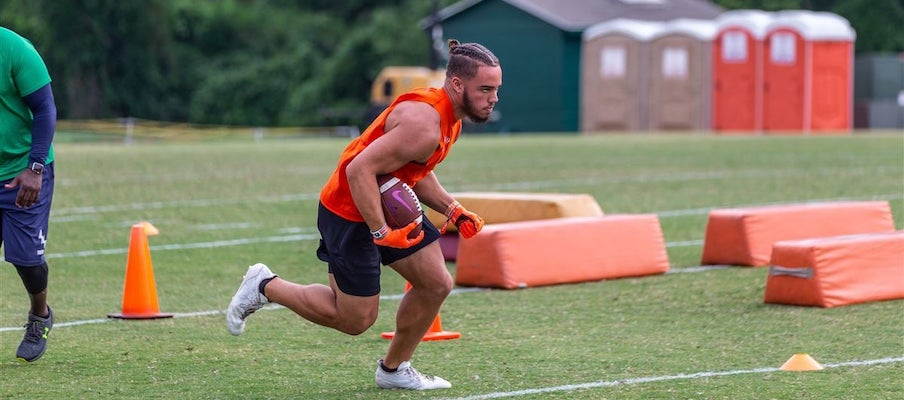 With track season in full bloom right now, though, Brown has been busy, and Godfree expects Brown to visit Ohio State but believes that visit will not happen until the summer. That would be Brown's first visit since coming to Columbus in November.
The Buckeyes' running back recruiting will most likely not be wrapped up until at least midway through the summer, though, so Brown should have some time to check out campus, even if Ohio State has at least one running back committed depending on Evan Pryor's decision. 
Other top RBs
Here are some of the other main running backs whom the Buckeyes are focused in on the most in the 2021 class (not in order):