The Hurry Up is your nightly dose of updates from the Ohio State football recruiting trail, keeping tabs on the latest from commits and targets from around the country.
Hart has strong perspective on potential coaching changes
The Buckeyes' on-field dominance and lights-out success on the recruiting trail is going to lead to job offers for their assistants. Whether any of them – Jeff Hafley, Tony Alford, Brian Hartline, Kevin Wilson or any others – entertain those offers or end up jumping at them is to be determined, obviously. 
But there will be choices to be made at the end of the season, and any departures could affect recruiting, as the relationships built up by these coaches is one of the prime reasons for many of them to be interested in Ohio State in the first place. For as historic and successful a national brand as Ohio State is, the relationships with coaches is still, more often than not, the No. 1 factor in future Buckeyes' decision-making process. 
Sam Hart, a 6-foot-5, 225-pound 2021 tight end ranked in the top 15 nationally at the position and the No. 4 junior prospect in Colorado, has his own perspective on the potential revolving door of coaching changes at a given program, whether it's Ohio State, Notre Dame, LSU or USC (his current top four).
"(Those relationships are) still a big part (in my recruitment)," Hart told Eleven Warriors on Monday, two days after his visit to Columbus for the Penn State game. "Coach Alford and coach Wilson have been a huge part, and I really like them. They've been my favorite coaches to talk to, and they've shown a lot of interest. But I understand that (they could make a change). I had two older brothers that played Division I football, and my dad played Division I football."
Hart's father was a center at Minnesota, his oldest brother was a tight end for the Golden Gophers, and his middle brother currently plays middle linebacker at New Mexico. 
"(Relationships with coaches) is a pretty big part, but I understand things can change super quick and coaches leave a lot for new jobs that are available," Hart said. "I know that with Ohio State, I really like coach Alford and coach Wilson. They've been really great to me. But I know it's a great program, and they'll get great coaches either way if they do leave."
It's good to know that Hart has that perspective in mind. But that remains a "What if?" scenario currently. For the time being, Hart and Alford will continue speaking frequently, a.k.a. All the time.
Alford sends him a good morning text around 5 a.m. every morning, and they'll have great conversations throughout the week. Wilson and Day are also typical names to pop up in Hart's phone weekly, as Hart continues to build relationships with the Buckeye coaches that began when Justin Jajczyk – Hart's assistant head coach/offensive coordinator at Cherokee Trail High School in Aurora, Colorado – helped put Hart on their radar. 
Jajczyk is a native of Canton, Ohio, and he helped get Alford and Ohio State offensive line coach Greg Studrawa out to Cherokee Trail last spring to start building a relationship with Hart. It was Jajczyk who recommended Roosters to Hart and his mother as a place to go eat during Hart's visit this weekend, telling Hart "They have the best wings I've ever had." And Hart said – and I'm sure you guys would totally agree that this is of utmost importance – that he agreed the wings were "pretty good."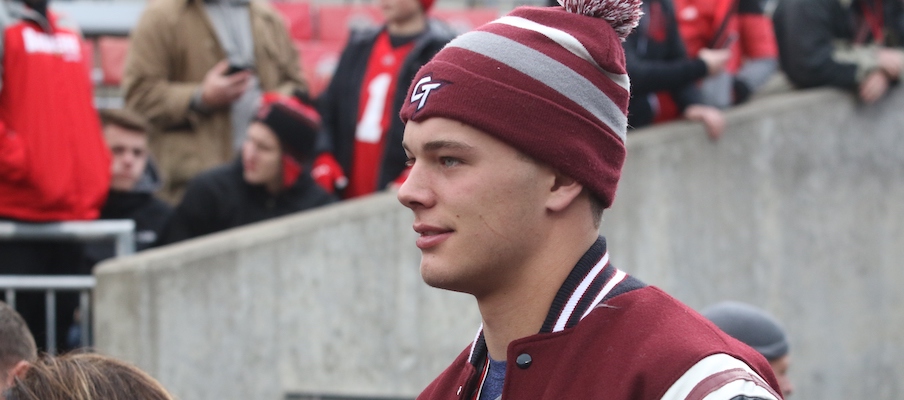 Between landing in Columbus Friday night and that Saturday night trip to Roosters, Hart met with Wilson and sat in on a tight ends meeting after the game, meeting the likes of Jeremy Ruckert, Luke Farrell and other Buckeyes at the position. He came away with some incredibly positive vibes.
"I met a few of the tight ends, and they seem like awesome people off the field, and I really like that," Hart said.
Hart grew up in Minnesota before moving to Colorado five years ago when his dad got a job out there. He hasn't built up a relationship with P.J. Fleck or any other staffers so, despite it being his dad's alma mater, that program is unlikely to be an option. But his time in the Gopher State did make him a Vikings fan through-and-through, which makes him a big Kyle Rudolph fan. 
Hart won't be utilized in the same fashion as Rudolph, or probably even close to it, if he comes to Ohio State. He's not going to be racking up double-digit targets in Big Ten games, but Day's usage of Hart's position still caught his eye in the Penn State showdown.
"Almost every play, they had at least one tight end in and a lot of plays, they had two tight ends," Hart said. "I think their tight ends had one or two catches on Saturday, which, I mean, that's all right. I would like to get more, but that's OK because they're tight ends. You're not gonna expect them to get 10 catches a game.
"I think they could build me as an all-around tight end because they'll do a lot of blocking, and they'll get you the ball. I'd be very versatile, and they'll build you off the field too, as a great person."
Hart loved Wilson's constructive criticism approach as well, adding to a positive overall vibe this weekend on his second visit – Hart visited briefly in the summer – that put the Buckeyes in his "top one or two."
Wilson told Hart the Buckeyes are looking to get two tight ends in the 2021 class, and he is looking for an all-around tight end – not just a receiving tight end. Hart had a strong inclination that was the case, so looking for a second tight end is not a deterrent, and neither is location. 
He loves the Colorado scenery and the fact there's always something to do on the weekends – like going hiking, fishing or skiing in the mountains. But Hart is moving closer to a commitment (one that will likely come this spring or earlier), and he wants to get a new life experience elsewhere.
"I think I kinda wanna venture out a little bit because I know my parents will always live here – for the rest of their lives, probably – and I'll always have a spot back here," Hart said. "And I might move back after college, but I don't know. Just seeing a different part of the United States, that'd be pretty cool."
Dingle another top TE option
Look, I get it. You've got to be tired of the tight end discussions. It's an aggravating conversation that happens every year – Why doesn't Ohio State use their tight ends in the passing game more? That debate and conversation is going to keep happening until that finally, actually happens. 
But Day still needs tight ends to run his offense efficiently, and that means he needs guys who can sacrifice some pass-catching glory to become effective blockers. After getting only one in 2020 (Joe Royer), they are looking to snag two in the 2021 class, with Jordan Dingle and Christian Burkhalter being two additional options. 
Royer, Hart, Dingle and Burkhalter were all on campus over the weekend, able to get a better glimpse of how they might be used in the Buckeyes' system and how the program may be a fit for them.
"I did get to talk with some of the tight ends and just see their point of view of Ohio State and everything," Dingle told Eleven Warriors. "The main one I talked to was Cormontae Hamilton. He's an old friend of mine, and he was just saying that he loves the place and loves coach Wilson, and he thinks they have a lot to offer. He said Coach and them will always take care of you."
Dingle drove up Saturday morning from Bowling Green, Ky., a five-hour drive for the 6-foot-4, 230-pound four-star tight end, for his third visit to Ohio Stadium, where he was again taken aback by one of the loudest game day environments he's been to. While there, he looked around the stadium, taking in the scene.
"When I see the stadium and everything, I look around, and I try to see if it's a fit for me and my family," Dingle said. "It can be a fit for me. They do have things I like and everything, but I'm still just keeping my options open. They're very high on my list. I'm very interested in them."
Dingle's decision likely isn't to come until late next summer or the beginning of next football season as he wants to "be certain of where I'm going and leave no doubts about the place I wanna be for the next four years."
Had a good time in Columbus today! @OhioStateFB @OSUCoachKDub @ryandaytime @CoachSpader @J3M7v7 pic.twitter.com/JxozRkFqKp

— Jordan Dingle (@jordandingle21) November 23, 2019
That could be Kentucky, Louisville, South Carolina or Ohio State, where he's built a relationship with Wilson that has continued to grow with time, ever since they first spoke at a camp last summer that was proceeded by an offer.
"We've become closer and closer," Dingle said. "I just have a good relationship with him, and we've gotten to know each other. I feel comfortable with him. He loved my drive and my effort, the way I played and the things I was able to do up there (at the camp)."
Burkhalter has IMG connections
Burkhalter, a 6-foot-5, 230-pound junior from Spanish Fort (Ala.) High School, also camped with the Buckeyes this summer, hauling in passes slung to him by Day, and Day then tried putting the clamps down on him in one-on-one coverage drills. 
On Saturday – despite a delayed flight that had Burkhalter walking into the stadium on Penn State's first possession – he reunited with Day in the locker room after the game and then reunited with an old friend, JC Latham, who is a highly prized Ohio State target.
Latham and Burkhalter were teammates at IMG Academy last spring before Burkhalter eventually transferred back home for family reasons.
"JC was cool," Burkhalter told Eleven Warriors. "He was really good friends with my roommates so I started becoming friends with him. He's a really good player. I asked him, 'Are you thinking about committing here?' He said 'Yeah, I put 'em in my top 10.'"
Burkhalter is listed as an athlete but is the 20th-ranked tight end in the 2021 class by 247Sports' rankings and a top-20 Alabama overall recruit. It was during his brief time at IMG that helped him develop into a coveted recruit at tight end.
"Down there, I was by myself at IMG while my family stayed up here in Alabama," Burkhalter said. "Going down to IMG and playing tight end, I was starting there, and I would've ended up starting again this season as the only tight end they have. Going down there and just working out with coach Josiah (Sears), he's really good. He knows football, and he was helping me get in the right positions. Playing against good defenses and going to all these camps, I've been growing a lot. My footwork is getting better."
As for Burkhalter's trip this past weekend, it opened his eyes a bit to what Ohio State could offer, and it was enough to cement the Buckeyes in his top four, right up there with Virginia, Missouri and Ole Miss, among others. 
He hasn't officially cut down his list, and he hasn't given much thought to a commitment anywhere. He's going to wait until after making a run at the state championship – which will be played at Auburn's Jordan-Hare Stadium this year and Alabama's Bryant-Denny Stadium next season – but when he does make a decision, it will come down to relationships and comfortability.
"I'm just trying to find a place that fits me, not necessarily the best team," Burkhalter said. "Ohio State's definitely the best team out there to offer me, but at the end of the day, you've gotta go somewhere that feels like home and all that good stuff. It's really gotta be a home feeling. It's gotta be somewhere my parents can get to easily. I would like to live in a cool location. That's gonna play a big factor. And just a really good university, somewhere that has really good academics and has something I wanna study.
"The coaching staff can change, but the coaches I need to feel comfortable with and a great fan base."