High school prospects across the country are eager to get onto the field, and that time is creeping into focus as each August day passes. Most 2020 prospects still have something to prove as they exit their high school careers, and Ohio State commits are no exception. 
This is what's at stake for each Ohio State defensive commitment in 2019.
Clark Phillips
Opposing teams did their best to eliminate the Clark Phillips Effect in 2018 by just avoiding his side of the field altogether. Phillips was one of the most feared cornerbacks in the country, and he was only able to tally 18 tackles, two interceptions and 10 pass deflections. The previous season, Phillips earned seven interceptions and 15 pass deflections in three fewer games. To utilize his talents in the best way possible, Phillips' coaches incorporated him at wide receiver, where he caught 54 receptions for 1,210 yards and 19 touchdowns. It will be interesting to see how teams work to avoid him in 2019.
First Game: vs. Redlands East Valley, Aug. 30
Game to Watch: at Calabasas, Sept. 13
Even though Calabasas beat La Habra, 43-27, in 2018, it's still  a game to watch because Phillips will be matched up against No. 6 2020 wide receiver and Oregon commit Johnny Wilson, who is 6-foot-6, 224 pounds and will be a good test to see how Phillips handles tall, physical wideouts.
Final ride pic.twitter.com/ygBGk3oQne

— Clark Phillips III (@ClarkPhillips28) July 24, 2019
Darrion Henry
Last season did not end the way one would expect a season to finish for a team with Darrion Henry and Jaheim Thomas on the same side of the ball, but with the addition of Paris Johnson Jr. on its own offensive line, Princeton might be able to add some pressure to opposing offenses, leaving them open to Henry and Thomas. Henry continues to grow and become healthier after having some nagging injuries last season. He should be poised for the best season of his high school career in 2019. 
First Game: at Milford, Aug, 30
Game to Watch: vs. Fairfield, Oct. 11
Against Fairfield, Princeton will play against the toughest weapon it'll face all season – Kentucky all-purpose back commit and former Ohio State target JuTahn McClain. McClain's skillset will require players like Henry and Thomas to step up, so Princeton's defensive success in this game will ride heavily on them.
Lathan Ransom
Lathan Ransom makes big plays, and he always has. He made five interceptions as a sophomore and added six as a junior. He can do nearly anything on the field, as he also takes returns and catches passes on offense. Salpointe Catholic will need that from Ransom again, as well as a good performance by his five-star teammate Bijan Robinson if it wants to win the state title that it lost to Saguaro in 2018.
First Game: vs. Dobson, Aug. 30
Game to Watch: at Sahuaro, Oct. 4
That's right – it's Sahuaro, not Saguaro. Salpointe Catholic isn't scheduled to play Saguaro, but it met Sahuaro twice last season and won both times. Sahuaro went 10-3 last season and met Salpointe Catholic late in the postseason. It will be Salpointe's biggest hurdle to get where it wants to be in 2019.
Cody Simon 
New Jersey linebacker Cody Simon put up some gaudy numbers in 2018 during his breakout season, with 89 tackles, 13.5 tackles for loss, 4.5 sacks, an interception that he returned for a touchdown, four pass deflections, two fumble recoveries and a forced fumble. He's a force in the middle of the field for the St. Peter's Prep defense and could put together an even better stat sheet in 2019 as he continues to develop into a piece that can work within the Ohio State linebacker room. Last season, Simon was part of a St. Peter's team that nearly defeated St. Joseph's Prep, 35-27, which later won a Pennsylvania state title with Kyle McCord and Marvin Harrison Jr. 
First Game: vs. Millville, Aug. 31
Game to Watch: vs. St. Joseph Regional, Nov. 2
St. Joseph Regional defeated St. Peter's Prep in close games twice in three weeks last year, including ending Simon's season earlier than anticipated. St. Joseph Regional is led by Ohio State offensive line commit Luke Wypler and four-star No. 14 quarterback and Purdue commit Michael Alaimo.
Kourt Williams
California four-star linebacker Kourt Williams already plays a bullet-type of position for St. John Bosco, but he could move into an even more specific responsibility defined for a bullet within the defense in 2019. As a junior, Williams recorded 74 tackles, two tackles for loss, two sacks and a fumble recovery for a touchdown. 
First Game: vs. DeMatha, Aug. 24
Game to Watch: vs. Mater Dei, Oct. 25
Mater Dei is the perennial powerhouse in California, and the matchup between St. John Bosco and Mater Dei is always a must-watch. Ohio State also has several targets at Mater Dei, including Raesjon Davis, Domani Jackson, Jaylin Davies and others.
Lejond Cavazos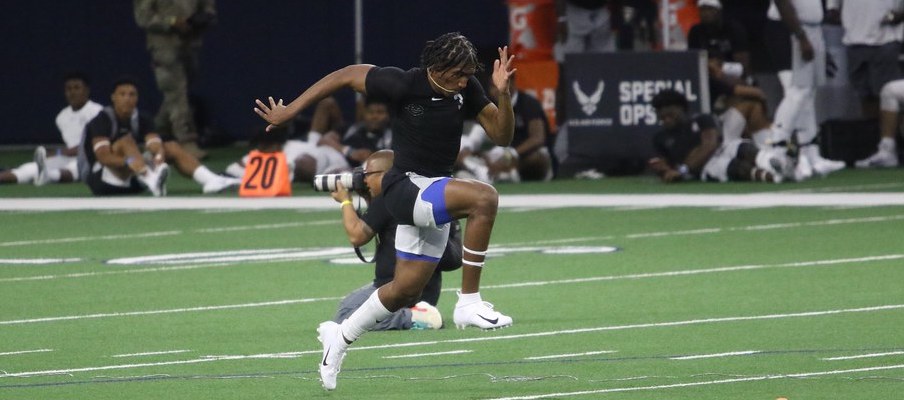 Lejond Cavazos' senior season is crucial for the cornerback at the high school level. He's battled through injuries to the point where he's only played in nine games, but his athleticism is elite, as he ran a 4.40-second 40-yard dash and jumped 44 inches in the vertical. His senior season will be an opportunity for him to prove that he is worthy of the attention he's garnered on a national stage. He's also welcoming in his friend, five-star cornerback Elias Ricks, who will play one season at IMG after transferring from Mater Dei.
First Game: vs. St. Peter's Catholic, Aug. 16
Game to Watch: at St. Joseph's Prep, Sept. 13
This will be a massive game for those with Ohio State interests, as Kyle McCord and Marvin Harrison Jr. take on Cavazos and Ricks. These two programs are elite among the top programs in the nation, so even without the Ohio State ties, it will be an exciting game to watch. The two teams did not play last season, so this will be the first matchup between McCord-Harrison and Cavazos.
Cam Martinez
Michigan athlete is included in the defensive commitments because he will likely end up at safety, but he plays offense for Muskegon. He smashed records from the quarterback position with statistical totals of 254 carries, 2,527 yards and 38 rushing touchdowns, and he only threw 58 passes. The lines defining his position are already blurred, so it wouldn't be surprising to see Martinez have one of the most explorative senior seasons among the Ohio State 2020 commits. He will likely work at wide receiver more often on offense and certainly will be slotted in at safety more often as well.
First Game: vs. De La Salle, Aug. 30
Game to Watch: vs. De La Salle, Aug. 30
Typically, the most interesting game of the season isn't the first game of the season, but for Ohio State fans watching Muskegon, this one is. Martinez squares off against Ohio State offensive tackle commit Grant Toutant's team. De La Salle went 12-2 last season, and one of its losses came at the hands of Muskegon.
Mitchell Melton
Maryland linebacker Mitchell Melton and Our Lady of Good Counsel don't have an easy road through any football season. That's why the team left something to be desired in the wins column, finishing the season 6-4-1. It lost to St. Joseph's Prep, St. John's and DeMatha before losing in the first round of the playoffs to DeMatha. Melton locks in the edge of the defense that plays some of the biggest powerhouses in the DMV, but he will need to perform better to push Good Counsel over the top.
First Game: vs. Charlotte Catholic, Aug. 30
Game to Watch: at St. John Bosco, Sept. 13
Good Counsel is traveling across the country to play one of the top programs in the country, in St. John Bosco. Top 2020 quarterback D.J. Uiagalelei plays for St. John Bosco, as well as Ohio State linebacker commit Kourt Williams. That game will be a critical one for Melton's career.
Ty Hamilton 
Pickerington Central advanced all the way to the State Semifinal relying quite a bit on its defense, and Ohio State defensive end commit Ty Hamilton is at the center of that. He leads the front seven, and his versatility makes him difficult to block at the high school level because his skillset applies anywhere he lines up. After having been to semi-state, Hamilton will definitely be fighting to get to the final as a senior but also to prove that he did deserve the Ohio State offer.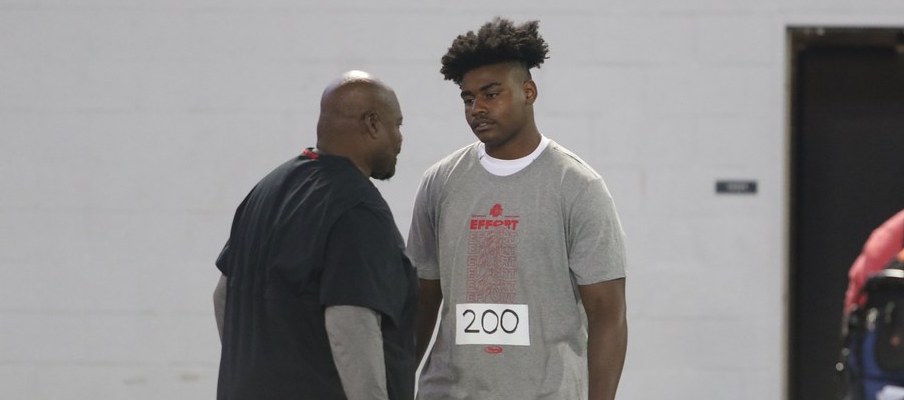 First Game: vs. Winter Park, Aug. 30
Game to Watch: at Pickerington North, Oct. 18
This matchup could be penciled in every year as the game to watch, but this year has an interesting combination of prospects Ohio State is showing interest in. Ohio State commit and No. 1 overall 2021 prospect Jack Sawyer will play on the field at the same time as 2021 wide receiver target Lorenzo Styles and his quarterback, 2020 three-star Demeatric Crenshaw. Crenshaw could potentially be the second quarterback in the 2020 class if Ohio State wants to add another. Pickerington Central won last year's competition, 16-7, so Hamilton and Sawyer will have massive pulls on this game.