The Hurry Up is your nightly dose of updates from the Ohio State football recruiting trail, keeping tabs on the latest from commits and targets from around the country.
UP IN THE AIR
For prep football players across the nation, making a college decision means taking the next significant step in life, committing at least the next year of your life to a city and university, and sometimes, moving far away from home.
All of those considerations are being taken in by 2020 wide receiver Devell Washington.
Washington, a 6-foot-4, 200-pound recruit out of Bay City (Mich.), owns offers from Ohio State, Michigan, Michigan State, Toledo, etc. – the Buckeyes made their offer on June 25. However, Washington is in no hurry to get the decision out of the way. Instead, he's taking his time, and he has plenty, to make the correct choice while focusing on the prep scene.
Ohio State is also targeting receivers Rakim Jarrett (Washington D.C.) and Rashawn Williams (Detroit, Mich.) in the 2020 class, which could make Washingtons' possible path to becoming a Buckeye a little tougher. 
"My recruitment is pretty open right now. I may try to come to a decision after my season is over or in the spring," Washington told Eleven Warriors. "We've had a slow start, but I think we can make a push for the playoffs starting Friday. We are due to break out."
O-H!! #GoBucks #BuckeyeNation #Zone6 pic.twitter.com/yqahI1UwXM

— Devell Washington (@DevellWashingt2) September 7, 2018
After Friday's game at Glenn High School, Washington will make a near five-hour trip to Columbus to attend Ohio State's contest against Tulane, one of many recent visits to the Buckeye state. His last visit came on Sept. 1 when the Buckeyes secured a 77-31 season-opening win over Oregon State.
"I loved everything about campus. (Coaches) gave us a tour of the Library and other things and it was cool to see all of campus from the top of the library," Washington said. "The feel of campus was just cool and everyone loves the Buckeyes so that makes it even sweeter. Feels like home."
That feeling may have something to do with Ohio State coaches Brian Hartline and Taver Johnson making Washington feel comfortable. They keep in constant contact with him. Those relationships will take form Saturday.
"I'm tight with coach Johnson, but I've been connecting with coach Hartline. I would love to play for him. That's my guy," Washington said. "This weekend will be my fourth trip (to Columbus) since Friday Night Lights. I plan to come to as many games as I can."
As a sophomore, Washington racked up 541 receiving yards and 11 touchdowns. But if he'd like to play for Hartline, the three-star receiver already knows what he needs to work on beforehand.
"I can improve on a lot of things. I want to get faster, improve my route-running, and hands," he said. "I really want to work on being a better blocker, too. Off the field, I want to just keep studying film to learn more about me and my opponents."
A HEALTHY DOSE OF COACH STU
While Washington enjoys his visit to Ohio State, another one of the Buckeyes' 2020 targets will be watching closely from home. Turner Corcoran, a four-star offensive tackle from Lawrence Free State (Kan.), was offered by Ohio State on April 30.
Corcoran says his recruiting process is "coming along nicely" and that he'll commit when he's ready, whether that be after this football season or on signing day. He visited Columbus on June 7 and hopes to be back for, as he describes it, "that TUN game" on Nov. 24.
"I liked how campus was in a bigger city and it just surrounded it all," Corcoran told Eleven Warriors. "Campus was beautiful and my family and I are wanting to come down for that TUN game but it all just depends on how my season goes over here."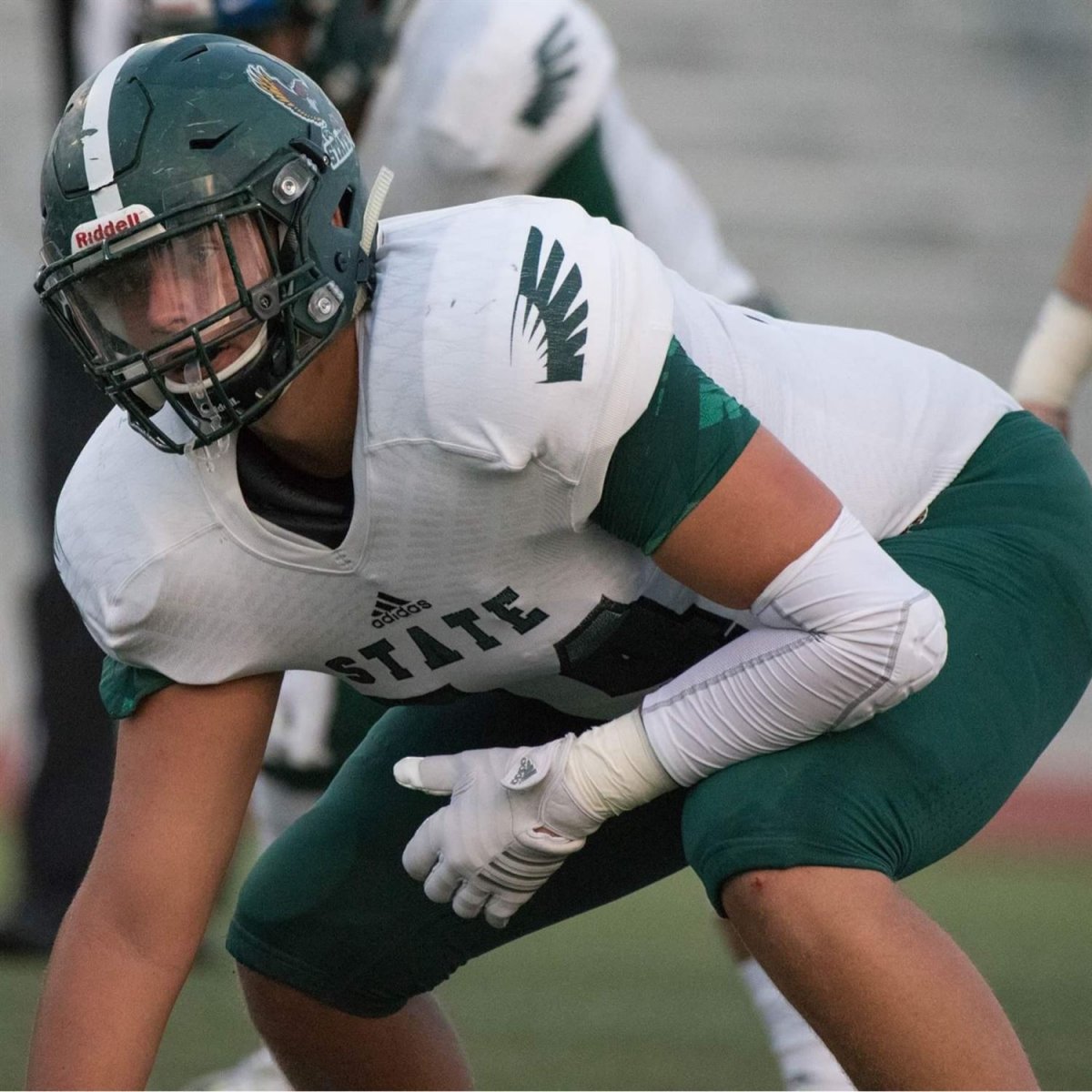 If he's able to make the near-Thanksgiving trip, he'll most certainly be pleased to see Ohio State offensive line coach Greg Studrawa. The two talk frequently.
"Mostly coach [Mark] Pantoni and coach Meyer will text me about 2-3 times a week but I'm always on the phone with coach Stud," he said. "And Stud has probably made the biggest impact on me just because he's my position coach. We're always building our relationship and it's going pretty great."
Free State is currently 3-0 and has yet to give up a point – the Firebirds have outscored opponents 144-0. However, its' a long season and Corcoran still knows there's work to be done.
"We're playing very good. We're 3-0 so far and haven't given up a point so huge credit to our defensive coordinator," he said. "I feel like I can always get stronger, and getting a smarter football IQ and being able to see tendencies in defenses before the play happens is some things I want to be able to do."