The Hurry Up is your nightly dose of updates from the Ohio State football recruiting trail, keeping tabs on the latest from commits and targets from around the country.
ANOTHER BATCH OF RANKINGS

Following yesterday's unveiling of the latest Rivals100, the recruiting site expanded its list to include the Top 250 prospects in the country on Tuesday afternoon.
NEW: Updated 2018 #Rivals250 is LIVE!@adamgorney tracks the biggest RISERS: https://t.co/MZhPBM07YD
FULL RANKINGS: https://t.co/KVg9GGeY1H pic.twitter.com/AmPHdq2Lm8

— Rivals.com (@Rivals) August 22, 2017
Ohio State, which sits third nationally, placed the following prospects in the updated Rivals250:
No. 15 - Five-star linebacker Teradja Mitchell
No. 18 – Five-star quarterback Emory Jones
No. 21 – Five-star defensive tackle Taron Vincent
No. 27 – Four-star running back Jaelen Gill
No. 31 – Four-star defensive end Brenton Cox
No. 34 – Four-star running back Brian Snead
No. 35 – Four-star safety Jaiden Woodbey
No. 83 – Four-star tight end Jeremy Ruckert
No. 94 – Four-star linebacker K'Vaughan Pope
No. 120 – Four-star offensive lineman Matthew Jones
No. 134 – Four-star safety Josh Proctor
No. 245 – Four-star offensive lineman Max Wray
I assume Rivals will follow suit by announcing the rest of its rankings on Wednesday, at which time Master Teague III will most likely still be considered a three-star prospect and Buckeye Nation will ready the pitchforks.
One notable prospects who saw his stock rise, though, was New Jersey four-star defensive end target Jayson Oweh. He moved 38 spots to No. 179 overall.
"Oweh is one of the most athletic prospects this cycle but is still so new to football," Rivals mid-Atlantic recruiting analysts Adam Friedman said. "This move up the rankings was in response to the 4.4 40-yard dash, 4.29 shuttle, and 10-foot, 3-inch broad jump he put up at Penn State recently. Oweh will end up signing with the Nittany Lions, Ohio State or Notre Dame."
SURPRISED IT TOOK THIS LONG

With Rivals' adjustment, the aforementioned Ruckert was bumped up to a five-star prospect in the 247Sports Composite Rankings on Tuesday morning.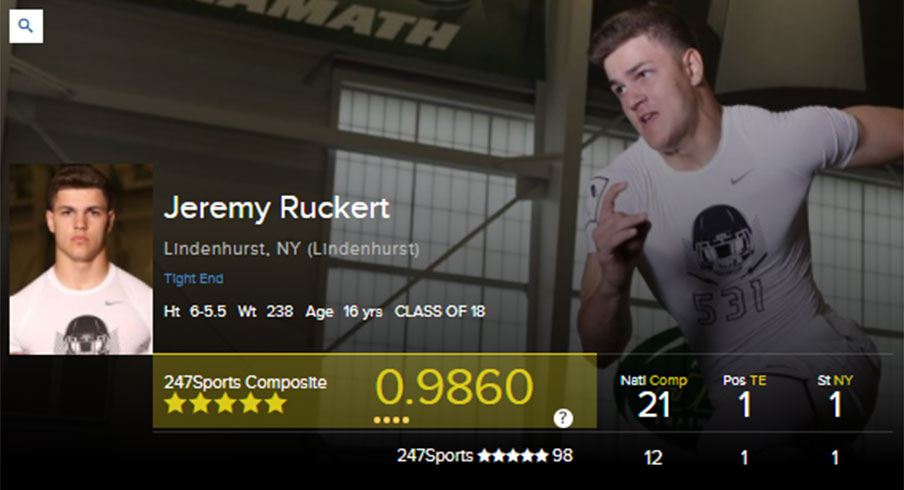 The 6-foot-6, 238-pounder from Lindenhurst, New York, remains the top-ranked tight end in the country, but is now listed as the No. 21 prospect overall in the Class of 2018.
He joins Vincent, Cox and Gill as five-star prospects, giving Ohio State a nation-leading four — Clemson has landed two, while Georgia, Miami, Oklahoma, Penn State, Tennessee, Texas and USC have one apiece. The Buckeyes also hold commitments from 11 of the Top 100 players.
HERE COMES THE MEAT WAGON

With a commitment from Frisco, Texas, Wakeland four-star offensive tackle Rafiti Ghirmai on Monday night, the Longhorns briefly pulled within five points of the Buckeyes in the 247Sports team rankings.
It's since been stretched to nine (288.37 versus 279.3) with Ruckert's ratings bump, however.
IM 110% COMMITTED!!(videocreds:@SuperK_TFB & @Andrew_TFB)@simplyCoachO. Thank you to all my family and friends for getting me to this point pic.twitter.com/hiYDBxMRfI

— Rafiti Ghirmai (@RafitiGhirmai) August 21, 2017
The 6-foot-4, 290-pound Ghirmai actually included Ohio State in his Top 10 back in March, but neither side showed any real interest in one another — he never made a trip to Columbus and the Buckeyes landed Wray instead. He is considered the 21st-best offensive tackle and No. 283 prospect overall in the Class of 2018.
AHEAD OF THE CURVE

The battle between Ohio State and Texas will undoubtedly rage on beyond this year, too, as the Buckeyes offered Richmond Bush four-star cornerback Erick Young, one of the Lone Star State's top underclassmen, on Monday night. 
Very blessed to have received a offer from "The" Ohio State University #BuckeyeNation19 !!!!!@nparecruiting @NatlPlaymkrsAca pic.twitter.com/Xe154SUBxI

— Erick Young (@Fvmous_ey) August 21, 2017
The 6-foot-1, 195-pound Young is considered the 22nd-best cornerback and No. 263 prospect overall in the Class of 2019, but caught the attention of several of the country's top programs following his performance at Mike Vick's V7 Playmakers Showcase in Houston in July. In addition to offers from Baylor, Colorado and Iowa State, he's landed offers from Florida State and TCU in the month since.
"Young also took his turn on offense and looked as natural at receiver as he does in his projected cornerback role," Rivals recruiting analyst Nick Krueger said of Young after the event. "For a 2019 prospect, he's just so naturally gifted athletically and can win reps on either side of the ball with physical talent alone. Young showed his value the as a defensive back earlier in the month at the state 7-on-7 tournament, and showed how capable he is as an overall player last weekend."
BEST OF THE BEST

Though the first weekend of the high school football season was relatively light, USA TODAY Sports released its latest Super 25 rankings on Tuesday morning. 
Louisville Trinity breaks into Super 25 rankings with big win https://t.co/5W0f3iWJuQ

— USA TODAY HSS (@usatodayhss) August 22, 2017
There wasn't much movement with only six of the teams listed in action, but it's still worthwhile to note given Ohio State's connection with a number of the top programs. They are listed as follows:
No. 2 – Bradenton, Florida, IMG Academy (Vincent)
No. 3 – Bellflower, California, St. John Bosco (Woodbey)
No. 4 – Las Vegas, Nevada, Bishop Gorman
No. 5 – Fort Lauderdale, Florida, St. Thomas Aquinas
No. 15 – Allen, Texas (2019 four-star quarterback target Grant Tisdale, four-star receiver target Theo Wease Jr.)
The season kicks off in earnest this Friday, though, with top teams from all over the country set to play in the GEICO ESPN High School Football Kickoff this coming weekend. The list of games includes:
Friday, Aug. 25

St. John Bosco at St. Thomas Aquinas at 7 p.m. on ESPNU
Saturday, Aug. 26

Heard County, Georgia (Jones) vs Saraland, Alabama, at 3:30 p.m. on ESPNU
IMG Academy at Chandler, Arizona, at 10:30 p.m. on ESPNU
Sunday, Aug. 27

Huber Heights Wayne (four-star receiver target L'Christian "Blue" Smith) at Pine-Richland, Pennsylvania, at 1:30 on ESPN, with his announcement preceding the game.
Football's back, boys and girls.