Urban Meyer has never had any trouble recruiting, at least since he took the helm at Florida, his first major job at a major program with major resources. He's churned out first round picks and All-Americans and racked up five-stars in Gainesville; it's a trend he's continued since arriving at Ohio State in November of 2011. 
Ohio State's recruiting classes have ranked no lower than seventh nationally since Meyer's arrival. When you're collecting talent at that pace, it's not easy to know exactly who's going to pan out and who is going to flame out, but the Buckeyes have had incredible success since Meyer took over. Ohio State has had far more hits than misses thanks to incredible player development, excellent talent evaluation and a hard-nosed program that rewards work-ethic and quickly flushes out those who aren't willing to put in the work necessary to succeed.
Since 2012's recruiting class, there have been a number of big-time prospects who've made their way to Columbus, but who are the most important? Let's take a look at who we here at 11W think have made the biggest impact on the future of Buckeye football.
---
11. NOAH SPENCE // BISHOP MCDEVITT HIGH SCHOOL // HARRISBURG, PENNSYLVANIA

A first team All-State defensive end in Pennsylvania, Noah Spence was a consensus five-star prospect who committed to Urban Meyer roughly three weeks after Meyer took over in Columbus. It took one visit to Columbus for Spence, the country's fifth-overall prospect in 2012, to decide Ohio State was the choice for him. 
Spence, who had 22 sacks during his junior season at McDevitt, was widely speculated to be headed to Penn State. The Joe Paterno scandal that derailed the Nittany Lions' Hall of Fame coach's career gave the 6-foot-3, 250-pound defensive end pause and cause to consider Ohio State. Meyer didn't miss the opportunity to reel in the first major fish of his Buckeye coaching career.
10. JOHNNIE DIXON // DWYER HIGH SCHOOL // PALM BEACH GARDENS, FLORIDA

Recruiting South Florida is a must if you want to be a success in college football and in the 2014 recruiting cycle, the Buckeyes wanted one key player from the area: wide receiver Johnnie Dixon. The country's 76th-ranked prospect in his class, Dixon was a long-shot for the Buckeyes from the start, but continued relationship building by wide receivers coach Zach Smith and Meyer along with a home run official visit in October of 2013 gave Ohio State the ammunition to topple Miami and Alabama, each of which were considered more likely options for the 5-foot-10, 190-pounder.
Dixon enrolled early at Ohio State and, despite missing most of his freshman season with knee issues, has impressed the Buckeye coaching staff with his business-like approach and leadership. 
9. EZEKIEL ELLIOTT // JOHN BURROUGHS SCHOOL // ST. LOUIS, MISSOURI

On April 1, 2012, four-star running back Ezekiel Elliott committed to Ohio State shortly after a weekend trip to Columbus. The speedy all-purpose back chose Ohio State over Notre Dame, Missouri, and a number of other national offers. Despite his pledge to OSU, this recruitment would come down to the wire as both of his parents attended the University of Missouri and Elliott grew up around the school.
Although his pledge to the Buckeyes came into question when he officially visited Missouri in late January, Elliott was a major target for Ohio State, who passed up the country's top-ranked running back, Derrick Green, to sign the St. Louis star. After the Mizzou visit, he and his family seemingly went quiet, leaving Ohio State fans wondering what would happen as they inched closer to Signing Day. While Jalin Marshall was already a part of the class and Dontre Wilson was added shortly before Signing Day, the OSU staff was still hoping to hold onto Elliott as the only pure RB in the class. Ezekiel Elliott let the world know of his final decision at a Signing Day ceremony at his high school. In an emotional moment, he thanked his parents and all the coaches that recruited him, noting that the hardest part of the process was saying "no" to the coaching staffs that wanted him so badly. He then announced his decision to be a Buckeye.
Elliott is a frontrunner for the Heisman as the Buckeyes prepare to defend their national championship.
8. J.T. BARRETT // RIDER HIGH SCHOOL // WICHITA FALLS, TEXAS

By the time Urban Meyer took over in the 2012 recruiting cycle, the pickings were relatively slim at quarterback, despite a last minute effort to try to land Jameis Winston. Because of that, the importance of finding a big-time signal-caller like J.T. Barrett in the 2013 class could not be understated. Meyer and Tom Herman went after the country's third-ranked dual-threat quarterback early and aggressively. Barrett committed to Ohio State in April of 2012, and despite missing much of his senior season following an ACL tear, he gave the Buckeyes Meyer's first "quarterback of the future."
When Braxton Miller re-injured his surgically repaired shoulder just weeks before the 2014 season, Barrett rose to the occasion. He would go on to torch a number of Ohio State and Big Ten records and lead Buckeyes on their national championship chase.
7. MIKE WEBER // CASS TECH // DETROIT, MICHIGAN

2015 running back recruiting fluctuated quite a bit for Ohio State, but the focus was almost always on three highly-touted prospects: Kentucky's Damien Harris, Ohio's L.J. Scott, and Michigan's Mike Weber. Most thought Weber, the second-ranked player in the state of Michigan, would either stay in state or stay relatively close to home with the Buckeyes (though USC also made a strong push). Kerry Coombs had been planting flags all over the state of Michigan and his success with Weber's former teammate Damon Webb was reason enough for OSU fans to remain optimistic.
In early August, Weber made an unofficial visit to Michigan and committed to the Wolverines shortly thereafter. Ohio State kept in contact with Weber. Michigan's 2014 season ended up being a disaster and Weber backed out of his pledge on Nov. 22, tweeting out his decommitment during Michigan's home loss to Maryland.
The Ohio State coaching staff then swooped in and made Mike Weber a priority. On Dec. 8, Urban Meyer, Kerry Coombs, and Stan Drayton all made an appearance at Cass Tech. Two days later, Mike Weber committed to Ohio State.
The hiring of Jim Harbaugh presented a new challenge to the Ohio State staff. The Harbaugh hire was the talk of college football and Weber, who grew up a Michigan fan, definitely took notice.
Over the next two months he would visit and meet with both staffs on multiple occasions. However, his relationship with Urban Meyer, Kerry Coombs, and Stan Drayton would ultimately win out. This gave Urban Meyer a big win over his new nemesis Jim Harbaugh, as he was able to sign one of the top players from the Wolverine State. 
6. TAYLOR DECKER // BUTLER HIGH SCHOOL // VANDALIA, OHIO

After taking over the Ohio State program in November of 2011, one of the tallest tasks that Urban Meyer would face would be adding talent to a less-than-impressive offensive line unit. Landing quality offensive tackles is never easy, but building a relationship and landing them in only three months' time is a whole different level of difficulty.
Before the Urban Meyer Era began, the Ohio State coaching staff had been focusing on in-state stud Kyle Kalis and a few other offensive line targets. One in-state player that was seemingly overlooked was Vandalia Butler's Taylor Decker. The 6-foot-8 Decker committed to Notre Dame in March of 2011, and the Buckeyes staff showed little interest before or after his pledge to the Irish until Meyer arrived.
Three very important hires totally changed things for Ohio State and Taylor Decker. Urban Meyer's arrival in 2011 was the first domino, and his decision to bring in Notre Dame assistants Ed Warinner and Tim Hinton then proved to be instrumental in turning the tide for the four-star lineman. Having already established a relationship with Hinton and Warinner, Decker made the decision to take an official visit to Ohio State. Shortly after the visit concluded, he decommitted from Notre Dame and made the flip to Ohio State – reuniting with Hinton and Warinner.
5. JUSTIN HILLIARD // ST. XAVIER HIGH SCHOOL // CINCINNATI, OHIO

With the 2015 recruiting class struggling and in desperate need of a vocal leader, Cincinnati's Justin Hilliard stepped up to the plate and committed to the Buckeyes in July of 2014, bringing with him five-star talent and high, future-captain-type character off the field. Hilliard and fellow July 2 commit Jashon Cornell helped the Ohio State staff secure a top-flight class in 2015, focusing their own recruiting efforts on a number of top players across the country, many of which they met in Oregon at Nike's The Opening.
Hilliard, who grew up a Buckeye fan, wasn't expected by many to end up in Columbus, but chose Ohio State over Michigan, Notre Dame, Iowa, and Alabama. His brother, CJ, is a running back for the Hawkeyes and many felt the close-knit pair would end up in the same program.
4. JOEY BOSA // ST. THOMAS AQUINAS // FORT LAUDERDALE, FLORIDA

Although his dad played at Boston College, the Buckeyes were always out near the front for Joey Bosa, and he committed to Ohio State in April of his junior year. A four-star prospect ranked 37th nationally, Bosa had minor injuries that may have cost him a higher ranking. Recruited by Luke Fickell and Mike Vrabel, Bosa chose the Buckeyes after a spring game visit over a host of the country's top programs, including Alabama, Florida State and others.
Since his arrival at Ohio State, Bosa has dominated along the Buckeye defensive line and earned a reputation as one of the best NFL prospects in all of college football and is an early candidate for the top overall selection in the 2016 NFL Draft. A nephew of former Buckeye Eric Kumerow, Bosa's impact at Ohio State could extend beyond his time on the roster: younger brother Nick Bosa could commit to Meyer this summer.
3. DAMON WEBB // CASS TECH // DETROIT, MICHIGAN

Detroit Cass Tech was not a place Ohio State coaches often visited prior to Urban Meyer – and more specifically Kerry Coombs – arrived on the scene for the Buckeyes. In 2014, cornerback Damon Webb gave Ohio State a reason to get back into the hallways off of I-75 and he sent shockwaves through the state of Michigan when he committed to the Buckeyes in January of 2013, almost a full year before he could sign. Webb's commitment re-opened a vital pipeline for the Buckeyes that paid off twice in 2015 and continues to provide dividends in terms of Ohio State's reputation on their biggest rivals' turf.
Not only is Webb extremely talented (the country's 35th-ranked prospect in 2014) but he and his family proved to be instrumental in recruiting. They created the 2014Bucks.com website to use as their own tool to help reel in the players they had gotten to know throughout their camp sessions and visits.
2. RAEKWON MCMILLAN // LIBERTY COUNTY // HINESVILLE, GEORGIA

With Ohio State's linebacker situation bordering on dire and a defense giving up a record number of points, Urban Meyer needed a centerpiece for the Silver Bullets. To do that, he turned to Georgia's Raekwon McMillan, a five-star inside linebacker, ranked as the country's best in the 2014 class. McMillan fit the profile Meyer sought perfectly: he was big, fast, enigmatic and hard-working, a guy who didn't take plays off and more importantly wouldn't take days off, either. The Buckeyes became an early favorite to land McMillan after a number of visits to Columbus, but as Ohio State's defense struggled during the 2013 season, some doubt about whether or not he'd receive the right leadership and coaching crept in, allowing Alabama to make a big-time move on his list.
In December of 2013, weeks before McMillan would enroll at whatever school he committed to, the 6-foot-2, 242-pounder chose Ohio State over Bama and Clemson in a widely watched and publicized announcement. The Buckeyes picked up a major win in a major battle with Nick Saban's machine and added another star from talent-rich Georgia in the process.
Immediately upon arriving in Columbus, he was earning team-wide respect for his maturity and dedication to his craft. Heading into his sophomore year, McMillan is expected to be the Buckeyes' starter at middle linebacker and is doing so with a championship already under his belt.
1. VONN BELL // RIDGELAND HIGH SCHOOL // ROSSVILLE, GEORGIA

If you are a fan of rollercoaster recruitments, then you certainly enjoyed the chase for Vonn Bell. In the months leading up to 2013's National Signing Day, Ohio State, Alabama, and Tennessee all seemed to take turns at the top of Bell's leaderboard. 
The five-star safety visited Columbus with his family in January, and Buckeye fans were able to follow the visit live via his brother's Twitter page. Following the visit, Bell would take trips to Tuscaloosa and Knoxville, but remained fairly quiet when talking about any potential frontrunner. The night before Signing Day, an image of Tennessee coaches celebrating (after receiving a commitment over the telephone) made its way to the Twitter world. Thus, a lot of the wind was taken out of Buckeye Nation's sails. On the morning of Signing Day and less than an hour before the live announcement, all hope was seemingly lost when Bruce Feldman tweeted out that Vonn Bell had committed to Tennessee.
Shortly thereafter, one of the nation's top prospects stepped to the podium at Ridgeville High.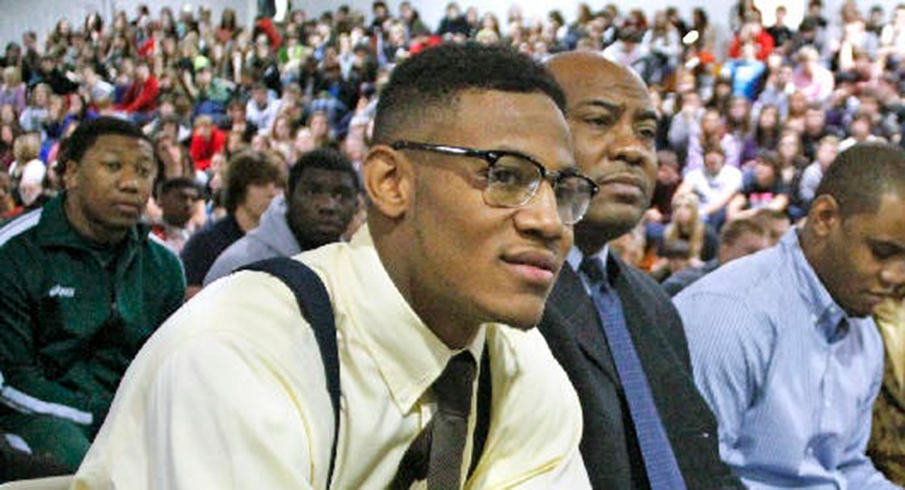 Bell, to the chagrin of Tennessee fans everywhere, announced his decision to sign with Urban Meyer and The Ohio State University. Bell gave Urban Meyer a Signing Day victory over SEC powerhouses - most notably the Saban-led Crimson Tide. After announcing his decision, Bell told reporters that the Buckeyes would be coming for Bama, and they were going to "get that crystal ball and hold it up high as hell."