There's a pretty common theme in the world, especially as it pertains to relationships between people. How do you "know" when someone is the right one for you? 
"You know when you know."
THE HAWKINS FILE
Size: 6-4/210
Position: WR
Class: 2016
School: Maple Heights (Maple Heights, OH)
247 Composite Rating: ★★★
247 Composite Rank: 67th (Wide Receiver)
That adage also holds true in college football recruiting and what prompts a prospect to make his college choice. It held true specifically for Maple Heights, Ohio's Kierre Hawkins, offered by the Buckeyes two weeks ago, today he's the third commitment in their should-be-sensational 2016 class.
A 6-foot-4, 210 pound wide receiver, Hawkins fits a role very similar to that of their 2015 commitment A.J. Alexander. He brings an added dimension of length and speed to a Buckeyes receiving corps that has been eagerly looking to add both. He's the third Ohioan in the 2016 class to pull the trigger on a commitment, joining Hubbard's George Hill and Portsmouth's Tyler Gerald.
It's been a whirlwind three months for Hawkins, who picked up his first scholarship offer in July. Since that first offer (Kentucky), Hawkins has added Illinois, Toledo, and Bowling Green to his list, but it's the Buckeyes offer that he'd been waiting for.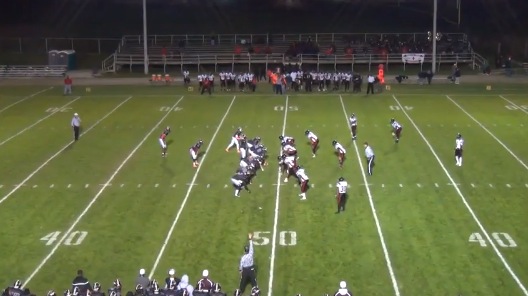 This season, Hawkins has led the Mustangs to a 3-2 record. He plays mostly wide receiver for his high school, but many project him as an H-back or tight end at the next level.
"Hawkins brings wide receiver skills in a tight end frame to the football field," Rivals.com analyst Marc Givler told Eleven Warriors after seeing him play live. "He can line up virtually anywhere on the field and create mismatches and make plays. His ability to go up over smaller defenders and make the tough play in traffic but also stretch the field vertically makes is a rare combination."
We'll have more on, and from, 2016's newest commitment, Kierre Hawkins, soon.