On Monday, we took a look at a few of the names on Ohio State's short list of remaining offensive targets for 2015. Each of those players, some long-shots and some very real possibilities to sign their name on the scarlet-and-gray-dotted-line come February, has been a priority for the Buckeyes and Urban Meyer for an extended period of time. 
Today, as we continue to descent into official visit season, we'll take a closer look at a handful of players who could be future Silver Bullets. From one end of the continent to the other, the Buckeyes leave no stone unturned in their pursuit of the talent they feel will best fit their system moving forward. Let's not spend too much time gabbing, ok?
---
Most successful football programs are full of strength along the interior, and that holds as true for the defensive line as it does for the offensive line. As the "Elite '15" is currently constructed, the Buckeyes have three different commitments along the defensive front: Dre'Mont Jones, Jashon Cornell and Josh Alabi. Of the three, Cornell is the most highly-regarded nationally, but it's Alabi who provides the most flexibility: he can be a force on either side of the football, depending on how the rest of the class goes.
There are a few players the Buckeyes would love to see grab a won't-let-go hold on the remaining defensive line spots. The first is Chesapeake, Virginia's half-teen/half-freak Josh Sweat. Sweat, the nation's top-ranked player has the Buckeyes in what appears to be his final five schools, naming them as one place he'd absolutely take an official visit to come fall. The Buckeyes, who received a summertime visit from Sweat, his mother and his brother, are squaring off against Florida State, Virginia Tech, Georgia and Oregon for his services.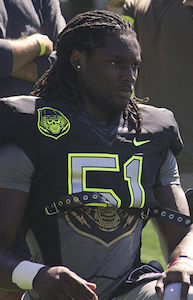 While the Buckeyes are in the race, they'll need to stay squarely involved to have a real shot at Sweat, a player whose on the field talent is only outweighed by his off-the-field silence (a recurring theme among a number of key defensive targets this year.) In past years, this is exactly the type of recruiting battle Urban Meyer became famous for winning, and the Buckeyes defensive end depth, combined with proximity to home and an ever-increasing comfort with Larry Johnson and Zach Smith keeps the Buckeyes close. It's hard to say I'm optimistic, but there's no reason to think Ohio State doesn't stand a puncher's chance. 
After Sweat, who appears to be the last edge defender (along the line anyway) on this year's radar, there remains a pair of defensive tackles the Buckeyes would love to land. Christian Wilkins and Neville Gallimore (pictured above), from Connecticut and Canada respectively, have put themselves high on the board for Ohio State and have not slipped into the recruiting abyss, at least not yet.
For as quiet and detached with the media as Josh Sweat is, the flat out disinterest Wilkins displays is far more grand. The 6-foot-4, 290-pound tackle is still in the process of setting up his official visits, and it appears likely the Buckeyes will get one despite increasing chatter that he's leaning towards James Franklin and Penn State. For Wilkins, the draw to Ohio State is simple: Urban Meyer and Larry Johnson. The drawback? Is Ohio State too "big" for a player with such an unassuming and reclusive demeanor? 
On the other side of the proverbial coin is Gallimore, a 300-pound Canadian with a sunny disposition off-the-field and plenty of aggression on it. At The Opening in Oregon, Gallimore was roommates with Buckeye commitment Jashon Cornell and the two struck up a pretty solid friendship, since then the tea leaves have begun to read more and more pro-Buckeye for the continent's 13th-ranked defensive tackle, but there's still a long way to go before he can be penciled into the Ohio State class. The best part about Gallimore in my opinion? He's just learning the game of football and he's got an insatiable desire to learn more and more every single day. He wants to be great and is looking for world-class coaching and leadership. No matter where he ends up, they're getting a winner. 
Of the two defensive tackles, I more inclined to believe Gallimore ends up a Buckeye than Wilkins, as of today.
At linebacker, the Buckeyes currently have two of the Buckeye state's top three players in Nick Conner and Justin Hilliard. In mid-July, they were stunned by the commitment of Cleveland Benedictine two-way star Jerome Baker to Florida, but he remains a high-priority target for Urban Meyer, Stan Drayton, Luke Fickell and Chris Ash. With swirling uncertainty in Gainesville, the Buckeyes are biding their time and remaining in contact with Baker, but they won't push too much for any visits or public displays of affection. There's almost a sense that the quieter things remain with Baker, the better that is long-term for Ohio State, at least as I see it. 
If the Buckeyes are unable to make any further impression on Baker, the group at linebacker could be finished for 2015. They're still aggressively pursuing Utah's Porter Gustin but until the 6-foot-5, 240-pounder makes a visit to Columbus that bit of mutual flirtation isn't worth paying much attention to. The Buckeyes, and primarily Luke Fickell, stay in contact with Gustin roughly once a week and they're pushing for a visit. We'll see if that happens.
The 2015 Buckeyes' secondary is almost full, with a trio of less-heralded recruits in Jamel Dean, Tyler Green and Denzel Ward. Those three commitments could also be joined by Canton McKinley's Eric Glover-Williams in the defensive backfield, so there are some who believe that if no other players get added in the secondary the Buckeyes are going to be "ok." I definitely agree with that particular school of thought, but I also believe there's never a reason to not chase the players you're interested in until the very end. For Ohio State and the 2015 class, that means two players: Pennsylvania's Jordan Whitehead and Georgia's Rashad Roundtree won't be off the radar anytime soon.
Whitehead, from Monaca, Pennsylvania, has been a regular visitor to Ohio State for the last 12-plus months, but continues to play his recruiting extremely close to the vest. While he clearly likes the Buckeyes, the rumors of Penn State, West Virginia, Alabama and even Pittsburgh continue to persist and he's no closer to a decision — at least not publicly — today than he was eight months ago. A decision date, October 3rd, is planned, but there's no indication which way Whitehead could be leaning. 
Roundtree is a bit more of an unknown to most Ohio State recruiting fans and he's less-likely to pledge Ohio State than anyone in this article, but then again, so was Vonn Bell at this point in his high school career. The Buckeyes blew Roundtree away during an unofficial visit this spring and have made his final six schools. Conventional wisdom still says the in-state Georgia Bulldogs and even, yes, the Duke Blue Devils, have much better odds than Ohio State to secure his commitment. At this point in the game, it's about getting the talented Georgia safety back on campus for an official visit and letting the chips fall where they may.