It's been a sun-drenched, hot, and overall incredible five days here in Beaverton, Oregon at The Opening, the nation's premiere prep football showcase. On Nike's sprawling campus, the only thing more prevalent than the sun has been football talent — talent in the form of campers, teachers, coaches and visitors — and hundreds of media types on hand to try and get a look and a chat with "the next big thing."
In the midst of all that talent three Ohio State commitments were hard at work trying to prove they belonged in the conversations about the nation's best players, but also trying to help promote Ohio State's virtues to others who may be interested. After four three days of competition, each player had their ups and downs, but represented Ohio State with class from start to finish.
HILLIARD LEADS THE WAY AMONG COMMITS

A week after committing to Ohio State on national TV, linebacker Justin Hilliard and defensive lineman Jashon Cornell headed to Oregon as the de facto flag bearer for Ohio State's recruiting efforts at The Opening. While neither of them made the final group in the SPARQ competition, they each performed well for their respective size and position. Ohio State defensive back commit Tyler Green didn't run a 40-yard-dash, so he had no final SPARQ score. 
Once seven-on-seven drills began, Hilliard and Green each held their own and competed well. Green was moved around a bit, from cornerback to safety, and he was happy with his performance.
"I think I did well," Green told 11W. "(We struggled) as a team, but that's because in seven-on-seven situations the defenses are at a disadvantage we're all trying to find out exactly where we need to be." 
As you watch Green, it's easy to see the reasons Ohio State offered him a scholarship at the beginning of June. He's incredibly athletic, long and rangy. He's got the ability to cover a lot of ground, quickly, and by the time he gets to Columbus could be in the 210-215 pound range. Right now, Green is a bit raw but there's a blank canvas waiting for Chris Ash and Kerry Coombs to work with and that's an incredibly promising proposition.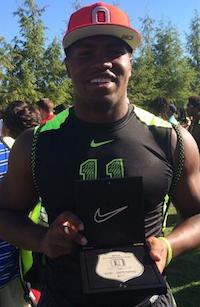 Hilliard is exactly what you'd expect the country's second-ranked outside linebacker to be. He's big, he's fast, he can cover, he gets downhill quickly and he's non-stop with his motor. Hilliard was named to the seven-on-seven all tournament team for his play on defense and was without question one of the most consistent players at the position during the two days of head-to-head competition. 
Jashon Cornell was the ESPN.com 300's top-ranked player in the 2015 class a year ago, and since then he's seen his ranking dip a bit, but he showed well in the "Big Man Challenge," in Oregon. Although he only competed one day (a family emergency warranted an early departure from Beaverton) Cornell was active and engaged on the interior defensive line, on the edge and standing up in the middle linebacker position as well. 
With Cornell, it's all a matter of consistency and find the "fire." When he's motivated and going 100-percent, he's got game-changer capabilities, he just has to do it every snap. As far as Ohio State's commitments go, they're "ranked" Hilliard, Cornell and then Green by most accounts, and that's how they'd sit in my mind. Hilliard on top because he's far and away the most finished of all the products.
THE TARGETS

Of the nearly 165 players in attendance in Oregon, there was a select handful that Ohio State believes they're legitimately "in the game" for and of those players, a couple stood out among their peers. 
In seven-on-seven drills, it's not unusual for wide receivers to stand out, and that was the case this week in Oregon. Christian Kirk, Van Jefferson and yes, Alabama commit Calvin Ridley, are three major Buckeye targets and each of them was better than good these past few days.
Kirk, as I've said a few times, is basically incapable of being covered in seven-on-seven competitions. His speed/strength combination makes him a nightmare match-up in space and he doesn't drop anything, inside or outside. If the ball is near him, it's his and if the ball is his you're likely to whiff and tackle air as opposed to getting a good hand on him. He's phenomenal, and there's no doubt why he's at the very top of the Ohio State wishlist on offense. 
I've long believed Ohio State's chances with Kirk are better than most people give the Buckeyes credit for, but there's no doubt that this week actually hurt Urban Meyer and his chances. Why? Consider if you will that three of Kirk's favorites: UCLA, USC and Texas A&M each had quarterbacks on hand in Oregon working with him, getting to know him; and you see why the Buckeyes might be falling behind. If the Buckeyes are to pull off the steal, it's a matter of impressing two things on Kirk: JT Barrett's talent and the number of talented wide receivers heading to College State, Texas. 
Van Jefferson, the Tennessee four-star wide receiver, will return to Ohio State next week and it's a visit he and his family are looking forward to. I was fortunate to spend nearly an hour speaking with his father, Tennessee Titans wide receiver's coach Shawn Jefferson on Thursday afternoon and any reports of the Buckeyes' demise in his recruitment is serious exaggerated. I do believe that Tennessee — where Van lives — and Georgia are still very necessary to consider, but one last big visit to Columbus looms large in his recruitment. He's big, he's fast and he may be the most technically sound wide receiver in his class; and the Buckeyes would love to make Jefferson the first true outside wide receiver in their last two classes.
I won't say too much about Alabama commit and overall seven-on-seven commit Calvin Ridley except for this: if he makes an official visit to Ohio State as he's planned to do, watch out.
If the Buckeyes strike out on each of those receivers, there's a pretty good chance the next man up at wideout is Lawrence Cager. Cager, a 6-foot-5, 210-pounder from Maryland who was here in Oregon as well. The Towson product will visit Ohio State for Friday Night Lights at the end of July and the Buckeyes are eager to see him in person, to see what he can do. 
Outside of the wide receivers, the one area Ohio State was likely paying close attention to were the offensive and defensive lines, where Matt Burrell, Drew Richmond, Josh Sweat and Neville Gallimore were plying their trade.
Burrell and Richmond, as I see it, would be an incredible left side of an offensive line if the Buckeyes are able to reel them both in. They're unique in that their personalities, which are 100-percent different off the field, allow them to be so at ease with everything going on around them, but when the whistle blows they are aggressive, mean and most important, coachable. While neither were perfect in Oregon, they are much closer to college ready than most offensive lineman nationally and from talking to each, their interest in Ohio State is genuine. Richmond will return to Columbus for Friday Night Lights, and Burrell, despite a loaded summer travel itinerary, indicated that he was hopeful he'd be able to do that as well.
Everyone who watched The Opening on ESPNU got a first-hand, and likely their first, look at Chesapeake, Virginia beast Josh Sweat. There's legitimately nothing about Josh Sweat that says high school senior, but — and it's a large but considering how freakish he is athletically — the absolute best part about him is how he handles himself as a person. There's no self-promotion, there is not an ounce of arrogance and/or "superstar" about him; he does his job, he does it well, and he does it quietly. Suffering from a hip flexor injury that could have kept him sidelined for the entire event, Sweat was noticeably irritated that he couldn't go full bore on Thursday, so I asked him what was going through his mind and he didn't hold back.
"I came here to be the best," Sweat told me. "I am disappointed I can't prove myself." 
Gallimore, who was roomed with Jashon Cornell, has an almost identical approach and it's beyond refreshing.
"I think it was just great being here," Gallimore, the first ever Opening participant from Canada, told me. "I know that unlike a lot of these guys, I haven't had a lifetime worth of training and teaching, but I learned so much from being here. I'll never forget this experience and it will make me a better player for whatever school I end up at."