As late as Memorial Day, a pocket of Buckeye fans were nervously shifting in their seats as Urban Meyer's 2015 recruiting class stood at a paltry two members in three-star cornerback Jamel Dean out of Florida and Canton McKinley's four-star defensive back Eric Glover-Williams. 
The next day, four-star quarterback Joey Burrow pledged his services but things soon went to fuego-mode as Meyer and company capped off a flurry of nine verbals over a 25-day span capped with Wednesday's five-star double-dip courtesy of linebacker Justin Hilliard out of Cincinnati and defensive end Jashon Cornell by way of Minnesota. Hilliard and Cornell are the first five-star commits in the Elite '15 class though the OSU coaching staff could be closing in on other five stars including running back Damien Harris. 
Obviously, nothing is guaranteed just because a player is labeled a five-star by at least one major recruiting service but as Marcus Hartman noted recently upon studying Ohio State's 2002-09 classes, five-stars went on to become starters 70% of the time (16 of 23) compared to just 51% of the time for non-five-stars. Further, 39% of five-stars during the eight-year period evolved into All-B1G performers while non-five-stars earned the honor at a 22% clip. Finally, 43% of five-stars were selected in the NFL Draft against just a 30% rate for the non-five-star population. 
As someone who follows recruiting albeit not super intensely, I looked back at each Ohio State from 2002-14 to see who and how many five-stars made their way to Columbus, as rated by either 24/7, Rivals or Scout:
OHIO STATE'S FIVE-STAR RECRUITS: 2002-14


| YEAR | PLAYERS |
| --- | --- |
| 2002 | MAURICE CLARETT, MIKE D'ANDREA, MIKE KUDLA, JUSTIN ZWICK |
| 2003 | LOUIS IRIZARRY, DONTE WHITNER  |
| 2004 | TED GINN. JR.  |
| 2005 | ALEX BOONE, JAMARIO O'NEAL, DOUG WORTHINGTON |
| 2006 | LARRY GRANT, CONNOR SMITH, CHRIS WELLS |
| 2007 | EUGENE CLIFFORD |
| 2008 | MIKE ADAMS, MIKE BREWSTER, DEVIER POSEY, TERRELLE PRYOR, ETIENNE SABINO, F.S. SHUGARTS |
| 2009 | DORIAN BELL, COREY BROWN, MELVIN FELLOWS, JOHN SIMON |
| 2010 | ANDREW NORWELL |
| 2011 | CURTIS GRANT, BRAXTON MILLER, STEVE MILLER |
| 2012 | BRI'ONTE DUNN, TOMMY SCHUTT, NOAH SPENCE, ADOLPHUS WASHINGTON |
| 2013 | VONN BELL, JOEY BOSA, JALIN MARSHALL, MIKE MITCHELL |
| 2014 | DANTE BOOKER, SAM HUBBARD, RAEKWON MCMILLAN |
By my tally, that's 37 five-stars signed during the 13 run highlighted by six in 2008 with four apiece in the 2002, 2009, 2012 and 2013 classes, respectively. Looking at the names, there are certainly a handful of truly elite players yet there are many others showing just how inexact a science recruiting rankings can be. No question, a program should pursue as many five-stars as possible as the odds for success are certainly more favorable than that of non-five-stars but during that same time frame, three-stars like A.J. Hawk, Malcolm Jenkins, James Laurinaitis, Johnathan Hankins and Dane Sanzenbacher, Chimdi Chekwa, Zach Boren and Smooth Jazz made their presence known in Columbus. 
Back to the five-stars, interested in what the max ceiling has been for such players at Ohio State which would serve as a benchmark for Hilliard and Cornell to aspire to, I took a stab at identifying the five best careers by five-star recruits at Ohio State during the noted 14- year period. Here are my guys, in alphabetical order: 
TED GINN JR.

A consensus five-star prospect out of Cleveland Glenville and three-year starter (3 ST, 2 WR) in Columbus before becoming the ninth pick in the 2007 NFL Draft, Ginn Jr. ranks 2nd in school history with a 14.1 punt return yard average, 2nd in career punt return yards (900), 7th in receptions with 135 and 8th in all-purpose yards with 4,068. He lso holds the B1G record for punt return touchdowns with six. 
As a true freshman, Ginn Jr. made a name for himself on the national stage as he paced the country in average punt return yards (25.6) with a ridiculous four touchdowns, earning 1st team All-American honors as a specialist by both SI and Rivals. More quietly, he added 359 receiving yards for two scores and 113 rushing yards and two more touchdowns. 
As a sophomore, Ginn Jr. entered the starting lineup at receiver and hauled in 51 balls for 803 yards and four scores which was good enough for all-league honorable mention while repeating as a 1st team All-American special teams selection by Rivals. 
In his final year in the scarlet and gray, Ginn Jr. was a 1st-team all-conference performer with 59 catches for 781 yards with another 706 return yards and two touchdowns. 
BRAXTON MILLER

Tabbed a five-star by both 24/7 and Scout, Miller is essentially a three-year starter as he enters his final season in Columbus this fall. Even with a year to play, Braxton is a no-brainer for this list thanks to earning B1G Freshman of the Year honors in 2011 before repeating as the league's Offensive Player of the Year in his sophomore and junior seasons.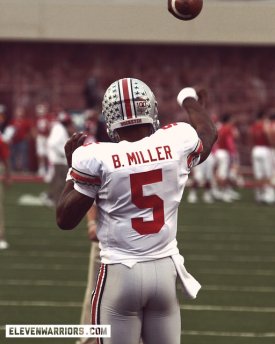 During Ohio State's undefeated 2012 campaign, Miller threw for 2,039 yards and 15 touchdowns with another 1,271 on the ground with 13 scores. His 3,310 total yards ranked 2nd in the league while his 28 total touchdowns ranked 3rd, earning the Huber Heights product a 5th place finish in the Heisman voting.
Last year, Miller upped the ante threw the air with 2,094 yards with 24 touchdown passes which was good enough to lead the conference. On the ground, Miller churned out another 1,068 yards with a dozen trips to the endzone giving him 36 total touchdowns which also lead the league. 
Miller slipped to 9th in the race for the Heisman last season thanks to some shaky performances in the passing game over the final five games of the season as he completed just 51% of his throws sandbagged by a 6/15 effort against Michigan and an 8/21 night in the loss to Michigan State. 
Despite the late season passing struggles, Miller was still deadly with his feet and now that he's been cleared to resume throwing following offseason arthroscopic shoulder surgery, he should have plenty of time to get his game tight before the season begins meaning an assault on the Ohio State record books is forthcoming. 
TERRELLE PRYOR

A Rivals and Scout five-star, Pryor was the headliner of a ridiculous 2008 class that featured fellow five-stars Etienne Sabino, J.B. Shugarts, Mike Brewster, DeVier Posey and Mike Adams. 
The backup to start the 2008 season behind Todd Boeckman, Pryor quickly worked his way onto the field thanks both to his talent and the fact Tressel needed a mobile quarterback because his offensive line was, at times, hot garbage. The Jeanette, Pennsylvania product was raw as a passer but still managed to complete 61% of his throws for 1,311 yards and 12 touchdowns against four picks while totaling another 631 yards and six scores on the ground to earn B1G Freshman of the Year and All-B1G honorable mention honors. 
With a year of seasoning under Pryor's belt, Tressel opened up the passing attack a bit more and Pryor responded with 2,094 yards and 18 scores though his completion percentage dipped to 57%. On the ground, Pryor added 779 yards with seven touchdowns. His 25 total trips to the end zone ranked 3rd in the league and his 2,873 total yards were good for 5th. In one of his finest performances, Pryor capped his sophomore slate with a MVP performance in a 26-17 win over Oregon in the Rose Bowl featuring a 23/37 night through the air for 266 yards and two touchdowns (1 INT) with another 72 yards on the ground. 
Brimming with confidence, Pryor turned in an outstanding junior campaign leading Ohio State to a 12-1 record featuring a 31-26 win over Arkansas in the Sugar Bowl though the TatGate scandal will forever tarnish his legacy. 
On the season, Pryor threw for 2,772 yards, completed 65% of his throws, including 27 for touchdowns while adding another 754 yards and four scores on the ground. The 27 touchdown tosses topped the conference and his 31 total scores and 3,526 yards of total offense ranked 2nd, helping him finish 2nd in league MVP voting. 
Of course, there would be no senior season for Pryor following the scandal. Already suspended for the first four games of the 2011 season, Pryor withdrew from school that summer and was banned from having any contact with the university. 
Pryor's 57 career touchdowns are tied with Bobby Hoying for the most in school history and his 6,177 passing yards rank 5th. He was also 3-0 against Michigan and 2-1 in bowls. 
BEANIE WELLS

A consensus five-star out of Akron Garfield, Beanie was good enough to be in the running back rotation as a freshman behind an under appreciated Antonio Pittman before evolving into the most complete running back to play for the Buckeyes since Eddie George in the mid-90's.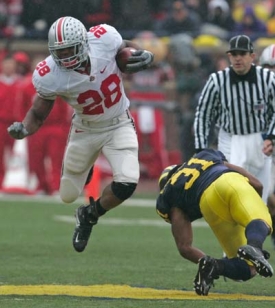 The headliner of Tressel's 2006 class, Wells averaged 5.5 yards a carry in year one, totaling 576 yards and seven scores including a 52-yard scamper for six in the historic 42-39 victory over Michigan that vaulted the Buckeyes into the national championship game. 
With Pittman gone, Wells took his game to the next level as a sophomore racking up 1,609 rushing yards with 15 scores on an impressive 5.9 yards per carry. Once again, he blew up against Michigan amassing 222 yards on 39 carries, accounting for both scores in a 14-3 win that sent the Buckeyes back to the national championship game where he would rush for 146 yards and a touchdown in the loss to LSU. 
Wells missed three games as a junior after being injured in the season opener against Youngstown State but still ran for 1,197 yards on 5.8 yards per carry with eight scores and once again scorched Michigan with 134 yards and two touchdowns giving him a perfect 3-0 mark against the maize and blue (412 yards, 6.9 ypc, 4 TD). 
Opting to turn pro after his junior season, Wells was selected with the 31st pick of the 1st round by the Arizona Cardinals. For his career in Columbus, Beanie's 3,382 rushing yards serve as the 4th-most in school history and his 17 games of 100+ rushing yards rank 3rd behind a couple guys named Archie and Eddie. 
Beanie was an easy choice for All-B1G 1st team as he rushed for 100+ in nine of 13 games, ranked 2nd in rushing yards (the 1,609 yards also mark the 4th best single-season effort in school history) and 1st in rushing attempts. 
His helmet tapping drove me crazy at times but so did that devastating stiff arm. 
DONTE WHITNER

A five-star as ranked by Scout and 24/7, Whitner was the last player on my list as I considered the contributions of Maurice Clarett, Alex Boone, DeVier Posey and John Simon. Time will tell if Joey Bosa eventually challenges his spot. 
For now I'm going with Whitner, who was one of the guys who laid the groundwork for the Glenville pipeline, and chose Ohio State over the likes of Michigan, Notre Dame, USC and Miami. 
Whitner started two years in Columbus before turning pro early, going 8th overall in the 2006 NFL Draft which saw four other Buckeyes selected in the 1st round (Hawk, Carpenter, Holmes, Mangold). Whitner earned a reputation as a big hitting safety in 2004 and blew up in 2005 placing third on the team in tackles behind Hawk and Anthony Schlegel with 71 stops to go along with eight tackles for loss and three sacks. 
His strong season earned 1st team All-B1G and 1st team All-American honors and with his stock at its highest point, he smartly moved on the next phase of his career which after eight seasons split between Buffalo and San Francisco will resume in Cleveland for the Browns this fall.