"But Jeremy, he's only a three-star!"
No matter what you know about new Buckeye commit Grant Schmidt — and in most cases the answer is "very little" — you don't know Schmidt.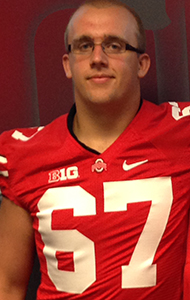 What you do know is that he's big (6-foot-6 and 275 pounds), that he currently has a bit of an underwhelming offer list (Ohio State bested Minnesota for his verbal commitment). You may think that the South Dakota native is a "stretch" or a "reach" by the Ohio State coaching staff, but you'd only think that if you were not paying attention to Urban Meyer's recruiting history; Meyer would rather bank a scholarship than give one away to a player he didn't feel could contribute. 
Ohio State signed five very talented offensive lineman in 2014 and Schmidt becomes the first of what could be a four-man class in 2015. Where Schmidt excels at this point in his development is simple athleticism. He's not your average, plodding, big-bellied offensive lineman. This is a young man with elite measurables who is still learning the art of being a lineman. One thing that's for sure, he's got the tools that all offensive line coaches would love for everyone lineman they have to start with.
One source close to Schmidt's commitment raved about him. 
"He's very athletic, he's explosive," the source told 11W. "He's smart, he's a hard worker and is very coachable. (He has) huge upside."
One player Schmidt has been compared to since being offered by Ohio State in May is former-Buckeye and soon-to-be Indianapolis Colt, Jack Mewhort. Our source agreed with the comparison, but said Schmidt is actually above where Mewhort was athletically.
"Yes, (he reminds me of Mewhort) or Taylor Decker," he added. "(Grant) is more explosive than both of them. His broad jump (nine-foot-four-inches) would have placed him third among all offensive tackles at the NFL combine."
While Schmidt readily admits his game needs polish, his natural ability, attitude, self-confidence and work-ethic make him an ideal prospect to mold in the future.