With scholarship offers from Ohio State, Notre Dame, North Carolina, Penn State, Tennessee, Stanford, and others, it'd be easy for 2016 running back Robert Washington to talk about his game and how talented he is. It'd be easy to allow self-confidence to tiptoe past arrogance knowing he's one of the country's most sought-after 2016 ball carriers, but that's not Washington's way. 
"I have a real great support group that keeps me focused and humble," Washington told Eleven Warriors. "I understand that God has blessed me and that this is His glory, not mine. My football skills don't define me as a person."
That understanding is one of the things that makes the 5-foot-10, 205 pound Washington so attractive to college coaches. 
"Once coaches meet me, I think they realize that I am not just 'the typical jock,'" he added about his recruitment. "Just because I score touchdowns and I have the measurables and great film doesn't make me better than someone else. The most important thing to me is academics, I want to go to a well-balanced school."
The Buckeyes were impressed by Washington and offered him during a mid-April visit to Columbus. 
"I spent two days in Columbus," he said of his Ohio State visit. "I really wanted to get a feel for the college, the coaches and (Columbus). I was blown away. I spoke with (Urban) Meyer in his office for about an hour, and he told me I had a committable offer."
Washington spent time with Stan Drayton as well, including an intense session on the whiteboard, where the Southlake Christian Academy star impressed Drayton with his football IQ.
"I spent two hours with (Drayton) on the whiteboard. He loved my knowledge of the game. He said I am one of the smartest sophomores he's ever seen, and that meant a lot to me. I watch a lot of film and my mentor is former NFL running back Tremayne Stephens. (Drayton) was impressed by my understanding of the game. Coach Alford at Notre Dame said the same thing, that my football knowledge was higher than half of the players he coaches now."
With a number of visits under his belt, Washington said that one specific element of his recruitment has stood out.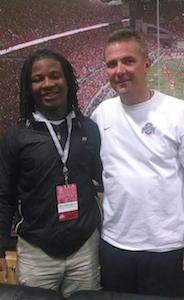 "It's just been meeting the players and the coaches," Washington said. "I was playing using the Buckeyes and playing the college football video game one and the next day I am meeting Braxton Miller and Urban Meyer."
With a light summer planned, the North Carolina running back wants to really start evaluating where things stand. He says a commitment isn't something he's thinking about – yet.
"It's going to come down to what the best fit," he said of what he needs from a college. "Do I fit what the school is looking for and does the school fit what I am looking for? I don't have a favorite right now, as long as a school hands the ball to the running back I'm interested. I won't rule out committing early but I think if I take all my visits I will be able to make a better decision. I don't want to rule anyone out until I have at least given the coach a fair shot, and that means taking a visit to the school."
Ohio State could very well have a running back committed in the 2016 class before Washington makes a decision, but he says that possibility isn't a deterrent when he's looking at schools.
"I love to compete," Washington said of being in a recruiting class with another top-ranked back. "That won't be a major issue."