Ohio State's 2015 recruiting class hosted a number of key targets last weekend, including the nation's 66th-ranked prospect, Richmond (Va.) linebacker Ricky DeBerry, Jr. Deberry, a 6-foot-3, 245 pound defensive standout at St. Christopher's School, has no shortage of collegiate opportunities. He has 51 scholarship offers, including Ohio State, Alabama, Clemson, Michigan State, Florida, Oklahoma, USC, Baylor and (obviously) dozens more. 
An intriguing prospect with the size and speed to play multiple positions on defense, DeBerry has caught the eye of Larry Johnson, Sr., who is one of two coaches responsible for his recruitment (Zach Smith being the other.) As a defensive standout, it's been Johnson in charge of late, including DeBerry's visit to Columbus last weekend with fellow Virginian Matthew Burrell. 
"(Coach Johnson and I) get along great," DeBerry told Eleven Warriors. "He's almost got a 'father-figure' type of feel to him whenever you meet with him or talk with him. He sees me as a versatile player who could stand up or be a rush-end, depending on the defense. He said I've got the size to play in the middle of the defense and the athleticism to play outside or rushing the quarterback."
DeBerry and his parents made it a point to spend time with Ohio State's Urban Meyer as well on their visit. His father, Ricky DeBerry, Sr., called Meyer "down to Earth." The younger DeBerry agrees.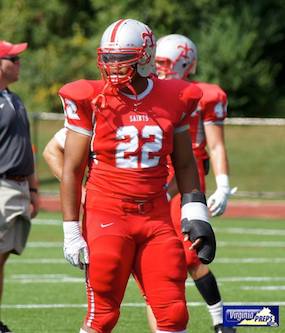 "(Urban Meyer) was really down to Earth, laughing and joking around with us," Jr. said. "He talked about more about life and being responsible for your actions (than football.) My dad always says that anytime you're a winner, people search for your flaws, so regardless of what anyone says (about Meyer) you have to respect his record. He made it clear they win because they practice hard and because they're paying attention to all the little details."
Being on campus with your whole family is a great opportunity to see more than just the inside of the football coach's office, and the DeBerry's checked out Ohio State's campus as well.
"The size of the campus was shocking. It's huge! I mean, they have almost 60,000 students," DeBerry, Jr. said of his takeaway from visiting campus. "We met with the academic support system at Ohio State, and they explained how they support each student-athlete and try to help (get you acclimated.) We saw most of the facilities at Ohio State."
Although he just recently cut his list to 20 schools, DeBerry says a visit to Ohio State can help him get his thoughts on recruiting in order, despite a number of visits he still plans on making.
"It helps, visiting all these schools," DeBerry said of his extensive travel plans. "I still have to visit Alabama, LSU, USC, UCLA, Arizona State, Texas A&M, Miami, South Carolina and Michigan State. These visits help me and my parents get a feel for the coaches, the weather, the school and the community at each place."
DeBerry says the Buckeyes are likely to be there the next time he narrows down his list.
"Ohio State moved way up my list," the nation's 4th-ranked outside linebacker said. "Any recruit has to say to himself 'Playing at The Ohio State University is a great opportunity to win a national championship, to play for a legendary coach at a school with a beautiful campus and great academics."