It's hard being a teenager these days. It's harder being a teenage athlete. It's hardest being a teenage athlete trying to follow in the prodigious footsteps of a potential Hall of Fame father. Welcome the world of Keyshawn Johnson, Jr. A regular kid who loves video games (NCAA series and Madden, especially) and wants to study how to program them in college, Keyshawn realizes there's some parts of his life that will never be regular.
"I've felt (pressure to live up his dad's name) since I could walk," Keyshawn the second told Eleven Warriors. "It's nothing new to me anymore. It has its pros and cons."
What is new to Johnson is an extensive college visit schedule. He has spent much of the last month in the beginning stages of his recruitment, traveling the country and collecting offers along the way. Ohio State, Florida State, Clemson, California, Arizona State, Louisville, Miami, UCLA, and West Virginia are among the big-time programs that have recently come calling. He's learning quickly how to separate what he wants to hear from the truth. Recruiting, after all, is essentially a sales pitch. Despite that knowledge, he's confident that what's he heard so far is a positive sign for what's to come.
"I feel like all these schools are being pretty real with me, I think if they didn't like what I could bring to the table they wouldn't have offered me," he said, talking about how he's learning the "business" of recruiting. "Some schools you can tell there's a little (salesmanship.)"
Johnson is not naive about his game, and the coaches who have offered him have been to the point. He's got a growing game — and a growing frame — and three years left in high school to refine the product.
"I don't drop the ball. I have suction cups for hands, and I am pretty smooth route runner," Johnson said, displaying a touch of his father's uber-confidence. "Right now I am really working on my speed. I want to get to a 4.6 (in the 40-yard-dash) by the start of next year."
He knows what coaches like about him, but what is Johnson, who hopes to make a college decision in his junior season, looking for as he searches for a college?
"I'm looking for a coach that can help get me to the NFL, to make me NFL ready," Johnson, who's father was the first pick in the 1996 NFL Draft said. "A school will standout to me just by believing in me and making sure to develop a relationship with me (as a person.) A pro-style offense wouldn't hurt, either."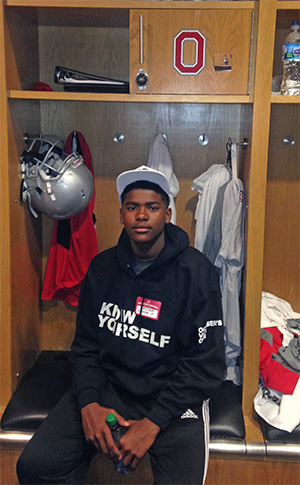 One school he visited last month, Ohio State, has a small advantage in the "personal touch" department, because his cousin, wide receiver Michael Thomas, is suited up in Columbus.
"I'm really proud of him," he said of his older cousin. "(Mike) says he loves it there and it's his time there now. My visit to Ohio State was great. I had a great tour of the campus, the facilities and I watched practice. It was very intense, and I love the way (Urban) Meyer is coaching that team."
Another possible advantage for the Buckeyes? Not many other schools have a quarterback already committed for 2017. Ohio State commitment Danny Clark has been hard at work on Johnson, who stands 6-foot-1 now, but should end up 6-foot-4 like his father.
"(Danny and I) have texted, but we've not yet met in person," Johnson said. "He tells me about his high school, and I was actually watching a movie about it on Netflix (Go Tigers!) I saw his highlight tape, that kid can really throw the ball. He keeps telling me I should go to Ohio State."
Johnson is going to Ohio State, in June, when he will camp with the Buckeyes. After that, things will start to shape up a bit more.
"I'll be going back to Ohio State this summer," Johnson said when asked if he plans on returning to see the Buckeyes again. "I'm going to the camp there."
A 3.0 student, Johnson isn't resting on his laurels after a successful freshman year. There's more to being a college student-athlete than student than football.
"I'm trying to get to a 3.7 GPA or higher," he said of his academic goals. "I'm interested in computer design. I've always been interested in making video games or programming."
As the son of a USC legend, he admits there's some affection for the Trojans but he doesn't think that will affect his decision.
"(My dad) is my role-model. I appreciate all he's done for me," Keyshawn added. "He tells me to strive to be the best every day, to get better every day. USC is a school I like, and I won't lie; they are my 'go to' team on NCAA because Marqie Lee is nice, but my dad's history won't affect my decision."