The spring game has come and gone and the Buckeyes are still sitting at three commitments for 2015, Penn State has 1,241 and the sky is literally falling. 
We expected a few possible commitments this weekend, it's true. They just didn't happen, but that's not to say they won't.
Dre'Mont Jones? He'll be a Buckeye (or I'll eat my shoe). Sh'Mar Kilby-Lane? I'm not fond of percentages but I'd be pretty shocked if he doesn't end up a Buckeye. I hate to beat a dead horse, but I must: patience is necessary. The Buckeyes' plan is the Buckeyes' plan, not yours, and certainly not mine. They are on track.
We'll discuss a few players who made the trip to Columbus this weekend and then we'll talk about a big possible turkey joining an already elite group of players visiting Ohio State this week.
KIRKLAND HOPES FOR BUCKEYE OFFER, SETS D-DAY

The Buckeyes' chances with top prospects at linebacker have kept them — up to this point — in a holding pattern on a number of very talented regional players who have long hoped for an Ohio State offer. We've talked at length about Nick Conner, Anthony McKee and others inside Ohio's borders, but not as much about Indianapolis (Lawrence Central) native Darrin Kirkland, Jr. 
Kirkland visited Ohio State for the spring game, but it's hardly the first time he's been to campus after repeated visits in 2013. A 6-foot-2, 230-pounder with an impressive offer list, he's not yet gotten the call from the Buckeyes and it appears that he's decided he doesn't want to wait any longer. He's got offers from Penn State, Michigan, Tennessee and a host of others, but it appears that his decision is likely to come down to those three schools barring any last minute entry from Ohio State into his picking party. 
Could that happen still? Yes, according to Kirkland.
"Ohio State told me they love my film and everything about me," Kirkland told Eleven Warriors following the spring game. "Coach (Luke) Fickell and Coach (Kerry) Coombs said they'd be in this spring and we'll go from there."
The second-ranked player in Indiana (behind Penn State linebacker commitment Josh Barajas) has hoped for that offer for sometime, so let's see what happens.
JENKINS ENJOYS TWO KEY VISITS

We talked a bit last week about Sterling Jenkins, another key prospect who has narrowed down his schools to Ohio State and Penn State. This past weekend he visited both schools and as he said would be the case, he did not commit to either. A cerebral kid, Jenkins is one of the rare few that have not succumbed immediately to James Franklin's "je ne sais quoi," but that doesn't mean Ohio State is in a great spot to land him. In fact, I'd still put the Buckeyes squarely behind the Nittany Lions, but he was happy to get a chance to check out the Buckeyes coaching style up close on Friday and was particularly interested in Ed Warinner's "game face."
The longer his recruitment goes, the better for Ohio State, period. 
APOPKA STAR "LOVED" OHIO STATE

In a recruiting class that's likely to be less than 25 players, you might expect Urban Meyer and his staff to pinpoint positions of need and focus there, but that's not always the case. In some cases, you want a football player, and that's what Chandler Cox, from powerhouse Apopka (Fla.) High School is. He's an old-fashioned guy who can play quarterback, fullback, tightend, linebacker, whatever. 
Cox and his family visited Ohio State this past Friday, and he was outwardly expressive in his enjoyment about the trip.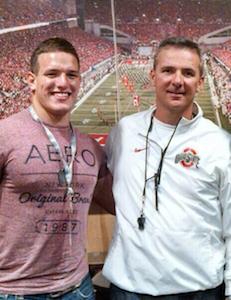 "It was amazing," Cox told 11W. "I really loved it. The tradition they have there and the brotherhood they have as a team. They want to make you a man, and a leader, and I really liked that."
Cox had high expectations of what to expect at Ohio State.
"I knew I was going to love it," he said. "I know what kind of program it is. I didn't see much of the academic part of the school yet, but I am going to go back this summer."
Alabama, Ohio State, Florida State, Florida, Auburn, well...everyone has offered him, so he's a unique recruitment to watch despite some positional flexibility. 
Ohio State made some in-roads into Apopka last summer when they offered former quarterback Zack Darlington, who ended up signing with Nebraska. The Buckeyes have also offered 2015 offensive lineman Martez Ivey, a five-star talent for the Darters. 
MARCUS LEWIS FADING INTO GATORVILLE

Marcus Lewis, one of the nation's speediest defensive backs, visited Ohio State about a month ago and left Columbus with the Buckeyes as the leaders in his recruitment. Welp, things changed and changed quickly for the former Virginia Tech commitment, and in more ways than one.
Yesterday, Lewis replaced the Buckeyes with Florida at the top of his list and in case you missed it, he's also transferring to IMG Academy in Florida for his senior year. He's very close with Florida freshman defensive back Jalen Tabor and it's all over but the crying as far as his recruitment is concerned, at least that's the word on the street.
Next.
BURRELL VISITING THIS WEEKEND?

Two weekends ago, Woodbridge, Va. offensive lineman Matt Burrell visited Penn State with big defensive lineman Tim Settle. The Nittany Lions, obviously a thorn in the proverbial side right now, have since been a pretty regular occurrence on his "Twitter timeline," if you're into that sort of tea-leaf-reading. Last night I got word from a source in Virginia that Burrell is attempting to get to Columbus this weekend, possibly riding with Richmond linebacker Ricky DeBerry. 
If it happens, it's a major opportunity for Ohio State to steal back some momentum in Burrell's recruitment. Zach Smith and Larry Johnson, Sr. handle Ohio State's Virginia recruiting, and have done a nice job with Burrell up to this point, but the Penn State visit appears to have been sticking with him. Why?
"James Franklin does a good job speaking the kid's language and he really sells the campus lifestyle," a source close to Burrell shared with 11W. "Plus, kids have very short memory about the Paterno thing. The 2015 kids barely remember it."
More on this as it develops, but Ohio State has to be hoping to see him on campus this weekend.