Welcome to the Mailbag, the one place where you can rest your feet, sip a cold drink and get most of your recruiting questions answered. You provide the feet, the drinks and I'll do my best to provide the answers to the questions, deal?
There are, as is the norm, a number of questions that come from similar places, so if I don't respond to yours directly, it could certainly have been a duplicate, or whatever.
Let's get to it. 
Brandon Wimbush, what's up with that? - Lots of Folks
There's no position more interesting to recruitniks than quarterback and Ohio State's approach in 2014 has led to even more interest than usual in their handling of the position for 2015. 
Brandon Wimbush, if you recall, was very close to committing to Ohio State back in December. He decided, when rumors of James Franklin taking over Penn State began to swirl, to delay things a bit. Since then, the scuttlebutt has been almost exclusively Nittany Lion-based for Wimbush, but he's not committed anywhere yet. Why not? 
Here's why: Wimbush won't commit until he's made it back to Ohio State, at least that's what he told me on Sunday. I found that interesting on a number of levels, but at the end of the day here's what I've always felt about Wimbush: Ohio State is is the place he wanted to be the most, and since then it's been nothing but "Penn State this, Penn State that." Like a number of key players, the decision is head versus heart, and I think Wimbush's "heart" has been with the Buckeyes since his visit last fall. 
Most recruits go with their heart, but there's a ton of pressure trying to keep Wimbush and the New Jersey pipeline headed to Happy Valley. Wimbush is, and has been, a priority for Ohio State and he is absolutely not a "fall back" option to Torrance Gibson.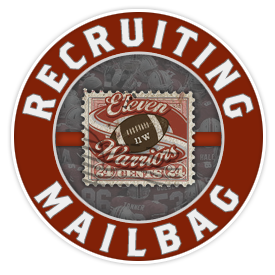 As you know, a lot of people, including myself, are going just a little stir crazy. In your opinion when is the next commit coming? - AP2538
I get it, I get it. You see all these players committing and start to feel a bit anxious. It's natural. You want the toys and you want them now! Unfortunately, as the recruiting calendar has moved up, key recruits are waiting longer and longer to make their choices. The Buckeyes, as it were, aren't interested in recruiting "non-key" recruits, so therein lies the rub. 
So, with three commitments for 2015 in the fold, the Buckeyes are anxious for the next "wave" to begin, and I think that could start this weekend. There is a very good chance that Van Jefferson, Sh'Mar Kilby-Lane, Dre'Mont Jones, or Liam McCullough could commit this weekend, and a higher-than-average chance all three could be committed by the middle of next week. Would that satisfy anyone? 
Any news on the defensive line front, especially regarding Adam McLean from Gaithersburg, MD? - Hovenaut
Adam McLean is an interesting case, as he's had the Buckeyes in his top five for some time despite never checking out Ohio State. He received an Ohio State offer within the last month and ironically since then it almost feels like he's lost interest in the Buckeyes, as he's made no discernible effort to arrange a visit.  He says he's very close with Larry Johnson, Sr and he's good friends with Darius Fullwood — the two say they'd like to play in college together — but I don't see Ohio State involved here. I think McLean commits to Penn State or Michigan State, and the Nittany Lions are making a serious push to try and get that to happen this weekend. 
I believe that in some way, Ohio State's offer to Elijah Taylor, a played they'd take right now, sort of moved McLean down their proverbial wish list. As for the rest of the defensive line? Some big names are still out there and still high on the Ohio State board including the Virginia trio of Ricky DeBerry, Tim Settle, and Josh Sweat. The truth is that right now there are so many prospects still available that it could be anyone. It's all about getting guys on campus. DeBerry visits April 18th, so he's one that could move up the list soon.
How do you see the linebacker class shaping up? - Killer Nuts
I've amended my initial class projection — number wise — and I think linebacker is one spot that could be a lower number than I had originally thought. So, right now, I see the Buckeyes taking three linebackers in 2015: Kilby-Lane, Jerome Baker and then they hope Justin Hilliard.  If Hilliard ends up elsewhere, which at this point is the more likely outcome, then the Buckeyes will adjust. Is that when Nick Conner gets the call? Could be a bit longer wait than anticipated for the Dublin Scioto star, the question will ultimately be if the Buckeyes waited too long.
How long will Conner be okay with being Urban Meyer's second or third choice? I mean, is it wise for the staff to continue to put off a talent like Conner, a four-star Columbus kid who obviously wants to be a Buckeye, while continuing to woo higher rated players who don't seem to have the same affinity for Ohio State? - KMP10
There are a couple key points that have to be made here in order to answer this question. First, I love Nick Conner's approach, and I think that anyone who's ever really wanted something in their life, I mean really wanted something, knows that life rarely happens on our timeline. Conner has told me that if he has to beat out players at linebacker, tight end or fullback to get an offer from the school he wants, then that's what he'll do. He's a certified warrior, a hard-working, motivated kid. Ohio 
Second? Recruiting is not about feelings, it's about winning, and the Buckeyes, no matter how much we think we know, are making the decisions and evaluations they think will win them the most football games. They can't offer every kid who dreams of being a Buckeye, unfortunately.
Third: the Buckeyes are not the only program in the area waiting to pull the trigger on Conner (or C.J. Conrad, another player in a similar position,) Michigan, Michigan State, Notre Dame and Penn State are all biding their time as well. It's clearly not just something the Buckeyes are waiting to see play out, others are as well.
Maybe an odd question but do you think we have a shot with some kids out west? It just seems like we miss out on a lot of good California kids among others out west and I was wondering about it. - ItWasMe
It's hard to get kids from California to make visits to Columbus, that's the bottom line. It's a long, expensive trip and it's pricey for Ohio State to spend time and money and resources recruiting players that they have no natural "connection" with. Kids from all over the country know about Ohio State, and they like Ohio State, but unless they come from means it's not easy to arrange explorational visits, and without those unofficial trips, it's not likely the Buckeyes get chosen for official visits. 
I haven't heard anything at all about Terry Beckner Jr but apparently he is a Buckeye lean? I saw his crystal ball predictions were mostly Ohio State. - The Clean North
Color me as skeptical that Terry Beckner, who was once on record saying Ohio State was his favorite, ever even visits the Buckeyes, although he's planning on being in Columbus at the end of May. He's not a prospect who talks much about recruiting, which is why you don't hear of him, and the "Crystal Ball" stuff is ancient history from what I understand. Missouri and USC are the two schools I've regularly heard mentioned for him.
What is the true impact of Jauan Jennings committing to Tennessee and Gibson? Where does that put us in the race?  - Edugoon
Jauan Jennings, a talented athlete who committed to the Volunteers on Monday, doesn't impact their pursuit of Torrance Gibson, or Lorenzo Nunez, at all. If by some some chance the Vols are the team to receive a commitment from Nunez at the end of the spring, that could cause some ripples in that effort, however.
What is the latest on legacy C.J. Sanders? Is the staff recruiting him hard or have they focused on other targets? - PukinDawg
With recent offers from Georgia and Notre Dame, C.J. Sanders has gone from a nice legacy recruit to a big-time prospect with a number of major offers. So why aren't the Buckeyes aggressively pursuing Sanders? The depth at the wide receiver position is pretty daunting, especially at the "Percy Harvin" position, and Arizona's Christian Kirk (and maybe Eric Glover-Williams, if he plays offense) are higher on the Buckeyes' board. For what it's worth, the pursuit of Sanders is likely going to be more difficult later in the year now that he's moving back to California for his senior season.