Lexington (Va.) native Austin Clark is used to standing out. After all, when you're a 6-foot-6 and nearly 300-pounds as a 17-year-old, that's pretty much par for the course. When you're also a nationally-ranked offensive line prospect, standing out becomes even more a part of your daily routine. 
Clark has offers from Ohio State, Penn State, Clemson, Virginia Tech, North Carolina, South Carolina, Miami (Fla.) and a bevy of other schools. This past weekend, he made a return trip to Happy Valley and checked out James Franklin's Penn State program. Penn State hosted nearly two dozen of their top prospects this weekend, and Clark was among them.
"Penn State was great," Clark said of the trip "It was a really great spring practice to go to."
Another school that hosted a number of key targets this weekend was Ohio State, but Clark will be making his first visit to Columbus in two weeks.
"Ohio State offered me back in December and I've been in contact with (offensive line coach) Ed Warinner since and we talk pretty regularly, especially on Twitter," he said of his communication with the Buckeyes. "I actually just set up a visit for April 5th."
Warinner doesn't normally recruit the state of Virginia — that's Zach Smith and Larry Johnson, Sr. territory — so might him taking the lead on Clark's recruitment might give a hint as to how highly he's valued by the Buckeyes? Clark hopes that is the case.
"Ohio State is one of my favorites right now, so I hope I am a priority for them," he said of his interest in Ohio State. "I want to go to a school where football is important, like Ohio State or Penn State, and I want to go somewhere that I can play early."
While the chance for early playing time is something Clark will have to earn, the visit to Columbus in two weeks will give him a chance to see the Buckeyes' football program, and the school as a whole, up close. It's a chance he's looking forward to.
"I want to see how Coach Warinner coaches his guys," Clark said of what he'll pay attention to when he gets to Columbus. "I also want to talk to Coach Meyer and the other coaches at Ohio State in person. Building relationships with the coaches is very important."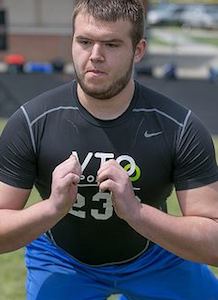 Off the football field? Clark knows what he wants to look for there as well, and his academic interests are familiar to Urban Meyer's own academic background.
"I think I'd like to major in either business management or psychology," he said of his future in the classroom. "The non-football side of college is important and something I need to see as well."
If Clark sounds like a kid with a solid sense of what he's looking for, it's because he is. That said, he hasn't narrowed down his list yet and doesn't have any set date for a decision.
"Well right now I can't really say one school is standing out more than the others," he said of his current list of schools. "In a month or two (after more visits,) I'm going to narrow down my list to about six or seven schools. (I hope to decide) before December, but I want to have a decision before my season starts, maybe towards the end of summer?"
If a December deadline is part of a decision, it's because Clark is considering the option of enrolling in college early.
"Enrolling early is an option I've been considering," he said of his senior year plans. "I've been talking with my guidance counselors and they told me it's possible. I've also talked to a couple people who've done it and they say I should, so I will most likely do it." 
For Clark, who is ranked as the nation's 29th best offensive tackle, enrolling early is something that would give him a chance to get acclimated to college life ahead of his freshman year. It's an important step for a prospect who wants to play early and he thinks his game is good enough to do so. 
"Right now, my run blocking is the strength of my game," Clark said about what makes him such a high-level prospect. "My pass-protection is solid, but it could be improved on. I think my work ethic is what makes me unique. I do everything I can to get better."