Good afternoon folks, welcome to your Tuesday afternoon dose of 'crootin. We've reached March, and with it comes spring football at Ohio State and the impending football camp season. Ahh...glorious.
If you recall, last winter we did a series of stories about who could end up in Ohio State's 2015 recruiting class. Those were initial prognostications, a far away look at a mystical place called "Guessing Land." Four months later, let's take another look but this time with a bit more knowledge to draw from. 
This is Buckeye football recruiting, change is inevitable and almost constant, but we'll do our best. Let's get to it.
NOVEMBER 2013

Here was the final group of guys from the last comprehensive look we took in November. (You can read the breakdowns of each group here: Offense I, Offense II, Defense I, Defense II)
Pretty good group if it came to fruition, huh? Unfortunately, the odds of that list happening are slim to none. As it stands, a number of players on the initial list have already committed elsewhere, and others have, for one reason or another, moved off of Ohio State's radar. Ohio State has three players currently committed and they're all on this list as de facto members, but I'd be stunned if all three signed with Ohio State, because recruiting.
There are some notable changes to the list, and we'll go through those position-by-position, starting with the game's most important position, quarterback. I'm operating on a full, 25 player class here as well, which is probably 2-3 players heavier than the Buckeyes will actually take.
QUARTERBACK
Torrance Gibson supplants Brandon Wimbush on my list, which is obviously the first and possibly the biggest, change. Back in November, Wimbush had planned on a very early decision, but that has changed and it seems that Penn State has surged into the lead for his services. Yes, he is still suggesting that the Buckeyes are heavily involved in his recruitment, but a scheduled visit for Ohio State's spring game will not happen (schedule conflict) and James Franklin and Penn State are all the rage right now. Gibson's ascension towards the top of the Buckeyes' priority list may also play a role. 
As Gibson's interest in Ohio State continues to become national knowledge, it seems savvy college recruiters are using him against the Buckeyes on the recruiting trail.
"Well, you know that Torrance Gibson is probably going to go there, right? You don't want to have to compete against him, do you?"
Yep, that's kind of happening, and no matter how legitimate Gibson's interest in Ohio State, it's hard to dispute he's at the top of the Buckeyes' wish list. If history has shown us much, it's that Urban Meyer usually gets who Urban Meyer wants. So Gibson is in.
RUNNING BACK
Soso Jamabo is off the list, a byproduct of Damien Harris' decommitment from Michigan, Jacques Patrick's continued interest and Mike Mitchell's pending transfer out of Columbus. In his stead, it's Harris who has become the priority for Ohio State at this position as the Buckeyes' position with Patrick seems to be slipping with Florida State and Miami surging.
WIDE RECEIVER // tight end

A few new names are being added here, and if it was to happen this way I think Buckeye fans should be pretty darn excited about it. Scottsdale (Ariz.) wide receiver Christian Kirk and Pompano Beach (Fla.) wide out Calvin Ridley, two five-star talents and Connecticut tight end Chris Clark have made their way into the mix. Kirk, who visited Ohio State this past weekend, will be a difficult "pull" for the Buckeyes — as will Ridley and Clark — but Ohio State made what I think will be a lasting impression on him and his family.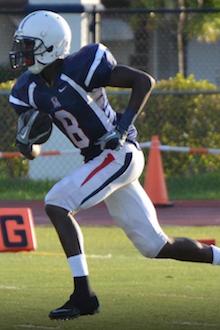 Do I have too much confidence in Zach Smith? Nope, I don't think I do. Ohio State's wide receiver coach, especially when combined with Urban Meyer as a dynamic duo, is becoming pretty hard to beat. I've kept Brentwood (Tenn.) wide receiver Van Jefferson on the list, although that would have changed had Urban Meyer not taken over his recruitment within the last ten days. Meyer has to sell Jefferson's father, the wide receiver's coach for the Tennessee Titans, that Ohio State's offense can utilize his son's skills, and I think that he can do just that. 
Clark is an interesting case because while Ohio State was involved early in his recruitment — and he's very high on the Buckeyes — Meyer will have to find some way to show a top-flight tight end that yes, Ohio State can use the tight end. He and his family will visit the Buckeyes in two-and-a-half weeks and it will be a very important meeting. Meyer was "late" offering his top tight end target in 2014 (Mike Gesicki) and he doesn't want to let another one get away, especially after not taking one last year.
OFFENSIVE LINE // DEFENSIVE LINE

The first change is that Sterling Jenkins, the 6-foot-8 behemoth from Pittsburgh, is off the list. I think Jenkins will stay home in Pennsylvania at either Pitt or Penn State, another casualty of James Franklin's "War on The Region." In his place, I've got Matthew Burrell, a big ol' tackle from Virginia, another player that Zach Smith has made a priority. For his part, Burrell says that he and Smith are "tight," and that he has a great relationship with the staff at Ohio State. I've also removed Hubbard's Matthew Jones, who has committed to West Virginia and replaced him with fellow Ohioan Rob Dowdy. Dowdy, a Columbus native, was offered by Michigan State this week and I think Ohio State will be forced to act soon if they want to keep him from leaving the state.
Coincidentally, I do not have Warren lineman James Daniels on the list. For whatever reason Daniels, whose father played at Ohio State, just doesn't seem to be that "into" the Buckeyes. Maybe I am wrong? I'm probably wrong, but when an in-state guy — especially a legacy player like Daniels — doesn't jump all over an early Buckeye offer I think it's possible he may decide to blaze his own path elsewhere.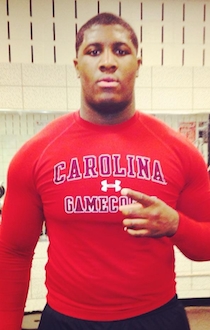 On the defensive line, I've swapped out the entire defensive line unit. The Buckeyes offered Dre'Mont Jones from Ignatius last week, and I imagine he'll be the first of this group to commit to the Buckeyes, probably at the end of the spring. Connecticut defensive lineman Christian Wilkins doesn't talk much, but Ohio State continues to pursue him heavily and people close to him say he's not shy about how much he likes the Buckeyes. Maryland star Adam McLean and Virginia's Ricky DeBerry (who could be a linebacker) are two players that Larry Johnson, Sr. could help bring Ohio State's direction, although Zach Smith is still the man when it comes to DeBerry's recruitment.
LINEBACKER // DEFENSIVE BACK

Two more groups that have seen considerable change, the back half of the Buckeye defense will likely see more names popping up and dropping off than any groups. Gone from the linebackers group is Bowling Green (Kentucky) star Eli Brown. Brown's not really interested in the recruiting game, and he's still interested in the Buckeyes, but with two spots "reserved" for Justin Hilliard and Jerome Baker, Brown may force the Buckeyes to wait a bit longer than they'd like to. Nick Conner and Sh'Mar Kilby-Lane are two players very high on Ohio State, and each of them is likely to make a decision by the time summer rolls around. 
Could the Buckeyes lose out on Hilliard and land Florida's Jeffery Holland instead? That would be a tough loss, but a decent trade if they have to lose the state's top player. Holding on to safety Ben Edwards is a key element to the pursuit of Holland.
David Dowell is an intriguing prospect at defensive back, and someone I think earns a Buckeye offer this summer. Marcus Lewis had committed to Virginia Tech in November (and decommitted in December), but Ohio State positioned themselves very nicely in his recruitment after a visit this past weekend. Lewis has a size and speed combination that has college coaches all over the country coveting his signature. Will he be the first "big win" for new Buckeye defensive coordinator Chris Ash?
REVISED 2015 PREDICTION




| PLAYER | POSITION | HOMETOWN (HIGH SCHOOL) |
| --- | --- | --- |
| Torrance Gibson | Quarterback | Ft. Lauderdale, FL (American Heritage) |
| Damien Harris | Running Back | Berea, KY. (Madison Southern) |
| Andrew Dowell | Running Back | Lakewood, OH (St. Edward) |
| Christian Kirk | Wide Receiver | Scottsdale, AZ (Sagauro) |
| Van Jefferson | Wide Receiver | Brentwood, TN (Ravenwood) |
| Calvin Ridley | Wide Receiver | Pompano Beach, FL (Monarch) |
| Chris Clark | Tight End | Avon, CT (Avon Old Farms) |
| C.J. Conrad | Tight End | Lagrange, OH (Keystone) |
| Drew Richmond | Offensive Line | Memphis, TN (Memphis University School) |
| Steven Gonzalez | Offensive Line | Union City, NJ (Union Hill) |
| Rob Dowdy | Offensive Line | Westerville, OH (South) |
| Matthew Burrell | Offensive Line | Woodbridge, VA (C. D. Hylton) |
| Dre'Mont Jones | Defensive Line | Cleveland, OH (St. Ignatius) |
| Ricky DeBerry | Defensive Line | Richmond, VA (St. Christopher's) |
| Adam McLean | Defensive Line | Gaithersburg, MD (Quince Orchard) |
| Christian Wilkins | Defensive Line | Suffield, CT (Suffield Academy) |
| Jerome Baker | Linebacker | Cleveland, OH (Benedictine) |
| Sh'Mar Kilby-Lane | Linebacker | Hallandale, FL (Hallandale) |
| Nick Conner | Linebacker | Dublin, OH (Scioto) |
| Justin Hilliard | Linebacker | Cincinnati, OH (St. Xavier) |
| Jamel Dean | Defensive Back | Cocoa, FL (Cocoa) |
| Marcus Lewis | Defensive Back | Washington, DC  (Gonzaga) |
| David Dowell | Defensive Back | Lakewood, OH (St. Edward) |
| Ben Edwards | Defensive Back | Jacksonville, FL (Trinity Christian Academy) |
| Eric Glover-Williams | Athlete | Canton, OH (McKinley) |