Howdy, welcome to everyone's favorite recruiting piece, the mailbag. It's your story, I'm just writing it. No need for pleasantries, you know who I am and I know who you are. Let's do it.

How many players in this class realistically? - BassDropper
We had a number of folks asking questions similar to this, so I figured I'd get it out of the way now. First of all, it's always a crapshoot when it comes to numbers as we're learning because there's simply no easy way to "plan" for who decides to move on (like Mike Mitchell.)  There are not many seniors-to-be on Ohio State's current roster, but attrition through transfers and early-entry to the NFL is a guarantee. Right now, I'd say a good safe number to look for in 2015 would be 20, but if they can get the right 25, they'll do their best to accommodate it. Never want to turn down the people and players that fit your program.

Your favorite target to talk to? - Fitzbuck
This is a tough question, honestly, because there have been so many different kids I've gotten to know in the past few years of doing this sort of work. Obviously, Demetrius Knox is up towards the top of that list. Meech and I have had a really good relationship since our first conversation, but I could definitely say the same about a lot of the members of the 2014 recruiting class. I know it's cheesy or whatever, but I feel truly blessed to have been a part of the journey for all those kids. Stephen Collier, Kyle Berger, Terry McLaurin, Sam Hubbard, Kyle Trout, Raekwon McMillan, Brady Taylor, Noah Brown and basically the whole class, have been nothing but class to deal with. 
There are a number of non-Buckeyes that I really enjoyed talking to as well. Two quarterbacks I really got to know very well, Kyle Allen and Drew Barker, were always forthright and put a lot of trust in me during their recruiting process. 
I've gotten to know a few of the guys from 2015 already, but I think that it's too early to have a "favorite." I look forward to continuing to cover all the kids I get to talk with and write about. Those relationships are something I take very seriously.

What is your way-too-early prediction on how (the 2015 linebacker class) could shake out? Could Conner be the odd man out? Maybe Baker ends up at RB? - TeddyHeisman
Despite the loss of Mike Mitchell, the 2013 and 2014 recruiting classes have left the Buckeyes in a much better situation at linebacker than they were in. That said, they'll still look to add three, maybe four linebackers in 2015. I know Jeff Holland is high on Ohio State, but it will be a major challenge for Urban Meyer to get him out of Florida, even with Ben Edward's commitment helping ease the way. Realistically, a linebacker class of Nick Conner, Justin Hilliard, Jerome Baker, and Sh'mar Kilby-Lane should have any Buckeye fan jumping for joy. Yes, Baker could play running back, but I think he's likely to head to Ohio State as a linebacker. The Buckeyes could land the state's three best linebackers and a heat-seeking missile from the south, very similar to the 2014 haul.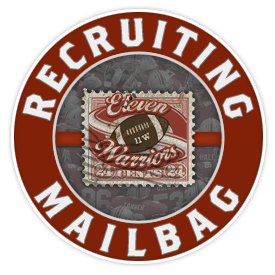 Not really recruiting I guess, but anything on Baugh? - PittBuckeye
When the Buckeyes told David Njoku to stay home days before his scheduled official visit, it was clear that Ohio State had decided they were going to stand pat at the tight end position as it's currently constructed, Baugh included. Marcus is aware that he's got no more chances, and the Buckeyes are hoping that he'll be able to work himself into the rotation and make himself into the weapon they believe he can be in the offense.

Are there any recruits you could see us getting that would be deemed as a surprise at the moment? - ItWasMe
As the recruiting calendar continues to move ahead faster and faster, it seems that a majority of the country's premiere talents are committing sooner and sooner, so it's hard know who's a surprise and when; Ben Edwards and Jamel Dean were certainly "surprises." The Buckeyes are in a non-stop recruiting mindset, and with that comes new names busting onto the scene almost every day. If I am forced to pick a name to be a surprise down the line, I'll go with another Florida star, wide receiver Calvin Ridley from Pompano Beach. I know he's believed to be a Miami "lock," but I have a feeling he could be another Zach Smith special.

Has "Friday Night Lights" surpassed the Spring Game as the staff's offseason top-recruiting event? It seemed in years past that getting kids to attend the Spring Game was important, now...not so much. - JohnBlairGoBucks
I think that yes, there's some truth to this, and it's two-fold as to the reason. First of all, this will only be Urban's third spring game and last year was in Cincinnati, a calculated risk to try and bring Buckeye football to other parts of the state and — in my opinion — a mistake. In the past, they'd bring kids to campus and give them a chance to see campus in full-bloom, with 80,000-plus screaming fans for a scrimmage and the support of Buckeye nation would blow people away. It did in 2012, Alex Anzalone and Lewis Neal both committed that weekend, and it will again in the future.
Friday Night Lights is a totally different beast and yes, in my opinion the staff prefers it as a recruiting event because that's what it is by its very definition, whereas the spring game is equally about team development and evaluation. FNL is competition, with many of the nation's best players seeking Buckeye offers, solely to catch the focus of Ohio State. It's a pretty darn cool event.

With multiple QB offers out there, which are truly QB offers vs ATH? Which are commitable right now? And what is your theory on pecking order of those offered? -  KBonay
There are a number of quarterback offers, but I think the only ones that are "athlete" offers are Tennessee's Jauan Jennings and Maryland's Kai Locksley. The Buckeyes would love to land one from the group of Torrance Gibson, Brandon Wimbush, Lorenzo Nunez, and Jarrett Stidham. Recent offers to two more Florida stars, Dwayne Lawson and Deondre Francois, indicate that the Buckeyes are not going to sit idly by and wait before moving on, but I'm admittedly a bit unfamiliar with the two newest offers...for now.

How do you like Ohio State's chances to get the top 2 players in Illinois, Terry Beckner and Natereace Strong? -  TheKornIdentity
There's been little discussion about these two and according to their head coach, that's in part to Terry Beckner, Jr.  (the higher-rated of the two) not really focusing much on his recruitment yet. Ohio State is still interested in the two East St. Louis prospects, and according to all sources and people involved, the Buckeyes are still well regarded by each player. Nate Strong is one of my favorite kids in the 2015 class, and he's told me repeatedly that he genuinely likes the Buckeyes and wants to find a time to come visit. If that happens, it's worth noting, until then: no visits to Ohio State, no chance.

I'm the guy who doesn't want to follow every little detail of Ohio State recruiting, but I do love me some suspenseful obsessing over the top-notch guys. This year the guy that stands out for me was Raekwon McMillan. Who are the 3-4 guys for next year that I should go all OCD about? - RosyCheeks
First of all, I picked this question because I assume the name "RosyCheeks" is paying homage to Aaron Craft. #ManCrush
Now, as for the players to obsess about? There's definitely a few, and the Buckeyes could be waiting a long time for any of them to make a choice. Quarterback Torrance Gibson, running back Damien Harris, wide receivers Christian Kirk and George Campbell, tight end Chris Clark and offensive lineman Drew Richmond would be a great group to freak out about on offense.
On the defensive side of the ball I'd get ansty about defensive linemen Tim Settle and Jashon Cornell, linebackers Hilliard and Baker discussed above and cornerbacks Minkah Fitzpatrick and Iman Marshall.  Overall, 2015 could be a truly special recruiting class for the Buckeyes.