Jim Tressel's goal in recruiting was to lock down the state of Ohio and look outside for some complimentary pieces for each class. If he nailed down the odd blue chipper from Georgia or Texas or California, well…that was just icing on the cake.
As we've seen thus far, Urban Meyer does things a little differently.
Meyer rolls up his sleeves and dukes it out nationally with other top programs year after year, while simultaneously cherry picking the top Ohio talent that best fits his system.
Only nine members of Ohio State's 23-man recruiting class of 2014 hail from Ohio. It's hard to imagine a Tressel squad with less than half its players from within the friendly borders of the Buckeye state.
Meyer's methodology could be a boon to the rest of the Big Ten, if they can take advantage of it. By taking only nine players from talent-rich Ohio, Meyer left a lot of talent and potential out there for other schools to scoop up. Under Tressel, the Buckeyes would likely have grabbed up an additional six or seven Ohio players.
But, while Meyer is giving his conference rivals the opportunity to sweep up some of Ohio's rich football talent pool, it's up to the other B1G schools to take advantage.
Vico recently talked about Kentucky's incursion into our home recruiting base. The Wildcats nabbed 11 players from the state of Ohio in their 2014 class. This was a smart ploy by Mark Stoops. It gave him a better recruiting class than all of the Big Ten's schools except Ohio State and Michigan.
The Wolverines managed to do pretty well, despite signing only two Ohio players (not to be confused with The Ohio Players) in 2014. This came a year after nabbing nine Ohioans, including tight end Jake Butt, linebacker Mike McCray, and defensive end Taco Charlton.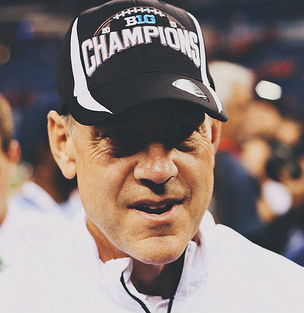 Michigan State missed out on Ohio's riches in 2014, though. The Spartans grabbed four Ohio boys in their 2014 class, including two from the Columbus area.  Mark Dantonio typically digs a little deeper into Ohio for talent, including 12 guys in the previous two classes combined.
This year, Dantonio got beat for a few guys by Stoops, and thus a reigning B1G and Rose Bowl champion managed only the nation's 25th best class.
Even Penn State had a better class than Sparty, despite landing only one Ohio prospect — offensive lineman Chance Sorrell, a three-star recruit out of Middletown. It will be interesting to see if James Franklin can invade Ohio's fertile recruiting grounds as he becomes more acclimated to the B1G.
Border state Indiana grabbed up six Ohioans, but typically aren't competing for the same kids that Michigan, Penn State and Michigan State are able to lure away. Nevertheless, Kevin Wilson knows what's up and is trying to grab up some of the best talent in the Midwest.
With Meyer's eyes searching for talent in the far-off reaches of Texas, Florida, Georgia and New Jersey, Ohio is vulnerable to outside forces. Big Ten schools have a real chance to make inroads. They could potentially turn our own against us.
But they can't do that if they allow bottom dwellers from other conferences (hi, Kentucky!) to sneak in and abscond with talent in the heart of the B1G footprint.
Urban is leaving the pie on the windowsill. It's up to the Dantonios, Franklins, Andersens, Wilsons and Hokes of the world to eat it. [Leaves that right out there for all of your Hoke jokes.]