Basketball life, at least as Seth Towns has come to know it in recent years, often has a cruel sense of humor.
The Columbus native fulfilled a childhood dream by becoming a Buckeye last year, but only after being robbed of two seasons of college basketball and possibly his best days on the hardwood. The knee injuries that plagued Towns at Harvard are the kind that turn an optimist cynical, and they were not finished haunting him by the time he got to Ohio State.
Crueler still for Towns is that upon his knees finally feeling healthy this offseason, he was quickly dealt another setback. This time, it was a small herniated disc in his back that required microdiscectomy surgery. The recovery process threatens to sideline Towns for at least the first month of his sixth year of eligibility.
"It's tough. I could write a book about this shit honestly," Towns said Tuesday. "But you just got to take it day by day and can't get too down because hope is still alive, hope is still there. Honestly, the chances are really high for me to have a good year."
Perhaps a lesser will would have been broken long ago. In Towns' first season since being named Ivy League Player of the Year in 2017-18, the Northland High School alum missed the first six games of his Ohio State tenure due to a lingering knee issue, and finished the year averaging a little over a third of the minutes he used to log at Harvard.
Towns was far from 100 percent, and it was clear to see. The 6-foot-8 forward often wore protective gear on his knee, and could be seen clutching at it or staying loose by pedaling a stationary bike on the sideline. What wasn't evident, at least until Ohio State head coach Chris Holtmann eventually discussed it midway through the season, was that Towns hardly practiced at all during his first year with the Buckeyes.
"I didn't practice too often, kind of just did what I could in the games. I was still able to play, and played as hard as I could," Towns said. "Obviously it was really tough."
Towns averaged 3.8 points per game and 2.2 rebounds last year, down from 16 and 5.7 in his final healthy year at Harvard. But Towns declined to categorize the 2020-21 season as a failure or a success. Contributing at all was his focus, and that alone was a step up from his final two years at Harvard.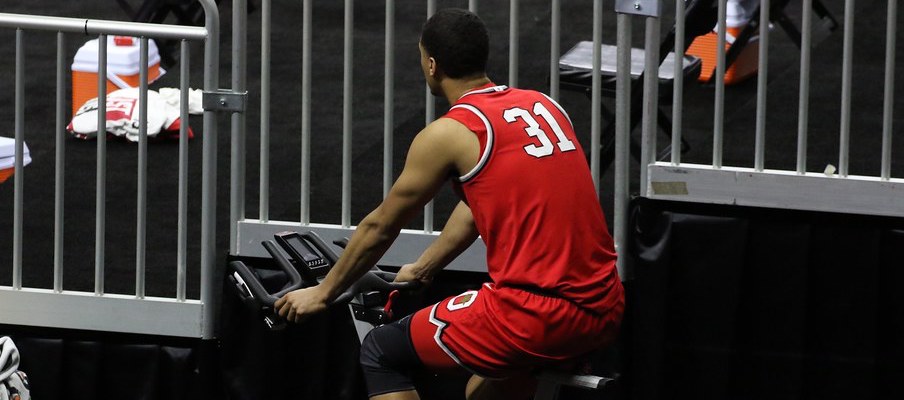 "That's the thing you have to work to tame, is your expectations. Just because there's nothing really good that can come out of them," Towns said. "I just have to take it day by day, and whatever you have is just what you can give. That's kind of what my mentality was last year."
As good a job as Towns may be doing to temper his own expectations at this juncture, he won't deny that he's long envisioned what his basketball future would have in store for him.
Towns mentioned the process of reconceptualizing those visions in the same breath that he described his darkest moments of doubt over the past three years.
"I say there's been low points, and there have been. Like, legitimate low points," Towns said. "Trials are a part of it. You have this ideal when you're growing up about what your career is gonna look like, and then when it just gets beat off the sticks, you have to grow mentally. You have to grow mentally, and the only way to go through that is real, legitimate lows. I went through them, but I'm in a really good place."
Despite the latest injury, which the program made public Sept. 7, it's not as if Towns has no reason to have a positive outlook on the coming year. Towns said his back already feels "a lot better" just a couple weeks after surgery, and said his timeline to get back on the court mirrors that of last year. If the back issues truly are behind him once he's cleared to play, Towns said he's "healthier than I was last year," having fully had a chance to heal his knee. 
But Towns has seen his commitment to the game tested, too. The second-year Buckeye said he's spent plenty of time pondering just how much he loves the sport of basketball, and why he does in the first place.
"This is a question I've been thinking about a lot lately as you can probably guess, just because I've been injured so much, a lot of questions looming," Towns said. "But I always think back to my time at the YMCA when I was little, and obviously things have grown since then with my basketball career with everything surrounding it. But just competing in the game I love, that's really what it all comes down to. None of the other stuff really matters, and that's what you realize in those moments. It begs the question, 'Do I love it, and how much do I love it?' That kind of answered the question for me."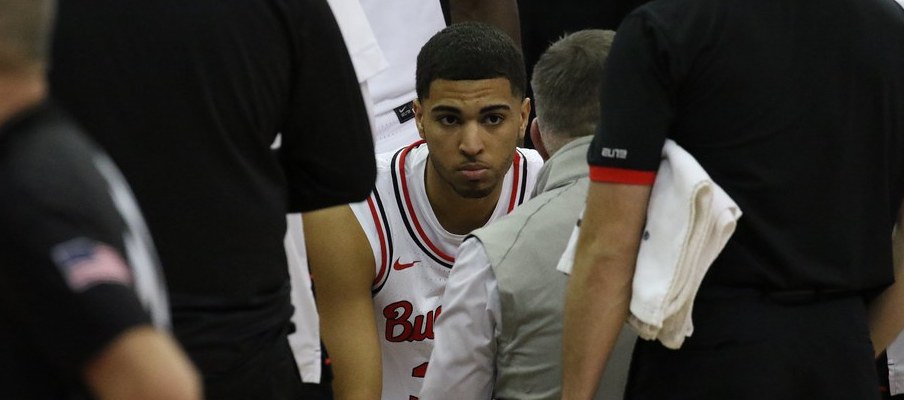 Towns said he sees himself playing basketball with his kids when he's 50 years old, and that "the love of the game is something that just doesn't change regardless of how bad it hits you."
Besides, Towns still has more he wants to show for the Buckeyes, the team he said he used to have represented in his room growing up with a mural on his wall. In fact, Towns said it still feels surreal to realize he plays for Ohio State.
Given the challenges facing him in the present, Towns isn't planning too far into the future as far as what comes next after this season. First, he must find his way back onto the court – a process he's become all too familiar with – and everything else comes after. 
"Obviously I still have big hoop dreams, but the whole planning way of thinking is just kind of eliminated right now," Towns said. "Just enjoying the moment."