Drops of spit inadvertently shot out of Seth Towns' mouth as he tilted his head upward and scrunched his eyes together to scream the same three words again and again as loud as he possibly could. The dozens of onlookers, watching as three or four Columbus police officers secured handcuffs on him behind his back, responded with two words of their own.
"Say his name," Towns shouted. "George Floyd," they shot back.
While participating in one of the many worldwide protests following Floyd's death, he had gotten detained while not moving out of the street. As his wrists were clasped, Towns didn't fight back physically. He fought back by yelling the name of the name whose killing was the reason he was protesting on the streets of his hometown city rather than celebrating his graduation from Harvard.
"At that point as I was being detained, I didn't care if I was being detained, arrested," Towns told Eleven Warriors. "I didn't care if I was being beaten, I was going to continue to shout that name because that's what I'm standing for. I definitely wasn't going to react, but I was going to continue shouting and my voice was going to be heard."
Footage of Seth Towns in police custody earlier Friday at the scene of a protest in Columbus. Towns, an incoming Ohio State basketball transfer, graduated from Harvard Thursday.

Towns is no longer in police custody and is safe at home, according to a source. pic.twitter.com/kFptHH63BN

— Eleven Warriors (@11W) May 30, 2020
Not 24 hours earlier, Towns – an Ohio State graduate transfer forward – didn't have any plans to protest, let alone ending his night early in handcuffs. All he was focused on was going through a virtual graduation ceremony with his family, which represented the culmination of four years studying at Harvard, one of the nation's preeminent higher education institutions.
For once, Towns found himself doing what anybody else in his position would do. He headed up to the rooftop of his downtown Columbus apartment to celebrate with a few of his buddies. Their intention was to memorialize the accomplishment of a Northland High School graduate who had just completed an Ivy League education. For once, Towns was doing what anybody else in his position would do. 
Yet as he peered down from his building, his eyes remained trained on the protesters below. Harvard's May 28 graduation ceremony happened to be only three days after Floyd's death, and High Street was flooded with people.
"Honestly, I was pissed I wasn't in them," Towns said. "It was like, why did I have to graduate today?"
Adamant he needed to participate, Towns decided he'd join them the next day. 
True to his word, he made sure it happened. On the walk to the protest, Towns remembered the words once said by Harry Edwards, a civil rights activist who wrote "The Revolt of the Black Athlete" and became a mentor to Towns while he attended Harvard. Edwards preached the broad concept of fearlessness, saying he should have nothing to fear when standing up for what's right. He had also harped on the need for love, which Towns said especially resonated with him.
When Towns arrived, standing in the frontlines, he says he heard others shouting about the pain and demanding justice. He listened to their words.
"It brought tears to my eyes because there's so much solidarity around something that should not be a dilemma," Towns said. "I'm standing in the front with tears in my eyes but completely fearless as so many others out there were because if you can't stand for liberty, if you can't stand for your people, who are you really?"
Towns' emotion grew as the crowd ballooned in size. Eventually, police officers in full riot gear decided to try to push protestors in the middle of the street backward. Along with a few others, Towns opted to stand his ground. He grabbed his neck with both hands as he continued to yell, "I can't breathe."
Soon, a group of five or six officers grabbed him and pulled him to the side. They detained him, leading him into the back of a police van as onlookers expressed their dismay.
In a span of just 24 hours, I walked across a Harvard virtual graduation stage into the back of police van alongside other peaceful protestorsboth of which I am equally proud of. pic.twitter.com/qtvXmw0Fwq

— Seth (@seth_towns17) May 30, 2020
Towns said he was asked not to share many details of what happened in the following hours, but he mentioned he was in custody for "a while" before getting released without any charges filed. That night, he safely returned to his apartment, able to spend the night in his own bed. But first, he had a couple of phone calls to take.
Chris Holtmann, Ohio State's head coach, had first learned of the detainment when somebody sent him a direct message on Twitter. In the video, Holtmann recognized Towns, and by 10:30 p.m., he had contacted Towns' mother and a few others close to him, who told him he was safe. Once Towns was back at his place, Holtmann gave him a call.
On Holtmann's end, he worried that his player might be anxious to hear from his new head coach. While Towns admitted that went through his mind, it didn't eat at him.
"My conclusion was, how much do I care?" Towns said. "Because it's like, I know I'm doing the right thing and I can go to sleep knowing that I did the right thing."
Holtmann agreed.
"I just really tried to listen to him," Holtmann said in a video chat with Ohio State's Sports and Society Initiative. "I initially said to him, because I'm not sure he knew what my reaction was going to be, I said to him, 'Hey, I want you to know I'm not upset. I don't want you to feel like I'm upset. And I don't want you to feel like you've in any way embarrassed our program because you haven't. As a matter of fact, I'm proud of the fact that you've done what you believe and what your convictions are.'"
He also received a supportive text message from athletic director Gene Smith. To Towns, the words from Holtmann and Smith made him both proud and thankful to be "joining a program of such high honor." Assistant coach Terry Johnson said he wishes Towns didn't get detained, but noted, "That's part of it because I thought he still was doing the right thing."
No, it wasn't the typical night for a college basketball player. But not much Towns has ever done has followed convention.
"For this to happen literally the day after I graduated from Harvard, it's just like, the irony in that story is I couldn't have predicted that," Towns said. "That's like one of those things where you put in a novel and people don't want to read it because it just comes off as too fake."
---
The voice that Towns used two weeks ago was one he started to develop between his sophomore and junior years at Northland High School. At the time, he was becoming more independent, forming thoughts of his own and developing emotions.
Then he saw the deaths of Eric Garner and Michael Brown, two unarmed black men whose lives ended during altercations with the police within a few weeks of each other in the summer of 2014, sparking nationwide protests.
"To see that stuff happening, it was heartbreaking to me," Towns said.
Out of what Towns says was a "place of pain," his passion for social justice arose. That year, he began educating himself on the issues he's now so passionate about. In December 2014, he participated in a protest late in the year where he and a group of classmates laid down in the school with pieces of paper with Garner's final words – "I can't breathe" – on their backs. A week later, Towns and his Northland teammates took the court wearing T-shirts with the same phrase emblazoned on the front.
The way Towns sees it – and saw it then – he grew up and lived in the system he now wants to upend.
He experienced the loss of multiple high school classmates who were shot and died, including a 15-year-old friend named Abou Diawara. He saw people unable to reach their dreams and goals because of the circumstances they grew up in. All of it pained him.
"I can't say it enough: This is a lot bigger than me. It's my duty to use my privilege to amplify those voices. That's the whole point of what I'm speaking for."– Seth Towns
In 2016, Towns eschewed scholarship offers to play basketball at Ohio State, Michigan, Butler, Purdue and others in favor of Harvard, where the possibility of growing as a basketball player under Tommy Amaker while getting a world-class education appealed to him. Of course, it also offered a completely different worldview for Towns, who said Harvard and Northland were "two different worlds."
Asked to expound on the differences between them, Towns found himself unsure of where to even start. The similarities – that most people at both schools have "good intentions and good hearts" – were maybe easier to explain.
"That, I think, is at the core, and that's what connects us all is compassion and empathy and all these other things," Towns said. "Just the standards and the lack of understanding of both sides of the fence. Me, oftentimes having to explain to people, 'Well, actually these aren't criminals. These are just good people who are brought up in a system that perpetuates a lot of the messed-up things that they're pretty much forced to take part in.' It's just a large lack of understanding on both sides. That's something that moving forward I definitely plan to eliminate and work on closing the gap."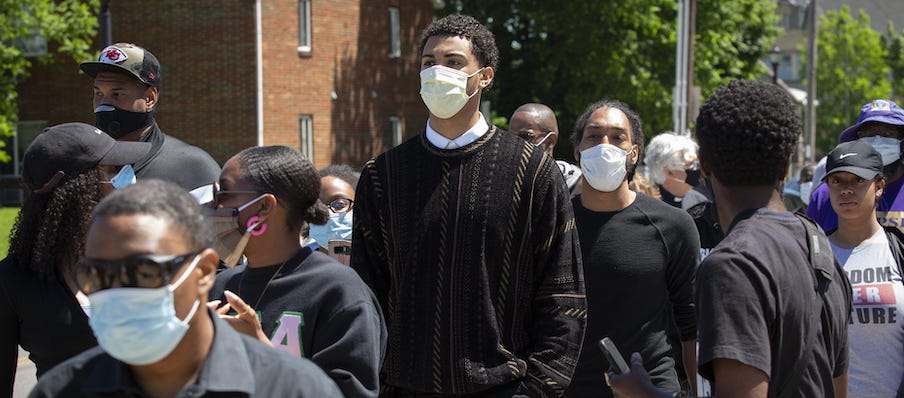 Initially, when considering how to use his time at Harvard, Towns planned to major in computer science. He chuckles now thinking back at that idea, which he says came from "the idealistic kid" he now points to. Instead, he entered Harvard planning to major in economics. A sociology class that he "absolutely loved" early in college, though, altered his course. He decided to follow his passion, becoming a sociology major.
For four years, while also thriving on the basketball court – well, until injuries sidelined him for the final two years – he surrounded himself with esteemed mentors, including Edwards, while studying sociology.
The issues he wants to help solve became even more personal when Jordan Kinchen, a friend since sixth grade, was killed in a double shooting on Oct. 19, 2018.
"For my best friend, for someone who I considered to be family to fall a victim to a system that I kind of was able to recognize was wrong, that struck a different kind of fire in me," Towns said.
Now back in Columbus, as a one-time Ivy League Player of the Year who has two years of eligibility remaining to play basketball for Ohio State, Towns plans to use his platform to facilitate change.
---
This wasn't ever the plan.
Towns didn't head to the downtown Columbus protest two weeks ago with any intention of getting detained, having a video of it go viral, responding with a one-minute video monologue of his own that received more than 250,000 views and getting interviewed on SportsCenter about his experience. When he chose to transfer to Ohio State, he certainly knew he'd involve himself in bettering the community, but he intended to do so by focusing on enriching inner-city education, ensuring that all children get an equal opportunity to learn.
The detainment sidetracked those plans and forced him to, as he put it, "read the room a little bit." Police brutality, racism and systematic oppression gained his full attention.
Suddenly, because of his status as a college basketball player who had gotten detained while protesting, he gained a voice in what he said is a movement unlike anything he has ever seen. As protests continue, he intends to use it to speak up to "represent the voice of the unheard."
"I think it's pretty obvious that we have unprecedented momentum in the subject of civil rights and not just civil rights but systemic oppression altogether," Towns said. "I'm at a place where I'm looking for how to use my voice and organize and strategize on how to make the most impactful, tangible change that can come from this."
May 30, 2020
The day after getting put into custody, Towns was back in public protesting, though he did so as part of the pack rather than being at the front. A day later, he was back, and this time someone asked him to speak to the crowd. He obliged, delivering a four-minute speech through a megaphone.
Though Towns can't protest anymore since he has to socially distance himself in order to join Ohio State's basketball team for offseason workouts that begin on Monday, he's staying involved where he can. He planned to take part in a roundtable with Senator Sherrod Brown on Tuesday and a city council hearing on Wednesday.
"To me, the thing that I've kind of had a hard time understanding is why this momentum toward social justice and systemic oppression hasn't been present," Towns said. "It's kind of confused me for a long time because it's an emergency. It deserves to be treated as an emergency. Systemic oppression is essentially a threat to liberty, which is what this country likes to claim to be founded on, and it's not free for one group of people we call Americans. I guess that is kind of the center of where my passion for this comes."
The result of a movement of this magnitude, Towns said, "must be something monumental." To him, police reform isn't enough. He hopes – and is pushing – for systemic change, even though he fully understands how difficult something like that can be to make happen.
He wants politicians to act proactively to better the country rather than be forced into reacting to issues they already know exist. In Towns' mind, in order to push through the desired changes, it'll be as important as anything else to hold those in leadership positions accountable. 
"Where was this energy before people died and people protested?" Towns said.
As he has shown the past couple of weeks, he's unafraid to use his voice to push for what he believes is right. That's been the case for Towns since 2014, and it'll continue to happen moving forward.
"This is a lot bigger than me," Towns said. "The privilege that I've been granted, even coming from the inner city and an inner-city school like Northland, which has so many great minds that need more nourishment, I can't say it enough: This is a lot bigger than me. It's my duty to use my privilege to amplify those voices. That's the whole point of what I'm speaking for."