Less than two months ago, Ohio State headed to College Park, Maryland, for an in-conference battle as the higher-ranked team.
Oh, how far away that now feels.
The two will rematch on Sunday afternoon, with the No. 7 Terrapins heading to Columbus ranked above the No. 25 Buckeyes, who will play host at the Schottenstein Center. Immediately after the first meeting, Maryland lost back-to-back games then responded by winning nine straight games. Ohio State, conversely, has gone 6-5 since the 67-55 loss on Jan. 7.
| Who | Where | When | TV |
| --- | --- | --- | --- |
| No. 7 Maryland (22-4, 12-3) | Schottenstein Center | 4 p.m. | CBS |
For the Buckeyes, Sunday's showdown represents an opportunity to pick up a third victory against a team currently ranked in the top-10. In December, they beat No. 9 Penn State at home and No. 10 Kentucky in Las Vegas.
A win against Maryland would also get them back to .500 in Big Ten play and, in all likelihood, lock up an NCAA tournament bid.
Three Key Terrapins
Anthony Cowan Jr. (6-foot-0, 180 pounds)
Now a senior, Cowan nears the end of his Maryland career with a 4-1 record against Ohio State, having topped 19 points in three of the games. He'll be looking for a final regular season win versus the Buckeyes on Sunday, and he'll undoubtedly be the most talented guard on the court, which makes him a tough matchup for Chris Holtmann's team. Cowan averages 16.7 points, 4.5 assists and 3.5 rebounds in 34.5 minutes per game. He dropped a game-high 20 points versus the Buckeyes in January.
Jalen Smith (6-foot-10, 225 pounds)
Smith's play over the past couple months has climbed him up NBA draft boards, making him a more likely first-round pick. 
"I'm not sure there is a player who has been better in the last month of college basketball than (Smith)," The Athletic's Sam Vecenie wrote on Feb. 13 in a mock draft that has Smith going No. 20 overall.
In each of the past nine games, Smith has recorded a double-double, averaging 18.9 points and 12.7 rebounds per game. Over the course of his sophomore season, he has 15.4 points, 10.5 rebounds and 2.3 blocks in 31.1 minutes per game. 
Aaron Wiggins (6-foot-6, 200 pounds)
Behind Cowan and Smith stands a cadre of role players, four of whom – Darryl Morsell, Donta Scott, Eric Ayala and Wiggins – average at least 20 minutes per game. Wiggins had only seven points and four rebounds against Ohio State in January, yet before that game Holtmann noted him as somebody to watch. He's a relatively inefficient scorer, shooting 36 percent from the field and 30.4 percent from 3-point range, but he has 14 games in which he made multiple triples.
Three Key Buckeyes
CJ Walker
The first time Ohio State and Maryland faced off, Walker came off the bench and couldn't get into much of a rhythm at all. The veteran point guard had three points (1-for-6, 0-for-4 from 3) and one assist in 25 minutes. Without Carton, who scored 14 points versus the Terrapins in January, the Buckeyes need an improved performance from Walker.
E.J. Liddell
In the fall, Holtmann talked about the need to develop players throughout the season. Specifically, he wanted to see gradual improvements from the freshmen. Liddell, in Thursday's loss to Iowa, showed growth. He had career-highs in both points (17) and rebounds (8). Since Maryland's one of the Big Ten's top defensive teams, Ohio State would benefit greatly from a strong follow-up game.
Kaleb Wesson
Against Iowa, Wesson struggled to do much of anything against Luka Garza, a legitimate national player of the year contender. Smith doesn't have quite that stature, but he's another stiff challenge for Wesson, who had 15 points and nine rebounds against him earlier this season. And the way Smith has played recently, there's reason to believe the matchup won't be any less difficult than Thursday's was against Garza.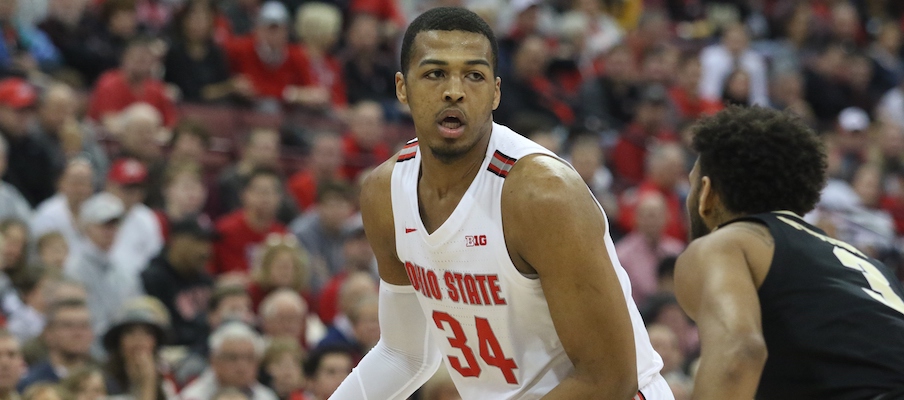 Three Numbers To Know
Adjusted Defensive Efficiency
Throughout the entire season, the Terrapins rank fifth in the nation in adjusted defensive efficiency, and within Big Ten play, they're second in the conference in the metric. Because they have Smith to protect the rim to go along with plenty of length and athleticism elsewhere, they're a tough team to find much success against offensively.
3-Point Rate
No team in Big Ten play attempts more shots on average from behind the 3-point line than Maryland. Of its shots, 46.4 percent have come from behind the arc. That could spell trouble for Ohio State, which ranks last in the conference in opposing 3-point percentage.
Guarding triples has been an issue throughout the season, and it hasn't gone away at all recently. A positive for the Buckeyes? The Terrapins are only ninth in the Big Ten in 3-point shooting percentage (31.9).
Free-Throw Rate
Maryland has an uncanny ability to both get to the line and prevent other teams from shooting free throws.
Turgeon's team ranks No. 1 in the Big Ten in free-throw rate (35.7) and No. 2 in the conference in opposing free-throw rate (21.6). That played itself out in the January meeting when the Buckeyes attempted 10 free throws compared to Maryland's 24 free throws. Will that change with the game taking place in Columbus? Based on the numbers, it's worth remaining skeptical.
Other Notes
Ohio State currently holds a 3-4 records against teams in the Associated Press top-25 poll.
Sunday's game against Maryland is sold out. 
Maryland has a 9-6 lead in the all-time series with Ohio State. The Buckeyes, though, hold a 4-3 lead in game taking place in Columbus.
How It Plays Out
After what happened against Iowa on Thursday, it might be hard for some to imagine Ohio State picking up a win against the Big Ten's highest ranked team. The Buckeyes, though, have one of the largest home-away effective field-goal percentage splits this season, as pointed out by Dylan Burkhardt of UM Hoops. 
It's completely possible that they can piece together a performance that leads to a win. But because of Smith's recent play and Cowan's presence as the game's top guard, we're going with the Terrapins.
Prediction: Maryland 67, Ohio State 60