Both Ohio State and Indiana were rolling.
By the end of December, the Buckeyes had risen in the polls after opening the year with a 12-1 record, including road wins against Cincinnati and Creighton. The Hoosiers ended 2018 on a similarly positive note, going 11-2 with wins against Louisville and Butler. A pair of disasters ensued.
| Who | Where | When | TV |
| --- | --- | --- | --- |
| Indiana (13-10, 4-8) | Assembly Hall (Bloomington) | 1 p.m. | CBS |
Ohio State went 1-6 in January, dropping five games in a row and earning a sole victory against Nebraska. Indiana opened the month with a win against Illinois, then proceeded to lose seven games in a row.
The Buckeyes have opened February with back-to-back wins versus Rutgers and Penn State, while the Hoosiers beat Michigan State on the road in overtime before falling to Iowa. Both Ohio State and Indiana find themselves squarely on the NCAA tournament bubble, and they'll match up at 1 p.m. Sunday at Assembly Hall.
"They beat Michigan State away, so that was a big win for them," Andre Wesson said. "They play hard. We beat them in double overtime last year. I know they've been waiting for this one. We'll be ready."
The Buckeyes swept the pair of meetings last year. The won handily by 15 points in Columbus, then knocked off the Hoosiers by two points in double overtime later that season, with C.J. Jackson hitting a game winner.
Opponent Preview
Indiana doesn't have an imposing record, especially lately, but it has a pair of high-level players, including a likely top-10 pick in the NBA draft.
Romeo Lanford, a 6-foot-6, 215-pound guard, was placed on multiple national watch lists and named to a preseason All-Big Ten team before ever playing a collegiate game, and he has lived up to the hype. He leads the team with 17.6 points per game, shooting 46.1 percent from the field. Langford hasn't shot well from 3-point range, hitting just 25.6 percent of his nearly four attempts per game, but he impacts the game in nearly every other way with the second-most rebounds and assists per game on the team.
Expect to hear Langford's name on June 20, for despite his team's rocky season, he'll be a lottery pick in the 2019 NBA Draft. Bleacher Report's latest mock draft projects him as the sixth pick, noting his off-the-dribble that will test Andre Wesson and whomever else defends him.
Senior Juwan Morgan, a 6-foot-8, 232-pound forward, is the only other player on the team who averages double figures. The team captain puts up 15.9 points per game, hitting 59.6 percent from the field and 38.2 percent from beyond the arc. The big man also grabs 7.8 boards per game.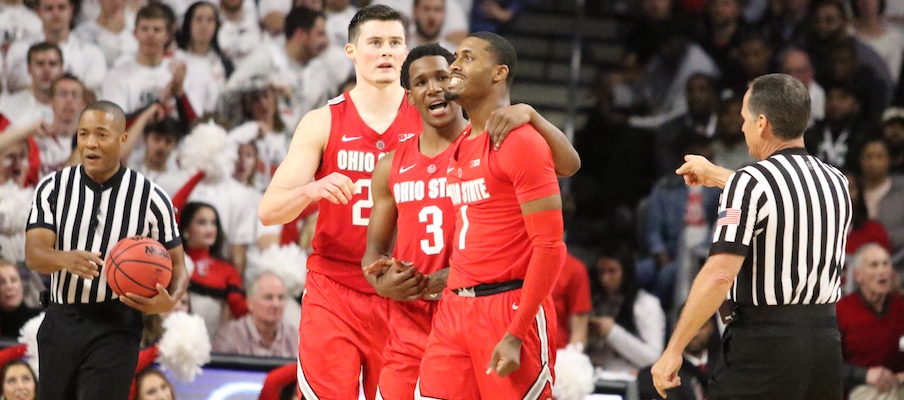 Justin Smith adds an physical presence, and Indiana has three role players – Aljami Durham, Devonte Green and Rob Phinisee – who each average nearly three 3-point attempts per game and shoot at least 37 percent from beyond the arc.
Though the talent hasn't coalesced into many victories in the past month, Indiana pulled off an upset of Michigan State eight days ago, showing what can happen when it puts everything together. The Hoosiers shot well from deep and had a plus-eight advantage in rebounds in the victory.
"They had a tremendous road win at Michigan State," Chris Holtmann said. "I think they're really talented with Morgan, whose tremendous and a tremendous mismatch. They've had a lot of injuries, but they've got a couple of those guys back. Davis is back. Obviously, Romeo is terrific. Archie does a great job. That environment there is one of the best in our league and we know that. We will have to play really well. They've probably gotten a lot of life just from how they played at Michigan State."
Ohio State Preview
Call this a prove-it game, a measuring-stick game. Whatever cliche you prefer. With nine regular season games, Ohio State has only so many opportunities to prove it deserves a spot in the NCAA tournament, and Sunday's game features two teams that have work left to be done to show they belong.
Kyle Young's return should aid the frontcourt versus Indiana, which had 20 offensive rebounds against Michigan State. Young's boundless energy is a boon for the typically undersized Buckeyes.
During Young's absence, Luther Muhammad stepped up into an even bigger role offensively and has two 20-points games in his past four games. There's a chance he gets matched up on Langford, a fellow freshman. And even if he doesn't, the ever-competitive guard will want to show what he can do against such a highly touted freshman's team. Ohio State needs him to continue his recent scoring streak.
"I just come in and work hard every day," Muhammad said after Ohio State's win against Penn State. "I have great teammates who push me every day and they have confidence in me and I have confidence in myself. The older guys have been pushing me to be my best."
How It Plays Out
Langford is going to be a real problem for Ohio State. Wesson will likely do his best to defend him, but he's talented enough to get his.
In order to win, the Buckeyes must do what they can to keep Kaleb Wesson out of foul trouble and win on the boards. Indiana is dangerous when it gets second-chance opportunities. The return of Young could be big in this game.
Prediction: Ohio State 74, Indiana 73