Ohio State entered the season with minimal expectations for the second season in a row.
Keita Bates-Diop left early for the NBA, and Jae'Sean Tate, Andrew Dakich and Kam Williams graduated, leaving a notable void in the team's lineup. The Buckeyes have made everything look so absurdly easy, though, despite suffering so many key losses. They have an 8-1 record, including road wins against Cincinnati and Creighton, and are ranked No. 15 in the country.
Here are nine things we have learned in the first month of the season.
Stop Doubting Chris Holtmann
Maybe everyone should have learned to do this after last season's second-place Big Ten finish. 
For the second straight year, though, most people picked Ohio State to either finish in the middle of the Big Ten or near the bottom. Everyone had reason to make those projections. The Buckeyes lost a ton of talent, including the Big Ten player of the year. They brought in a solid graduate transfer – Keyshawn Woods – and a middle-of-the-pack recruiting class, which was ranked sixth-best in the conference.
But once again, Chris Holtmann's team made doubters look clueless, and he didn't take long to do so. Ohio State beat the Cincinnati and Creighton, then opened conference play with wins against Minnesota and Illinois.
Collectively, we need to stop doubting Holtmann. He gets the most out of a team's talent, regardless of how many talented players he loses. That should excite Ohio State fans, considering the program will bring in three top-50 recruits next season.
Luther Muhammad is as tough as advertised
Though Ohio State didn't land any top-75 prospects in its four-player 2018 recruiting class, it brought in one top-100 player who figured to make an immediate impact.
Luther Muhammad, the No. 79 prospect in his class, entered the program with a penchant for defense and toughness. Most high-school players create headlines with offensive outbursts, but Muhammad earned some notoriety for shutting down five-star prospect and eventual Kentucky signee Immanuel Quickley in January. That quickly translated to the collegiate level.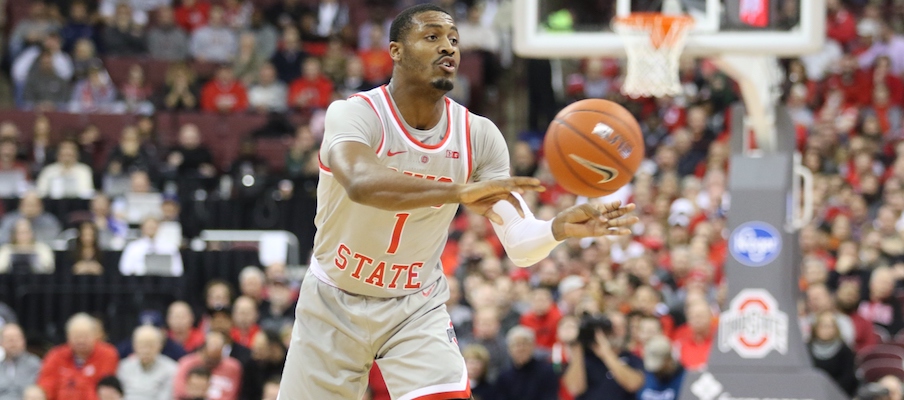 He showed off his fiery style of play by picking up a technical foul in the season opener, then held Purdue Fort Wayne star John Konchar to 13 points the next game. When Muhammad suffered a dislocated shoulder in the final minute of Ohio State's loss to Syracuse, many people speculated he could be out a while. He missed just one game.
Muhammad still has a way to go to reach his potential, but he has been everything Ohio State hoped he would be both from a personality standpoint and with his defensive prowess.
Everyone Plays Team-First Basketball
Could this get any more cliche? I almost didn't include this, but it's so, so important to this group.
Ohio State is not the most talented team. Not even close. No one averages more than 14.3 points per game, and only two players average double-digit points per game. The Buckeyes have only one true big man – Kaleb Wesson – and are at a size disadvantage almost every single game. They have had issues controlling the ball.
Still, Holtmann has completely maximized this group. Everyone knows their specific roles, each of which are well defined.
Musa Jallow, Andre Wesson and Kyle Young embrace being high-energy, defense-first role players. Duane Washington Jr. is a bench scorer. Luther Muhammad is a defense-first guard. Kaleb Wesson is the big man who runs the offense when he's in the game. C.J. Jackson is the point guard who facilitates the offense. Keyshawn Woods fits in wherever needed. Jaedon LeDee gives energy off the bench. Joey Lane is an energy provider on the bench.
No one tries to do too much, which should be a credit to Holtmann and his coaching staff. 
Kaleb Wesson Made Strides, But Still Hasn't Reached Potential
Last season, Kaleb Wesson didn't need to be the guy. Bates-Diop took a bunch of attention off the big man.
This year, the offense runs through Wesson. He remains a force inside and has extended his shooting range to beyond the 3-point arc. However, he still has room to grow. He still has potential to become an All-Big Ten post presence. Wesson spent much of the summer working with assistant coach Terry Johnson to work on running the offense through him. He also lost weight.
However, Wesson still can become a better finisher around the basket, while working to hit a higher percentage of his outside shots. He made strides this year, but there's still room to grow, and both he and the coaching staff knows that.
Duane Washington Jr. Doesn't Lack Confidence
Some freshmen don't immediately know their roles, and they become more passive on offense, trying to fit in. Duane Washington Jr. couldn't possibly have a more different attitude. 
He loves to shoot more than most people love to do anything. He has hit 43.1 percent of his first goals, including 41 percent of his 3-point attempts. Washington averages just 18.4 minutes per game, fewer than six other players on the team, but he always makes his presence known. Holtmann would like to see him continue to improve on defense, but  he's already making an impact as instant offense off the bench.
Keyshawn Woods Does A Little Bit Of Everything
Keyshawn Woods' biggest offensive games this season have come when Ohio State needed them the most: against Creighton and Illinois. He had a season-high 19 points against the Bluejays and 18 points versus the Illini.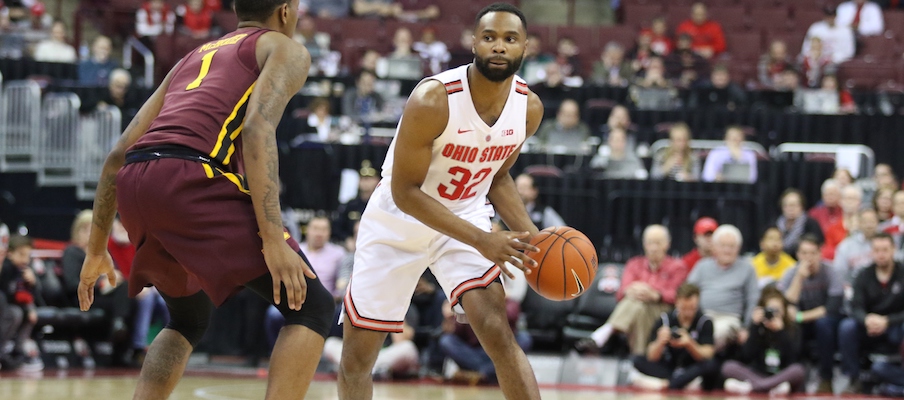 Woods also has scored zero points in two games. He has produced an inconsistent scoring output, but that hasn't been a major negative. Woods simply fits in wherever the Buckeyes needs him. He can play all three guard positions, can score and can facilitate. He's fine playing a complementary role. Holtmann has said he hopes Woods becomes more aggressive on offense at times, but the Wake Forest graduate transfer has managed to be impactful in many different ways.
The Big Ten is deep
Michigan State is good. Michigan is really, really good. They're not alone, though. Nine Big Ten teams, including Ohio State, have two or fewer losses. 
At the beginning of the season, Holtmann said he expected the conference to be deeper than it had been in recent years, and thus far, he's been proven correct. The Buckeyes have just one loss, but they'll likely struggle to maintain that nearly spotless record once they get fully entrenched in conference play.
No one knows this team's ceiling
Few, if any, projections pegged Ohio State for an NCAA tournament berth. While the Buckeyes have 22 games remaining, they sit in a good spot with road wins against Cincinnati and Creighton, along with two Big Ten wins to open the conference slate. They can afford some rough spots in conference play.
But how difficult will those bumps along the way be? No one truly knows. This team has already exceeded expectations. How good can it be? We'll soon find out.