Ohio State's 80-64 win over No. 1 Michigan State on Sunday put the Buckeyes back into college basketball relevancy, as Chris Holtmann's first team is starting to gain national attention. 
| Who | Where | When | TV |
| --- | --- | --- | --- |
| Maryland (14-4, 3-2) | Value City Arena | 7 p.m. | ESPN2 |
The next challenge for the Buckeyes on the court is Maryland, but Ohio State also has to deal with the simple fact that it probably isn't going to sneak up on anyone anymore. 
After being the underdog in the Big Ten for most of the season, the Buckeyes are now favored to win all but three conference games the rest of the season, according to KenPom.com. 
With Maryland coming to town, Holtmann said the challenge for his team becomes taking the schedule one game at a time and not looking ahead to a three-game road stretch that faces Ohio State after Thursday's game against the Terps. 
"I think we are probably entering the most challenging stretch for us as a program, given the number of games we have coming up here," Holtmann said. "First and foremost, we are preparing for a really, really good team. I had a chance to watch them earlier in the year against Butler. There is a reason they were picked in the top four of five of the league."
Opponent Breakdown

The Terrapins have been bitten by the injury bug three times already this season and will be without a trio of players against the Buckeyes on Thursday night. 
Maryland lost forward and leading rebounder Justin Jackson for the season with a shoulder injury in late December, and it was announced Wednesday that guard Dion Wiley, who averages 20.1 minutes per game, will not travel with the Terps following a concussion suffered in a win over Iowa.
In addition, the Terps will be without reserve forward Ivan Bender, who suffered a torn meniscus on Dec. 29. Bender started seven games and averaged 3.4 points per game before his injury. 
Even without Jackson, Wiley or Bender, Holtmann said he has seen Maryland adapt its strategy a bit, playing a smaller lineup, which presents a higher threat from behind the three-point line.
"They are different in some ways because of the skill that they now can put on the floor, and their shooting which they can spread you out with which is impressive," Holtmann said. "(Anthony) Cowan and (Kevin) Huerter, those guys are fantastic. They are really good."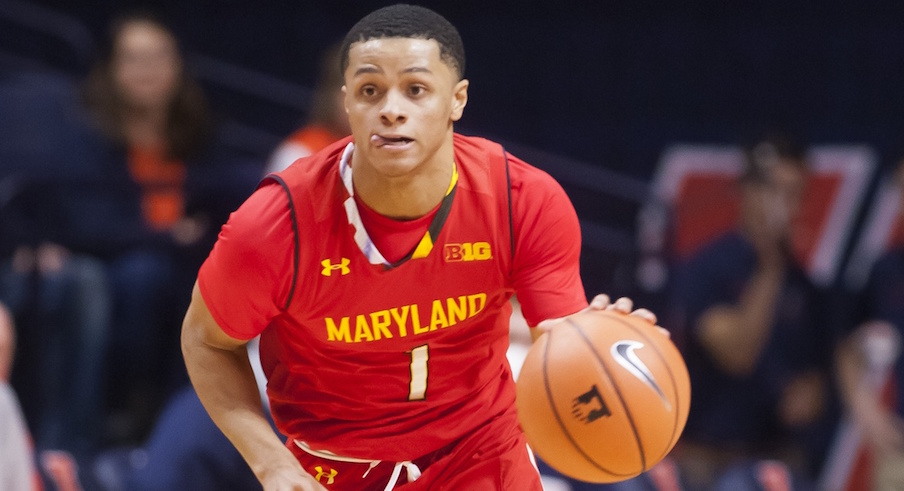 Cowan and Huerter lead the Terps in scoring, pouring in 16.2 and 14.1 points per game respectively. While both sophomores are listed as guards, Huerter stands an impressive 6-foot-7, creating a significant size difference against other players at his position. With Jackson out, Huerter is now Maryland's second leading rebounder, averaging five boards per game. 
Leading the charge on the boards for Maryland is 6-foot-10 freshman Bruno Fernando, who is pulling down 6.5 rebounds per contest and chipping in 11 points per game. While he isn't a threat from the perimeter, Fernando is converting on 59.3 percent of his shots, good for second on the team. 
As Holtmann touched on, the Terrapins have started to rely more on their three-point shot with a pair of forwards out for the season. As a team, Maryland is shooting the ball at a 38.5 percent clip from long range, led by Huerter and reserve guard Jared Nickens, who both shoot better than 40 percent from deep. 
Buckeye Breakdown

Following a win over the now-former No. 1 team in the country, Holtmann is faced with the task of managing increasing expectations, while also getting his team ready to play a stretch that includes three straight games on the road following the home tilt against Maryland. 
Holtmann said Wednesday that he has tried to keep things in perspective with his team as much as possible since knocking off the Spartans on Sunday.
"We have tried to communicate the reality as much as possible. In the midst of these situations, you really just try to communicate reality. The reality is this: We have a long way to go," Holtmann said. "We have a lot of flaws within our team and a lot of growth that needs to happen. We need to play better, I need to coach better. We can get beat by any team in this league, as good as this league is."
While Keita Bates-Diop has stolen the spotlight with his play, collecting Big Ten Player of the Week honors following stellar showings against Iowa and Michigan State, it has perhaps been the play of Ohio State's point guards that have helped push the Buckeyes to the top of the conference standings. 
Since returning to the starting lineup after a brief two-game stint on the bench, junior guard C.J. Jackson has greatly reduced his turnover numbers. Against the Spartans, Jackson committed just one turnover and scored 14 points in the upset win. 
Jackson said Wednesday that his brief stretch coming off the bench benefitted him early, and he has continued to carry that momentum into conference play. 
"It allowed me to see the game differently. It allowed me to have more poise. You can kind of see how the defense is playing in the beginning," Jackson said. "It really helped me and it helped me get a sense of more aggression once I got out there, but also knowing where my spots are and knowing where my teammates spots were."
In a 92-81 win over Iowa on Jan. 4, it was Jackson's defense that got him into trouble, as he picked up two fouls in under six minutes of action in the first half. Off the bench, Andrew Dakich collected five of his six assists in the first half, helping pace the Ohio State offense in the victory. 
While Dakich isn't asked to score much for Ohio State, his ability to keep the ball moving when he is on the floor has become a crucial part in the Buckeyes' success. His assist-to-turnover ratio (+22) is second on the team behind only Jackson (+27), and he has made timely shots when needed, hitting on 7-of-10 on three-pointers this season, including a last-second heave to end the first half against Michigan State. 
The Buckeyes have also received improved play from redshirt senior Kam Williams. After being held scoreless in 24 minutes against North Carolina, Williams has scored in double digits in each of Ohio State's last three games. 
He said Wednesday that the elevated level of play from the entire team has influenced his game as well. 
"I'm just taking what the defense is giving me. Us playing through guys like C.J. and J.T. (Jae'Sean Tate) opens it up for everybody else," Williams said. "Obviously, the way Keita has been playing, that makes everybody else's job a lot easier."
Ohio State center Micah Potter was away from the team for part of this week following the death of his grandfather, but he is expected to be available for the game against Maryland.
Ohio State basketball center Micah Potter is currently away from the team due to the death of his grandfather, but he is expected to be back for Thursday's game against Maryland.

— Dan Hope (@Dan_Hope) January 10, 2018
How It Plays Out

The basketball Buckeyes will try to avoid the letdown that the football team couldn't following a win over a premier program, with the good news being the basketball team gets to play at home. 
Maryland (No. 34) checks in just two spots behind Ohio State (No. 32) in Ken Pomeroy's advanced statistical rating system, but has just one true road win in three tries this season, a 92-91 overtime victory over Illinois, a team that has yet to pick up a conference win in 2017-18. 
Avoiding a letdown and managing expectations has likely been preached all week inside the halls of the Schottenstein Center. Even though Maryland is battling through injuries, the Terps still have plenty of talent to push Ohio State to the brink, but the Buckeyes should pull this one out at home. 
---
Prediction: Ohio State 75, Maryland 70