An Ohio State win over Michigan on Monday night looked almost impossible for the better part of the first half. 
The Wolverines led by 20 with 1:31 to play in the first half following a three-pointer from Moritz Wagner, putting Ohio State on the wrong end of a 21-7 run that had the majority of the crowd of 12,546 at Value City Arena in stunned silence. 
Then, the game took a turn in Ohio State's favor, as the Buckeyes used a late first-half surge and smothering second-half defense to stun the Wolverines, 71-62, on Monday night. 
The Buckeyes closed the first half on a 7-0 run, punctuated by a thundering right-handed dunk from senior Jae'Sean Tate that got the Ohio State fans in attendance on their feet for the first time all night. 
Tate's slam sent the Buckeyes into the locker room facing just a 13-point deficit and changed momentum. Fellow senior Kam Williams said he felt the run to end the first half changed the complexion of the game. 
Just before half, @o_tate_ dunked on the entire State of ichigan.

Half #2#GoBucks pic.twitter.com/Y7C7fMK4PE

— Ohio State Hoops (@OhioStateHoops) December 5, 2017
"It was pretty loud in there. I haven't really heard the Schott that loud," Williams said. "His dunk set it off for the rest of the guys on the floor. That just tied into us being extra energetic on defense. Once you get stops and you get out in transition and running, the game is more fun for us and the game is more fun for the crowd."
Ohio State head coach Chris Holtmann, who picked up his first win against Michigan on Monday night, added that he had forgotten by the end of the game that the Buckeyes ever trailed by 20 points. 
"I forgot we were down 20, but I think getting it to 13, it's just so much more manageable than when you're seeing 20 up there," Holtmann said. "That was very important to just get a little bit of momentum before the half."
Heading into the locker room, the Buckeyes made a few changes on the defensive end that ended up giving Michigan problems in the final 20 minutes of the contest. It started with switching on Wolverine ball screens, something Ohio State had not prepared to do in its initial preparation for Michigan. 
Holtmann said that the Wolverines' offensive output in the first half made making the defensive change a necessity in the second to slow down the Michigan attack. 
"Defensively, we had to change some things at halftime. You watch a ton of tape and you put a scouting report together, and then they come out and attack it in a way that exposes us," Holtmann said. "So we had to make some changes. That, combined with our guys' effort, was critical."
The adjustment worked, as Michigan managed just 19 second-half points after scoring 43 in the first 20 minutes. The Wolverines shot just 17.2 percent from the floor in the second half after opening the game shooting 56.7 percent in the first. 
Michigan coach John Beilein said after the game that Ohio State's changes in the second half confused his squad, giving the Wolverines a look that they had not seen this season. 
"They switched every ball screen on us in the second half and we hadn't seen that yet this year," he said. "That spooked us and we didn't execute very well against it at all. We really were not efficient in the second half because we didn't execute."
Playing a critical role defensively for Ohio State was freshman Kyle Young, who played a season-high 21 minutes for the Buckeyes against Michigan. Getting more time due to the absence of Micah Potter, Young finished a perfect 3-for-3 from the field for six points, but more importantly gave the Buckeyes efficient minutes on the defensive end.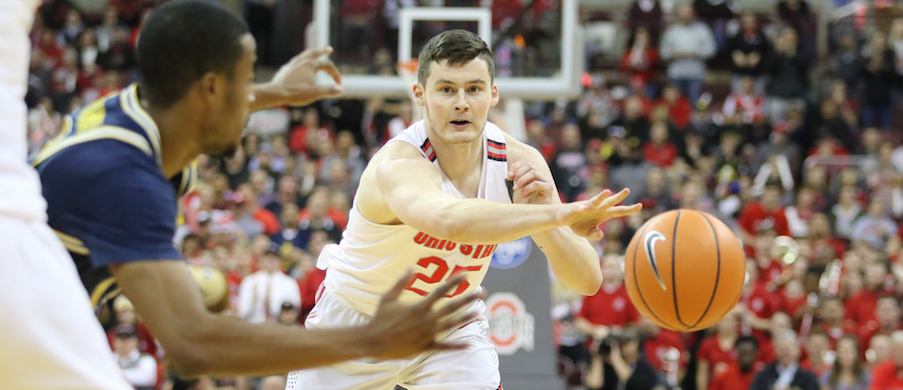 Holtmann went as far to say that Ohio State would not have been victorious against Michigan had it not been for the defensive efforts of Young. 
"With Micah out, we've had to move him into kind of a different role. He has been very good. I thought his defense, when we were switching on some of those drivers was critical. Obviously, he is an athletic kid. We all saw that on a couple of his rebounds," Holtmann said of Young. "He pursues the ball and made a couple finishes that were good. We don't win the game without him tonight."
Ohio State's win over Michigan puts the Buckeyes at 7-3 overall with a perfect 2-0 start to Big Ten play. Holtmann, visibly elated after the game, said his team will quickly turn its attention to William and Mary and try to sustain its current momentum. 
"We will try and make every game as exciting as possible around here. That is one of the things (athletic director) Gene (Smith) said when he hired me," Holtmann joked. "Call me crazy, but we are going to turn pretty quickly to William and Mary, who is a pretty sound team."