COLUMBUS – Some of Ohio State's best basketball players from the Thad Matta era are teaming up to compete for a title in The Basketball Tournament.
Jared Sullinger, Aaron Craft, William Buford and Jon Diebler were among those practicing inside Value City Arena on Thursday as the Scarlet and Gray team prepared for The Basketball Tournament's Midwest regional, which begins Saturday in Peoria, Ill. at Bradley University.
Returning to the Schottenstein Center to hoop with their former teammates is nothing new for those OSU greats; that's something they do every summer. This year, though, they have something to play for: a $2 million, winner-takes-all prize that goes to the champion of the 64-team, single-elimination tournament.
"It's definitely going to be an added component to it, obviously, playing in a tournament with something on the line, so I think everyone's kind of locked in a little more, excited to get going," Craft said.
Video: Former Buckeyes Practice for The Basketball Tournament
The roster contains a total of seven former Buckeyes, also including Dallas Lauderdale, David Lighty and Evan Ravenel, along with former Bowling Green guard Nate Miller and former Northern Illinois forward Leon Rodgers. Former Ohio University guard Stevie Taylor also practiced with the team Thursday.
Because the former Buckeyes have remained close with each other and continued to play basketball together in their offseasons, they've had natural chemistry with one another as they prepare for The Basketball Tournament. That gives them confidence, but they recognized a need to continue practicing hard in order to have a chance to win.
"We know the teams playing in this tournament are practicing, they're taking this very seriously and we can't just rely on the fact that we played together in college or we played together in the summer," Craft said. "Playing open gym and playing a game is going to be a lot different, so we're really just trying to get guys meshed together, get back in the flow of the game and we're excited."
All seven Buckeyes were also on the No. 1-ranked team that was upset by Kentucky in the Sweet 16 of the 2011 NCAA Tournament, so they're viewing this as another opportunity to potentially win a championship together. Sullinger described it as a "redemption tour."
"I feel like there were some things that we did that we should not have done even leading up to the game," Lauderdale said of the 2011 game against Kentucky, "and we got a little ahead of ourselves, so now we are really cherishing this tournament as sort of trying to do things better this time than we did last time."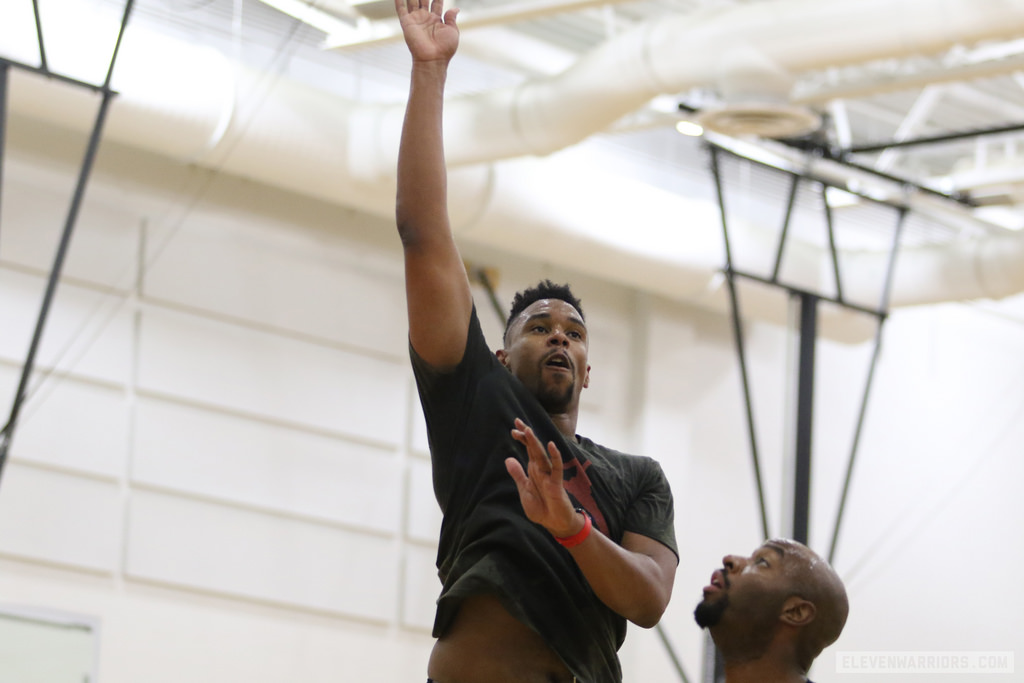 All seven former Buckeyes on the roster plan to continue their professional basketball careers beyond The Basketball Tournament. Buford, Craft, Diebler and Lighty are all under contract to continue playing overseas.
Sullinger, Lauderdale and Ravenel are currently free agents, but Sullinger played for the NBA's Toronto Raptors last year while Lauderdale spent last season with the NBA G-League's Maine Red Claws. 
For those players who aren't currently under contract, The Basketball Tournament could be an opportunity to make the right impression.
"Honestly, I didn't even look at it like that, I honestly didn't coming in ... but it is an opportunity for exposure, and it's on ESPN, so we'll see what happens," Ravenel said.
Scoonie Penn, who was hired Tuesday as the director of player development for the current Buckeyes squad, is serving as the coach of Scarlet and Gray. Penn says his job as the team's coach is easy because of the caliber of players he is working with.
"They're pros, these guys know how to play and they understand what's at stake," Penn said. "You lose, you go home. So we got to play together and play as hard as we can and I think we'll be successful."
Scarlet and Gray, the No. 2 seed in the Midwest region, will play No. 15 seed The Region at 3:15 p.m. Saturday. The winner of that game will play again at 1:45 p.m. Sunday. If Scarlet and Gray can win back-to-back games this weekend, the team comprised mostly of former Buckeyes would head to Brooklyn, New York, where the Super 16 and regional finals will take place next weekend. All games will be streamed on WatchESPN.