The intensity of the workout nearly made Terry Johnson grab a weight himself.
"The energy that they brought to the workout had me excited," Johnson said on Thursday, one of the three new assistants in the Ohio State men's basketball program that head coach Chris Holtmann brought with him from Butler. "They were lifting each other up, they were working, getting better today."
Ohio State's strength and conditioning program was much maligned in Thad Matta's final years at the helm of the Buckeyes. As it stands after a wild week that saw Holtmann and his assistants officially introduced by Gene Smith and Ohio State, strength coach Dave Richardson and trainer Vince O'Brien remain on staff. The first workout they put the remaining members of the team through with Holtmann's new staff in place happened Thursday morning.
"We see an energy and enthusiasm to them to want to have a special year coming up. People are going to doubt us. All we can do is work and enjoy the process and get after it."– Mike Schrage
Johnson, Ryan Pedon and Mike Schrage came away with nothing but positive things to say about the 10 players following their first viewing of a workout with them.
"You can sense they're hungry to win, to work, to process what we need to do to get better every day. I've been so impressed with their energy, their enthusiasm," Schrage said on Thursday. "Not just for us but just to be in the gym. They're our kind of guys."
Schrage, Pedon and Johnson all stressed the importance of recruiting "Ohio State guys" into the program, something that not only aligns with what their boss said on Monday but that also serves as an essential item at this point in the calendar. It is odd for any program to move on from one regime to another coach in June, be it with the July basketball evaluation period just around the corner.
The new staff "hit the ground running" and began to touch base with recruits immediately, knowing they must nail the 2018 recruiting class in order to get the program back on track. What is left behind are those 10 players — nine scholarship guys and former walk-on Joey Lane — and potentially a late add to this coming year's roster. Getting to know those names is No. 1 for Pedon, Johnson and Schrage.
"I think when you go through a coaching change, I don't think there's one guy in that locker room that wouldn't run through a wall for Thad Matta and his staff so it's a little atypical of a coaching change," Pedon said. "Sometimes you come in and guys are really, really glad to see you and I don't know that I get that sense. I think they're excited. I think our guys are very excited but I think the biggest thing and best thing we can do as coaches right now is really wrap our arms around them and get to know these guys."
Apprehension from players toward a new staff they weren't recruited by is fair, especially if the previous coach didn't necessarily leave on his own accord. Smith described the shift in leadership as "a mutual understanding" between him and Matta but any transition has a ripple effect on those players left behind.
"That first day was rough because we've known him, he recruited all of us here," redshirt junior wing Keita Bates-Diop said Monday, the day Ohio State hired Holtmann. "But change happens, bosses move on and even in the real world and you just gotta deal with it."
"All of the players were sad to see Thad go but we know he has in our best interest and they made a good choice," senior forward Jae'Sean Tate added. "We all came here to be coached by the great Coach Matta. It was very emotional."
Holtmann's staff is juggling multiple responsibilities its first week on the job, centered around recruiting and feeling out their new players, those who signed their Letters of Intent to play for Matta. But the initial workout and individual sit-downs with players resulted in a fresh breath of positivity among the program.
"Sometimes when you inherit a situation, there's a reason why," Schrage said. "You can tell Coach Matta, we knew he had an amazing program here, and the guys that are still in this program are high character guys and love to work."
The new assistants felt the itch to win and desire to get the ship steered in the other direction from their new personnel after back-to-back seasons that ended without an appearance in the NCAA Tournament. That isn't the norm that Matta built — but is what he left behind.
The roster is depleted after Trevor Thompson's decision to turn pro, JaQuan Lyle quitting the team in April, reserve big man Dave Bell transferring to Jacksonville and Marc Loving's graduation. Holtmann then suspended redshirt freshman Derek Funderburk indefinitely on Thursday for a "failure to meet team expectations," a power move three days into his tenure.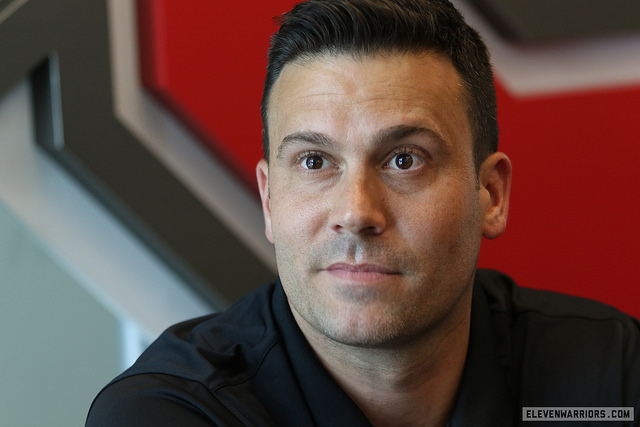 That leaves Tate, Bates-Diop, incoming freshmen Braxton Beverly and Kaleb Wesson and a handful of other players that will find themselves under an even bigger microscope during the 2017-18 season. Holtmann, Pedon, Schrage and Johnson have a tall task in front of them, which is why familiarizing themselves with the bodies that remain is essential moving forward.
"I know I'm going to sit down with a couple of my position group guys [Friday] and we're probably not going to talk hoops at all," Pedon said, though he did not specify what position he will coach at Ohio State. "Just want to get to know these guys, ask them about their family and I think that's ultimately how you gain trust."
Added Schrage: "We see an energy and enthusiasm to them to want to have a special year coming up. People are going to doubt us. All we can do is work and enjoy the process and get after it."