The 11W Mailbag is the only stop you need for answers to your most pressing questions about Ohio State and what lies ahead. Have a question? Ask it, and if we can, we'll answer it.
Matta looks to have a larger core (8) returning next year than he's used to playing. Who are the likely starting 5 and how deep into the bench will they go? — RubixTube
I wrote about this a bit yesterday toward the end of this story, but Ohio State has a ton of bodies coming back next season barring any significant roster turnover.
My pick for a starting five would be: C.J. Jackson, JaQuan Lyle, Keita Bates-Diop, Jae'Sean Tate and Trevor Thompson (Kaleb Wesson if Thompson goes pro). Coming off the bench, that leaves Braxton Beverly, Kam Williams, Andre Wesson, Derek Funderburk, Micah Potter, Dave Bell (as the third big) and Kaleb Wesson should Thompson return.
That's 12 scholarship players. And since nobody — outside of Tate, maybe — has really earned much of anything on this team, that should be used to Ohio State's advantage. There should be no reason anybody is logging 30-plus minutes if they're not playing well in a given game. Sub out and bring somebody else in. You have the bodies to do it.
Does this team have the talent to be anything more than an 8/9/10 seed in next year's tournament? I feel like this roster's ceiling is really low, but then again I'm not sure what the schedule looks like next year or what the Big Ten will look like. Even when I watch these guys play their "best" and then I flip over to an ACC game, it's like night and day. — TheShookster
To answer the first part, no, it probably doesn't. I'm sure you guys don't want to hear that, but let's be honest: This team missed the NIT this year. It's not going to realistically compete for a Big Ten title or a top NCAA tournament seed next season right away. This is a multi-year process. Making the tournament would be a step toward getting things trended in the right direction.
And you're right, the ACC looked like a different sport this season. But to be fair, that wasn't just Ohio State games. The Big Ten as a whole was not very pleasant to watch this season and it won't be much better next year. Miles Bridges, Caleb Swanigan, OG Anunoby, Thomas Bryant, Wisconsin's four seniors, etc. all likely leave the league and the conference as a whole is bringing in just one McDonald's All-American. Some teams (Iowa, Northwestern, Maryland, Ohio State?) return large cores of talent and should improve, but this league is nowhere near the best in the country anymore.
What is the plan for JaQuan Lyle, assuming he returns? With the emergence of C.J. Jackson by the end of the year and the addition of another true point guard in Beverly to the roster, where does Lyle fit in? Does he play exclusively off the ball next year? — BSK33
This is a big summer for JaQuan. Many thought he'd have a breakout season as a sophomore but he still struggled with consistency. He improved his jump shot significantly (shot over 50 percent from 3 in Big Ten play) but still had too many games where he was a non-threat. He has to emerge as one of Ohio State's best players night in and night out.
I think he'll play more off the ball next season as he did a lot of toward the end of this year. Thad played Lyle and C.J. Jackson more together down the stretch there and it worked out pretty well. He's a combo guard and really the only player on this roster that can beat anybody off the dribble so he's a key part of the offense. He was banged up this year midway through Big Ten play, too, with an ankle sprain and then he missed a couple of weeks with a family emergency. He had his knee drained right before the Big Ten tournament, as well, so he's got to get healthy this offseason and become much more consistent.
Will Funderburk help this team next season? Has he made progress or impressed this season behind the scenes? — OldColumbusTown & SmanPoint10
He'll add depth, for sure, and he'll certainly help at the defensive end of the floor with his 6-foot-9 frame and athleticism. He's not a center so let's clear that up. He'll be playing on the wing at the 3 or 4 spot. He's very raw offensively, however, and there wasn't going to be much playing time available this season with Loving, Tate and Bates-Diop ahead of him at those positions.
I'd look for him to come off the bench next season behind Tate and/or Bates-Diop.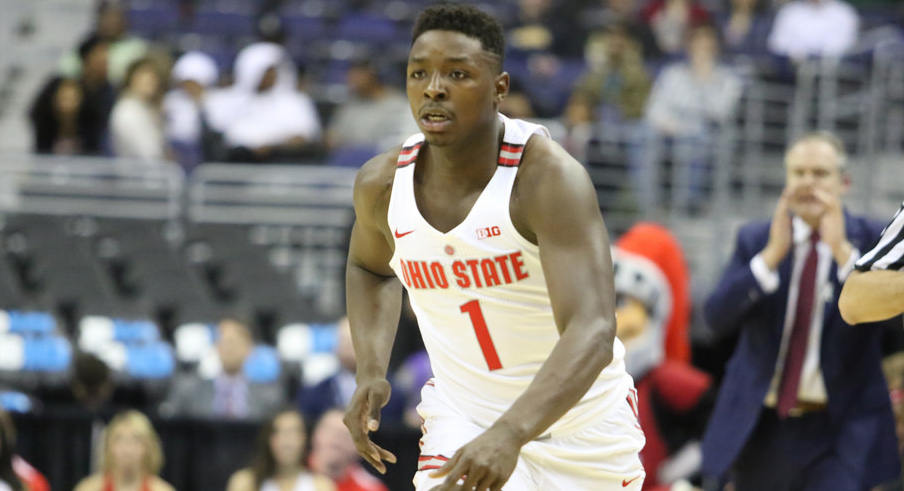 How much is the AAU circuit playing into Thad's recruiting change? I've heard from other people, and Scoonie Penn on the podcast, AAU coaches won't push their players to Ohio State. I've heard it is because Thad doesn't play freshmen, but I also heard AAU coaches like handouts. — BuckeyeMan
I'll start by saying that I kind of disagree with Scoonie there. Thad started Micah Potter this season, JaQuan Lyle last season, D'Angelo Russell and Jae'Sean Tate the year before that. Freshmen play at Ohio State if they're good enough.
But you're not wrong about AAU and some of its coaches. The culture in AAU basketball is not great right now and there is a lot of entitlement when it comes to basketball. That's not entirely an AAU problem, either, it's this generation. There are a lot of kids who want to be handed things. That's why there are so many transfers now in college basketball. Kids come in thinking they're the greatest player of all time and they're not. They don't like it and move on. 
Any changes to the Schott forecast to improve attendance?  Lower ticket prices for cupcake games?  Make it more unfriendly for visitors?  Give students courtside seats rather than for knitters?  A general reconfiguration of the Schott to make it more like a basketball arena? — AWC 89
There won't be any changes made to the Schott that I'm aware of. Gene Smith's repeated answer to this question the last couple of years has basically just been: "We just have to win games."
With that said, I've been to most Big Ten arenas and the Schott is clearly at the bottom. It's far from intimidating in any way and I think it hurts recruiting, especially now. Go to a game at Purdue, Michigan State, Indiana — the teams Ohio State is competing against for recruits — and the atmosphere isn't even close to the same. 
I do think there should be more student tickets allocated. For an arena so large that's essentially half empty for games, what's the downside in giving students — people who actually show up the majority of the time — more tickets to games? Also, you can get day-of-game tickets for like $10. It can't get much cheaper than that.
But I think everybody probably knows the construction of the Schott was a giant mistake for Ohio State. Not a ton that can be done about it at this point, though.
Why is it unrealistic to expect an Ohio State basketball coach to be able to recruit one and done NBA talent on a regular basis? — OSU_Alum_05
It takes almost the perfect set of circumstances for Ohio State to land one-and-done talents. 
First of all, there are only like 15-20 in each recruiting cycle. Five of those are going to Kentucky, four are going to Duke. North Carolina and Kansas are each taking one or two. That significantly trims the talent pool.
Ohio State won't be pulling one that's not from the Midwest, either. Look where Thad's one-and-dones were from: Indiana (Oden, Conley), Ohio (Mullens, Koufus, Sullinger — yes, I'm counting him), Kentucky (Russell).
There are also so many options for these big-time prospects to go play that Ohio State competes with. Just in the state alone, the Buckeyes recruit against Xavier, Dayton and Cincinnati. Then you factor in Indiana, Purdue, Illinois, Michigan, Michigan State, Notre Dame, Louisville, etc. The list goes on. 
Lastly, and I'll say this carefully: Thad Matta's "salary cap" isn't as high as some other schools around the country. Essentially, he doesn't have one, and it's tough to keep up in what's become an extremely ugly basketball recruiting world. He's certainly not the only one who operates this way, and it's not an excuse because he's shown he can land top talent before without it, but that's just the reality of the situation.
It's very hard to sustain success at a place like Ohio State, where the basketball program will always be second.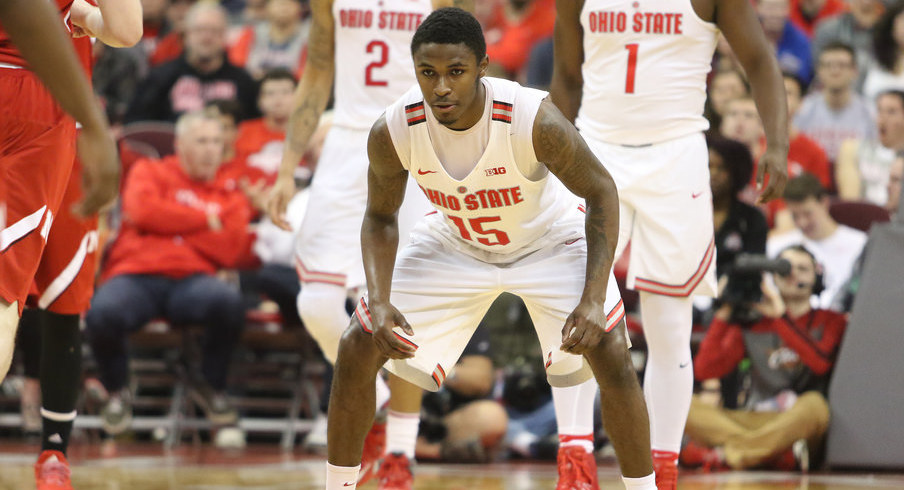 Dream hire if Thad is let go after next season? More realistic option? — SFlaBuckeye13 & RunEddieRun1983
Let me start by saying I'm a reporter and don't really care if Thad Matta continues to coach the team. My personal opinion is that he does deserve one more season based on his track record, but if Ohio State doesn't make the NCAA tournament for a third-straight season, it's hard to justify keeping him no matter what he accomplished in the past.
With that said, I don't have a "dream hire" for Ohio State, but I think the primary candidate is pretty obvious. The only question now is how long does Archie Miller stay at Dayton? If the Indiana job opens up this offseason, he's definitely a candidate there. If Ohio State can't get Archie to replace Thad — whenever that may be — who is next? Is there really a better, more realistic option out there?
Young, hotshot coaches at mid-major programs are always a gamble. Sometimes they work (Thad Matta), sometimes they do not (Shaka Smart). I won't write Shaka off just yet, but Texas fans thought they hit a home run when they hired him two years ago. Texas just had its worst season in a loooooong time in Shaka's second season. The grass isn't always greener.
One of the most difficult decisions for an athletic director comes when the most accomplished coach in school history sees declining results. That's where we're at with Ohio State right now.
How hard are the Buckeyes recruiting Pick North forward Jerome Hunter?  — OSU244
Ohio State offered Hunter last summer and I think it really likes him as a player and would absolutely love to have him stay close to home, but it's a matter of fit right now. In the 2018 class alone, Darius Bazley, Justin Ahrens and Dane Goodwin are already committed and all three are guys who can play multiple positions. They're targeting a dynamic guard — Dwayne Cohill, Darius Garland and Jahvon Quinerly are the names I keep seeing — and I think it'd be hard to build a recruiting class made up strictly of players at the 2, 3 and 4 positions. There are only so many scholarships to give out and guard is more of a need to finish the class.
Hunter is a great player and Ohio State knows that, but right now it seems they'd have to cut ties with one of the guys committed to land him unless another spot opens. The 2018 class in Ohio is really, really strong and there's a legitimate chance Ohio State lands four of the top-five players in the state. Hunter might be the one who goes elsewhere, however.
Who steps up next year and becomes that leader in the locker room? This team seemed as if it was missing that spark, will it be a shake-up in the coaching staff, or who do you see stepping up and becoming that "Aaron Craft" type of leader? — WezBuck28
Jae'Sean Tate is the leader of this team and he has been for the last two seasons. He can't do it alone, though. Somebody else has to give him some help.
Kam Williams will be in his fifth season next year and same with Trevor Thompson should he come back; Keita Bates-Diop his fourth. This is an experienced team. Someone needs to do it.
Barring a top ~10 finish, is it safe to bet the rent that Thad is gone next year? Assuming 1 is true, how badly does that affect recruiting? — Kiester
Is this really a realistic expectation? Ohio State didn't make the NIT last year and you think they're going to all of a sudden finish in the Top 10? It's a slow process with where the program is right now. It's going to take a couple years before that even becomes a possibility. 
With that said, if a change is made at head coach, yes, that would affect recruiting. It always does. Ohio State is off to a really good start in 2018, but if it parts ways with Thad that could hinder things on that front more than it could help. We'll just say that.