After Ohio State's 2015-16 season ended with a second-round loss to Florida in the NIT, I wrote a column about how the program was not in crisis mode, but some concerns were certainly warranted.
You can read it here if you'd like, but if not, here's a basic summation: The first missed NCAA tournament since the 2007-08 season coupled with a slew of first-year transfers did not mean the sky was falling. But declining results over three seasons mixed with those departures certainly posed a few questions about the state of Thad Matta's program for really the first time.
Fast-forward one year and Ohio State is no better off. In fact, after failing to even earn an invitation to the NIT after a 17–15 season, it's fair to say the program is in a worse spot. That's a rather large problem.
Matta will be the Buckeyes' head coach next season. Athletic director Gene Smith already made that clear when he released a statement prior to the Big Ten tournament supporting the 13-year coach. A change at the top is not happening. Not yet, anyway.
"Change is hard. but it can be done."– Thad Matta
And, to be fair, Matta probably deserves one more shot at fixing it. After all, he is the winningest coach in Ohio State basketball history. You know his resume in Columbus: five Big Ten titles, four Big Ten tournament titles, two Final Fours. Those expectations you all have for this program? He kind of created them. In a lot of ways, Matta is absolutely a victim of his own success.
At the same time, however, making the NCAA tournament should be the minimum requirement for Ohio State. That's not asking a ton. Missing the NCAA tournament once in awhile is fine. That happens at nearly every program in the country. Missing it twice in a row is not. 
Additionally, Matta's annual salary ranks among the top-10 nationally. It's hard to justify paying that much for a coach that's not producing adequate results. Attendance is also way down and the interest surrounding the program seems to be at an all-time low in the Matta era.
These are very real concerns and if the questions aren't answered next season — Matta's 14th at the helm — a change could [and probably should] be made. A mutual parting of ways may be best for both parties if that were to happen. A third-straight missed NCAA tournament and it'd be hard to keep any coach — even the winningest one in school history.
So, how do Matta and Ohio State fix this?
It's a complicated situation, for sure, but let's try and examine.
We'll start with Matta, who is the head coach and the man ultimately responsible for how this team performs. It's clear from the last two seasons, which largely featured the same core group of players, something on the coaching end needs to be adjusted.
Perhaps there's a staff shakeup. Matta brought back Chris Jent to replace Jeff Boals prior to this season, so unless Jent moves on his own — he's a reported candidate for the Cleveland State job — he'll be back next year with Matta. Greg Paulus and Dave Dickerson are the other two assistant coaches and both have been on staff for some time now. A change could be made there.
Matta has also repeatedly stated the last two years his team struggles to think the game at times. It has a hard time bringing the energy and effort every single day that's required to be successful at this level. So while some of that certainly falls on the players, it is also Matta's responsibility to bring it out of his team when necessary. It feels as though Matta is having a difficult time reaching this specific group. If that's the case, he has to shift the approach. What he's done the last two seasons clearly isn't working.
"Change is hard," he said after the loss to Rutgers in the Big Ten tournament, "but it can be done."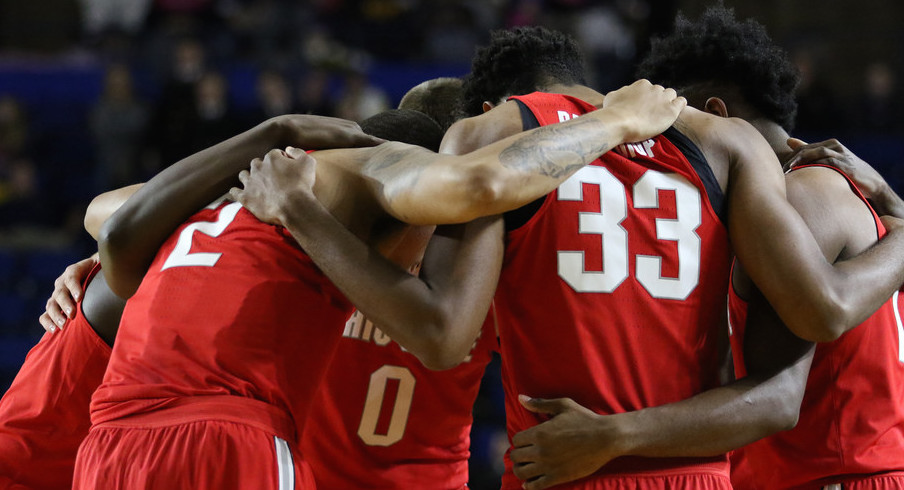 Another knock on Matta and the program is the perceived lack of talent on the roster. Ohio State hasn't had a player named first-, second- or third-team All-Big Ten for the last two seasons. It's really hard to compete without a player of all-conference caliber.
Right now, the Buckeyes have a bunch of contributors but no true star. Landing elite one-and-done talents every year — or even every two years — isn't a realistic option for Ohio State so there has to be another way to get them on the roster. Players must develop.
Which bring us to another recent point of emphasis surrounding Matta and Co.: a lack of player development for the guys who do stay for four years. Amir Williams, Marc Loving and more are prime examples of this. 
Current players like Jae'Sean Tate, Keita Bates-Diop and JaQuan Lyle were all top-50 recruits coming out of high school so it's not like Ohio State isn't bringing in talent. That talent must be developed fully, however, to reach its potential. That falls on Matta and the coaching staff as well as the individual player.
On this year's team alone, though, Tate was a noticeably better player than he was last season. So, too, was Trevor Thompson. Lyle was better at times, as well, but still struggled with consistency. The team, however, was not any better in the big picture and that's what matters most.
The roster isn't changing much, either. 
Loving was the lone senior so barring any unforeseen departures — a transfer or an unexpected decision to turn pro early by someone — Ohio State will look awfully similar next season when it comes to personnel. The Buckeyes will get Bates-Diop back from his season-ending injury and Derek Funderburk — another top-rated recruit — will be available after a redshirt season. Ohio State's two-man recruiting class — which features Kaleb Wesson and Braxton Beverly — will also be in the fold. These are the only changes, though, as the large portion of the core that was on the floor this past season should all return.
This is the roster Matta built. It's what he has to work with to try and end this rough stretch. Somehow, someway, he needs to figure out a way to make it work.
Because Ohio State basketball isn't in a great place right now and it's Matta's job to get it back to one.
His resume earned him the right to get one more shot to right the ship. If it doesn't happen next season, however, there's a chance this era — the height of the program — comes to an end.
Next season is the most important one in recent Ohio State history.