When thinking about the all-time great basketball players at Ohio State, the first name that comes to mind is Dennis Hopson—the school's all-time leading scorer.
Hopson played in the late 1980s under Eldon Miller and Gary Williams, earning Big Ten Player of the Year honors in 1987. In addition to scoring the most career points (2,096), Hopson also left as Ohio State's all-time steals leader (164), but has since been surpassed by Jay Burson, David Lighty and Aaron Craft.
He averaged 20.9 points as a junior and 29 points as a senior, leading the Buckeyes both years. His 958 points as a senior is still an OSU record for one season.
Hopson went on to play five seasons in the NBA with New Jersey, Chicago and Sacramento, before finishing his playing career in Europe (Spain, France and Israel). He was the third overall pick in the 1987 NBA Draft and won a title with Michael Jordan and the Bulls in 1991.
Dennis, currently between jobs, after not having his assistant coaching position renewed by the new head coach Chris Jans, was kind enough to share his thoughts on his past, Ohio State, the NBA and life after basketball.
How old were you when you started playing?

Dennis Hopson: I think I started playing organized basketball in fifth grade. I don't think that there was a personal interest from me, but as time went on, a lot of people that were around me could see my potential. They encouraged me to play the game. Let me say that I was very immature and I liked a lot of other things outside of basketball.
Were there any particular players you tried to emulate?
DH: Magic Johnson was a big idol of mine. That's why I wore number 32 at Ohio State. And the only reason I didn't wear it in the pros when I went to New Jersey is that Dr. J wore it and that number was retired. I think (Magic) was the first big guard that people got a chance to see, who was capable of doing everything. At 6-9, being able to handle the ball and make plays for your teammates. I just thought that was something very impressive.
What was your life like when you were a kid?
DH: I come from a great family. I give all the credit to my family—my mom, dad, brothers and sisters. It's about a seven-year difference between me and my next brother, so I'm truly the baby. I was very grounded growing up. I got a lot of praise (for basketball) and didn't understand what the praise was all about from other people, because I just played the game.
At that time I was just starting to take an interest in the game. But I didn't understand what was going on when I played the game. We weren't the kind of kids who grew up watching NBA guys. I don't even know that we had cable back then. But you just didn't get a chance to see guys like kids do today. So it wasn't something where I went to bed with a basketball in my hand or walked around talking about basketball. But as I started taking a liking to the game, even though I didn't know how to play the game, I was kind of reckless. I just kind of played but I didn't know what I was doing.
When did colleges start to notice you?
DH: I didn't play as a freshman. You could talk to some people and they would say I played two years of high school basketball. But I didn't play as a freshman. I would rather work. I worked at McDonald's because I wanted a car. So that's where my head was at that time. And then my sophomore year I was playing JV.
And then toward the end of the year, my high school coach moved me up to play two quarters of JV and two quarters of varsity. After that sophomore year, I took a little more interest in the game and it just kind of took off for me. I was first-team All-City as a junior and started getting the recognition and the name. And from that point on you had colleges come to the gym.
What drew you toward Ohio State as a college destination?
DH: Ohio State wasn't the first choice—and a lot of people outside the coaches at Cincinnati don't know this—but the University of Cincinnati was my first choice. And then, if Ed Badger hadn't gotten fired that summer, Cincinnati would have been the school I would have gone to. It was a school I spent more time at when I was coming out of high school and being recruited. It was a school that played in the Metro at that time, which was a great conference, and I'll never forget Dwight "Jelly" Jones. But my recruitment was all around the board from mid-major to a few high major schools.

I think Kelvin Ransey was very influential in my decision as well. He actually played with my brother in high school. Growing up, being only 30 minutes from Michigan, I kind of liked Michigan a lot, and as I got older and understood the rivalry between Ohio State and Michigan—and with me being on this side of the line—you turn into an Ohio State fan. When they started recruiting me and I came for a visit, I saw the size of the campus and High Street, I just said to myself, "This is where I want to go to school." And again, I don't know that I even paid attention to the basketball part. I do remember going to the game. They played Purdue in St. John Arena. It was always a sellout, and I loved the crowd. I loved the atmosphere in St. John Arena.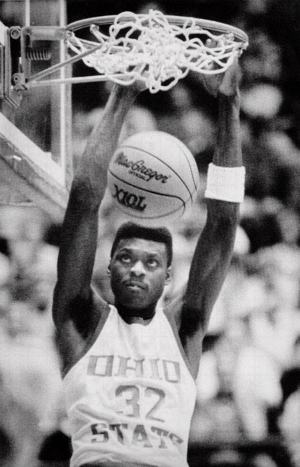 You played under Eldon Miller for three years and then Gary Williams came in as coach. What was that transition like?

DH: For them to get rid of Eldon Miller, it was tough on me because, going into my senior year, and coming from where I was, as far as my development as a player, you get nervous. Do you transfer? That wasn't big back then. Do you go to the NBA? That wasn't big back then for an underclassman. I didn't know who was going to come in that might try to take what I'd done to that point away from me. So it was a nerve wracking time and a very scary time.
But then when they hired Gary Williams, I got excited about that because we played them on national TV when he was at Boston College that year and they flat out kicked our butts. His style of play was a little different than Eldon Miller and the good thing about both is that from Miller I learned a lot about fundamentals and how to be a player and Gary Williams unleashed who I was as a player. He allowed me to do what I was capable of doing and I think that's what caused the big jump in my productivity, going from 20 points to 29 points per game.
Being named Big Ten POY must have been satisfying, considering you didn't really understand the game just a couple of years earlier.
DH: I look at one of my teammates that came in with me—Curtis Wilson. He was much more mature than I was and he understood the mind set to be a player and the fundamental side of being a good player that I just didn't understand. I finally started to understand what it took to be a player and understand the game from the neck up versus the neck down. I had the tools. I had the skill set. I just didn't know what I was doing. And when I picked up on what I was doing, it was a big accomplishment. Some guys coming out of high school are big-time guys coming in. But I wasn't a big-time guy. Yeah, I had a decent name, but I had to work for what I accomplished in college.

What do you remember about your arrival on campus?
DH: I love the campus of Ohio State University. It's just a great place, man. I'll never forget this—and I know my mom and dad are probably going to read this—but when they dropped me off the first day, when we unpacked my stuff and moved into my dorm, I wanted them to leave so bad so I could get out on campus and just enjoy the campus. I was just that excited about the campus. The atmosphere to me is like no other college.

When you passed Herb Williams as Ohio State's all-time scoring leader, did you get an opportunity to enjoy that moment?
DH: I don't know that I enjoyed it as much as I enjoy it now. I never left high school thinking I was going to be Ohio State's all-time leading scorer. With all the great players that come through Ohio State University, you just never think like that. It's more gratifying now because, first of all, it's the Ohio State University. And I'll be honest with you; I never understood how prominent Ohio State was until I started getting older. So for me to be in the record books at a school like Ohio State; it's an honor, but it's more of an honor for me now than it was back then.
Are you still close with your teammates from back then?
DH: I don't talk to any of my guys daily, but we all still pick up the telephone and we still talk. I'm still very close with Brad Sellers. And any of the other guys—if I want to pick up the telephone and call one of the other guys, I can do that. We still have that type of relationship.
Did you feel any pressure entering the NBA as such a high draft pick?
DH: I don't think that I felt the pressure. I understand what it was as I got older and I got out of the league. Guys are looking at you to come in and change the face of the program because it has been down for so long. If I understood then what I understand now, I'd have been a lot more selfish being the No. 3 pick taken in the NBA. I would have been a lot more selfish than what I was. I played the game very unselfishly. But what they wanted me to do probably was to be selfish because of being drafted so high.
What was your time in New Jersey like?
DH: It was tough. And the biggest reason is because I was a Midwest guy, coming from a great family. Going to a fast paced, very aggressive place in New Jersey was very difficult for me. I had family visit me but I was by myself. The East Coast is completely different from the Midwest.
Aside from the location, what was the biggest adjustment for you at the NBA level?
DH: You played against great guys every night. In the pros you have to prepare to compete every night. You've got to prepare for the physical grind every night. You've got to prepare for the fast pace of the game. And at my position you have to prepare for guarding some of the best players that were going to produce a lot of points for their team—the two guard and that three man. So you've got me running off screen trying to guard a lot of these great scorers. It's tough every night.

You were only in New Jersey three years before being traded to Chicago, where you won a championship with MJ, Pippen and company. What was that like?
DH: With being traded to Chicago, it really broke my rhythm. I was starting to get a feel for who I was in the game and them trading me away to somewhere like Chicago broke my rhythm, because you're playing behind one of the best players to ever play the game, and you're just not going to be able to get the kind of rhythm that you need playing behind someone like that.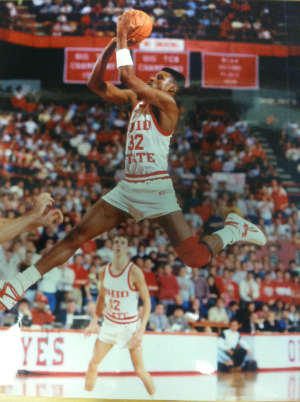 It was tough for me because I was still young. But playing with those guys you had to bring your A-game to practice every day. And they were going to make you compete. That was the best, because they never took a break in regard to the way they played the game in Chicago. And I wouldn't pass that opportunity up because that's the way the game is supposed to be played. And I had an opportunity to win a championship and that's something that a lot of great players never get the opportunity to do.
After your championship run in Chicago, you went to Sacramento for a year. What was that like?

DH: I had a great year in Sacramento. I only played about 18 minutes per game and averaged about 10.5 points a game behind Mitch Richmond and Spud Webb. So I felt good about it and the team felt good about it.
But you were gone from the Kings and playing in Europe the next year. How did that happen?
DH: I was a restricted free agent at the end of that year. Sacramento wanted to sign me for one year and after that year I could have been an unrestricted free agent. But my agent was telling me, "Let's go for a multi-year deal." And me listening to my guy caused me to go overseas because waiting around for Sacramento, they had given the contract to Vincent Askew. So I went overseas and competed over there.
Did you think you'd be back in the NBA after going to Europe?
DH: What happens when you go overseas is that it starts earlier than the NBA. I kind of got caught in a catch-22 situation because now, do you turn down guaranteed money that you're being offered overseas to come back to the states? At that time I said, "I'm going to go with the guarantee and just ride it out." That's what happened. I went over for one year but I got trapped over there.

I'll never forget because Brad (Sellers) called me and said, "Dennis, take the one year deal with Sacramento and whatever happens after that happens. But take the deal." That was the best thing for me to do. But I just did what I thought was the best thing and I got trapped.

What was it like to play in Europe and Israel?

DH: Israel was one of the nicest places I played. But I loved France and I loved Spain as well, because I was in places that were Americanized. We had a bunch of Americans over. Everybody spoke English. Plus I had great restaurants where I could eat. So I felt like I was at home every country that I played in.

When did your thoughts start to turn toward coaching? After retirement?
DH: When I was done playing I started scouting for the Philadelphia 76ers. I didn't have my degree because when we lost to Georgetown my senior year, I kind of stopped going to school. I never thought about coaching but I kind of wanted to get in on the college side. So at the age of 40, I took a year and a half to work on my college degree (at Ohio State) and I got it.

You became an assistant under Rollie Massimino at little Northwood University in Florida. How did that happen?
DH: Coach Mass, he's the best man. He's that type of father figure that's great for young people. I went to the Final Four that year after I got my degree and he was standing in line to pick up his tickets and I was in line behind him. I introduced myself and of course I knew who he was. When I told him my name, he knew who I was, but we'd never had any conversations before that point. One thing led to another.
He had given me his personal cell phone. I called him a couple days after the Final Four. He took my call and said he had just started a program down in Florida and he was looking for a new guy and asked if I'd be interested in coming down. And he flew me down and we started talking and he hired me on the spot.

From there you went to Bowling Green. What brought you home to Ohio?

DH: They had a spot come open. A guy left and went to the University of Cincinnati. I contacted Lou (Orr). When I was a rookie in the league he was on his way out, so I got a chance to play against him one year. So we knew each other through the league. I talked to him a couple times on the telephone and he hired me.
What is it that you love about coaching?
DH: You get an opportunity to teach. The reason I like this level is that I think guys are still learning how to play the game. And it's funny because the levels I have come from—the NAIA and the mid-major level—you get a lot of guys who just don't understand how to play. It's very exciting for me to know that I get an opportunity to help a kid develop his skills and if he's all ears and he wants to buy in to what we're doing, he can develop. And it's always good to see a kid go from one point to another point and you having something to do with that.
You're between jobs now, but what are your coaching aspirations overall?
DH: I didn't start off like a lot of people coming out of college, because I had a 14-15 year career playing basketball. But I do desire to be a head coach one day. My window of opportunity is closing because I am getting older and I don't know how athletic directors feel about that, but I would love to be a college head coach one day.

Recently there has been a fan-driven effort to get your number retired at Ohio State. How do you feel about that?
DH: I like to thank the people that tried to push that. I became friends with those people. Their push is for me, and I appreciate that, but the way I see it is that you had a lot of great people and players come through Ohio State, so my push would be for a lot of the other great players that have come through Ohio State.
I look at places like Duke and North Carolina. If you ever walk through their facilities, they're going to let you know who came through here, when you walk through the gym. You're going to see jerseys and numbers hanging in the rafters. The program wasn't built from one or two people. It's taken a lot of players to build that program. I appreciate the people who tried to have my number retired, but at the end of the day, if it was up to me, I'd be pushing for a lot of great players who came through Ohio State to have their numbers retired.

You've played with some of those great players, guys like Jay Burson.

DH: Jay came in with the right mindset. He knew exactly what he was doing. Me and him—we're still close to this day. We still talk and when he passes through here we'll go to lunch. It's unfortunate what happened to him (neck injury) because who's to say what could have happened to him in the long term as far as his basketball career. He was another one of those great players to come through. I'm sure a lot of those younger fans who come to the games now—they don't know Jay Burson. And people like that should be known for who he was and what he's done for Ohio State.

Do you ever get back to Ohio State?
DH: I would like to get back more. With me being a coach it was very difficult. Now, I've got time on my hands. If I don't get a job (before the season), I want to come down and watch the guys practice and be around the program, because I think Thad and the guys are doing a great job. They've taken it to a great level and I would like to come in and see them practice.