The final weeks of the 2013-14 Big Ten basketball season are upon us. As with any season, there have been twists and turns, teams you can (mostly) count on, and ones that have jumped up and surprised.
As the view of what the final B1G standings might look like begins to come into focus, now is a good time to reflect on the job done by the league's coaches — and to handicap the race for B1G Coach of the Year.
There are still a few more games to be played, but the top coaching jobs are becoming evident. Several coaches have either been eliminated or at least had their claim to the trophy severely hampered by what has transpired on basketball courts across the Midwest this winter.
Herein we will discuss those who are out of the running for the award, which coaches need to finish strong — and also have their peers collapse — and who the favorites appear to be as the season winds down.
Out of the Running

Thad Matta – The Buckeyes started 15-0 and looked to be true title contenders prior to conference play. No one really expected Ohio State to go unbeaten through the B1G schedule, but losses at Minnesota and Nebraska and at home to Penn State turned around a season that suggested a high tournament seed for the Buckeyes. This is not a year Thad will take home COY honors, although he's probably done a better job than most people think, given the defections to the pros over the last few years.
Pat Chambers – Kudos to Chambers for making the Nittany Lions a tough out night after night, and for breaking the PSU losing streak against the Buckeyes. Those, along with many close losses may get Chambers a few votes, but Penn State's overall record is still pretty lousy at the end of the day. Entering the weekend, the Nitts were tied with Illinois in the B1G cellar and were one of only two teams (Northwestern) in the conference to have an overall losing record.
Matt Painter – Honestly, I'm surprised Boiler Nation isn't demanding Painter's head. Down years happen, but Purdue hasn't looked very threatening in a while. Painter is on the hot seat and he will not be winning the B1G COY award in 2014.
John Groce – The Illini followed a promising non-conference schedule by getting repeatedly pummeled in the Big Ten. Groce still has a lot of work to do if he is going to restore Illinois to prominence in the nation's slugfest-iest basketball conference.
Tom Crean – The Hoosiers have pulled a few surprises this season, but Crean's crew won't be cutting any nets down in 2014. Indiana has underachieved, despite heavy turnover from last year. Some of Indiana's losses have been downright inexplicable.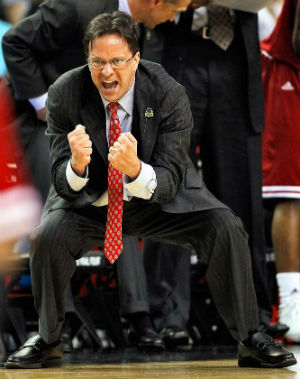 Richard Pitino – Despite his Pete Campbell looks, Pitino has turned in a very respectable showing after taking over Tubby Smith's old club. A recent 2-6 stretch has hurt Pitino's stock but his team has wins over Ohio State and Wisconsin this year.
Chris Collins – Northwestern's first-year coach is also a longshot, but he has completely changed the culture of Wildcat basketball. This season, his team won three straight conference road games for the first time since most of us were born, and they happened in three pretty difficult barns — at Indiana, Wisconsin and Minnesota. Still, Northwestern has lost five straight games and was beaten badly several times.
Contenders Who Need Help

Bo Ryan – Wisconsin has struggled at times this year, including three consecutive home losses at the normally impenetrable fortress of the Kohl Center.  But the Badgers remain in contention for the Big Ten title, in third place after yesterday's win at Iowa, so you can't count out the coach most likely to be a Sith Lord. The Badgers have won five straight.
Fran McCaffery – The Hawkeyes have come a long way under McCaffery this season. Iowa has picked off Michigan and Ohio State, and nearly did the same to Sparty before falling by a bucket in overtime. McCaffery has his team playing great defense and he has developed an up-tempo style that seems counterintuitive for the type of personnel he has, but it's working.
Iowa has been among the B1G's best teams all season long and can now compete with anyone. The Hawks are also the one team in the league that has avoided a terrible loss somewhere along the way. Iowa's losses have come at the hands of Villanova, Iowa State, Wisconsin (twice), Michigan, Michigan State and Ohio State. Only Michigan has yet to reach 20 wins among those schools and they'll get there soon.
The favorites

Tom Izzo – Michigan State enters today's Mitten State rematch in Ann Arbor with the conference's top mark. Winning the rugged Big Ten is reason enough to put a coach among the favorites for COY honors. But Izzo's group has only a couple of bad losses this year — one at home to Nebraska and a neutral site dud against Georgetown that likely won't hurt Izzo's chances.
Beyond simply carrying the banner for the conference in 2013-14, Izzo has had to negotiate a significant rash of injuries to his key players. Sparty didn't miss a beat without Adreian Payne and has also seen other stars miss games. With a strong finish, Izzo will be among the favorites to take home COY honors.
John Beilein – Like Izzo, Beilein has his team in contention for the conference regular season Big Ten title, despite heavy losses. In Michigan's case, the loss of Trey Burke to the NBA and Mitch McGary to injury have failed to bother the Wolverines. Beilein has kept his team focused and has developed his younger talent well. Nik Stauskas has turned into the most terrifying shooter in the league.
If the Wolverines complete the sweep of Sparty this afternoon, they will essentially have a two-game lead in the conference race with four to play. Beilein would be tough to vote against if his charges can claim the B1G crown without McGary and a revamped backcourt sans Burke.
Tim Miles – I'm not sure anyone saw this kind of turnaround from Nebrasketball. Miles has turned a new home venue into a blender that rips apart much more competent visiting teams, while also making the Huskers a tougher out on the road. A road win in East Lansing and a home victory over Ohio State look great on Miles' resume, but the sudden possibility of Nebraska reaching the NCAA tournament could push him over the top.
Entering today's game against Purdue, the Huskers have won four consecutive games. After Purdue, Nebrasketball closes with Illinois, Northwestern, Indiana and Wisconsin. Three of the last five games are at home. The Huskers would still be on the bubble with a 4-1 showing in those games, but if one of the wins is at the expense of the Badgers, the field of 64 is possible with a 19-11 overall mark. Miles has turned out to be a great hire.
---
So who wins it? My prediction is that whichever Mitten State coach takes the conference crown will grab the hardware. Both have overcome some tough injuries and excelled in conference play. Both have quality wins and an unbelievable stumble. Sparty has a better non-conference mark, which might give Izzo an edge. A tie atop the standings may split the Izzo and Beilein votes and allow Miles to sneak in and grab it. And, if Nebraska somehow wins out and reaches the tourney, Miles may swipe it anyway.
Who you got?