Many freshmen hit the proverbial wall toward the end of their first season, stalling in their progression after a promising start.
I'll admit, the concept of "hitting the wall" is as confusing to me as why someone would want to put the dates of a deceased loved one on the rear window of their vehicle. But the theory is that these players are so rarely challenged in high school that the grind of college ball catches up with them.
And so it appeared with forward Marc Loving, who had gone six games and almost a month since scoring more than two points and four straight without a single point.
But there's no time for Loving like Valentine's Day. The first game after the day of love saw Ohio State's lone active frosh score eight vital second-half points. He went 3/6 shooting from the field and 2/2 from the line to help the Buckeyes take a double-digit second-half lead on the road.
Without Loving's offense, Ohio State would have sweated out a miserable game in Champaign, and quite possibly lost its seventh game in 11 outings.
Loving's night was made more important by the horrendous offensive output by nearly every other Ohio State player. LaQuinton Ross scored only nine points on 3/7 shooting. Lenzelle Smith Jr. was 1/5, scoring four total points — after being held scoreless in the opening 20 minutes. Amir Williams did not score.
So there was no better time for Loving to show that the fabled freshman wall couldn't hold him.
The Toledo product has reached double figures four times in his initial collegiate campaign, including 10 in his first ever game, an 89-50 bombing of Morgan State.
He dropped 12 on North Dakota State, a career high 13 against Nebraska in just his second Big Ten game, and 10 more in the heartbreaking overtime loss at Michigan State in the next game, playing a season high 23 minutes.
After scoring seven points in the home loss to Iowa, Loving showed signs of being a freshman on the road at Minnesota. He was scoreless in 11 minutes in Minneapolis, and looked every bit the part of a high school kid in over his head.
Loving seemed to bounce back in the next game — with an eight-point effort at Nebraska, playing just eight minutes.  But he looked a bit sluggish on defense, and committed three fouls in that span.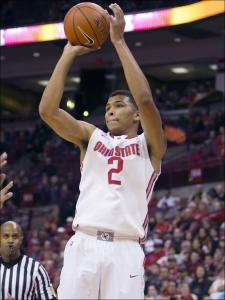 Then the roof caved in. The St. John Jesuit graduate tallied just a single point at home against Illinois and then two more in the home loss to Penn State.
The he stopped scoring altogether. The wall loomed in front of him. In 36 combined minutes against Wisconsin, Iowa and Purdue, Loving went 0/5 from the floor and 0/3 from the charity stripe. He committed four fouls and a turnover in those three games.
When Michigan came to town earlier this week, Loving failed to score again, but Thad Matta only used him for two minutes. It looked like his promising season had come completely unglued.
After a rough start against Illinois yesterday, Loving may have broken through the freshman wall. He failed to score in the first half, but more than made up for it after the break. His eight points were part of a 12-0 Buckeye run that basically decided things.
Was this a bounce-back game for Loving? A springboard to more great outings to come? Or was it an aberration soon to be erased by more scoreless efforts?
By season's end, we'll know. But for now, the Buckeyes are back at the familiar 20-win mark under Matta, and looking to solidify their position in the NCAA tournament.
All because Marc Loving doesn't care about your freshman wall.