With the slow developing tandem of soon-to-be seniors Amir Williams and Trey McDonald, in addition to LaQuinton Ross' reported departure, Thad Matta is searching for immediate help in the frontcourt.  
The ideal fit would be uncommitted, five-star recruit Myles Turner. Just in case that doesn't work out, Matta also contacted forward Anthony Lee, shortly after Lee announced he would transfer from Temple. That prompted a visit to Columbus, which he's taking this week:
Looking forward to a great Official visit at "THE Ohio State Buckeyes" today. #BlessedWithTheBest

— Anthony Lee (@AntLee_3) March 27, 2014
Lee will finish his undergraduate studies in May, but he still has a year of eligibility left. Under NCAA transfer rules, he is eligible to play in the 2014-15 season. Chase Senior, who spoke to Lee on his WHIP radio show the day he announced his intentions to transfer, told Eleven Warriors he thinks Lee can make an immediate impact.
"That's why he's such a hot commodity," Senior said. "He's 6-feet-9-inches tall, pretty athletic, can get up and down the floor, score and rebound, he's a solid player." 
As Lee told Senior on WHIP, his decision to transfer is based largely on an attempt to boost his pro-basketball stock.
"One of my goals this year was to play well and, possibly, put myself in a position to play professionally," Lee said. "Because we didn't do well as a team and I didn't do as well as I wanted to, I knew there was also another option with being able to transfer." 
This past season, Lee averaged 13.6 points and his 8.6 rebounds per game led the American Athletic Conference. While those numbers are an improvement over Ohio State's Williams, a closer look shows they're not as far apart as it may appear (glossary via sports-reference.com): 
| Season | PER | TS% | ORB% | DRB% | TRB% | blk% | TOV% | USG% |
| --- | --- | --- | --- | --- | --- | --- | --- | --- |
| Lee, 2013-14 | 19.5 | .525 | 10.9 | 20.2 | 15.4 | 2.7 | 10.8 | 23.2 |
| Williams, 2013-14 | 19.7 | .618 | 12.2 | 17.6 | 15.0 | 8.4 | 18.8 | 17.9 |
Essentially, Lee is a slightly better rebounder on the defensive end, doesn't turn the ball over nearly as much with more opportunities to do so, but, also, doesn't provide the shot-blocking presence that Williams does and can't convert around rim as well. The comparisons continue, according to Senior's scouting report. 
"One thing Lee needs to work on are his hands. There were times when he'd pick-and-roll, the point guard would give him a decent pass and he, simply, wouldn't be able to reel it in," Senior said. "If he can work on his hands and outside shooting, a lot of the schools would be impressed by what he's able to do." 
In his career, he's only hit one of five three-point attempts, but he is starting to extend his range out to the elbow and baseline. It's an attempt to showcase his versatility, showing he's capable of playing a different position than he did with Fran Dunphy's Owls.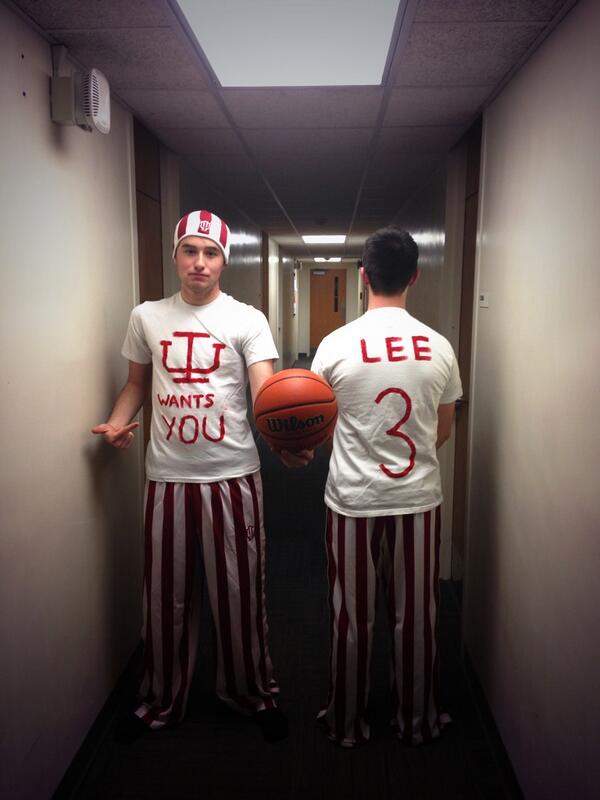 "I had a lot of experience playing the 'five' here, but I'm definitely more of a four," Lee told WHIP. "I need to be able to face up to the basket instead of having my back to the basket."
Bill Evans, who covers Temple for the South Jersey Times and OwlsDaily.com, praises Lee's skills in the low-post, but shows concerns over his defensive abilities.  
"Defensively, he struggles a bit as he is thin and, throughout his career, has been needed to play center, where he is a little undersized," Evans told Eleven Warriors. "This season, he picked up fewer fouls, but it also affected his ability to defend, as bigger and stronger players had their way with him – Texas Southern's Aaric Murray going off for 48 was a prime example."
Lee, who wants to be closer to his family in the Midwest, is also considering Indiana, Iowa State, Louisville and Notre Dame. A week ago, he told InsideTheHall.com he received "about 300 or 400 tweets from Indiana people."
"I'm pretty surprised that a lot of fans from these other schools are dying for Anthony Lee to come to their program," Senior said. "He's going to be a solid player, but not a superstar."
Myles Turner in Austin

Turner, the other target for next season, is currently on a visit to the University of Texas. 
It's his fifth official visit, meaning it's also his last. To recap, his official visits have been to Ohio State, Oklahoma State, Duke, Kansas and Texas. Recent speculation had him "closing in on an SMU decision," where he took an unofficial visit, but Kansas might be an even more likely landing spot. 
Yahoo's Adrian Wojnarowski reported Joel Embiid will enter the NBA Draft. Not only would that open another scholarship, but, also, a clear path to the Jayhawks' starting lineup next to Cliff Alexander. In a USA Today live chat, Turner said he wouldn't consider Kansas if Embiid was still there.
"Coach [Bill] Self told me himself," Turner said, "if Embiid stays it's not worth my time."
According to his Twitter account, Embiid said he hasn't made a decision yet. His mentor, fellow Cameroon native Luc Richard Mbah a Moute, also reiterated Embiid's claim. 
In the chase for Turner, this situation is definitely something to keep an eye on. 
Thoughts on Kennard to Duke

In case you missed it, Monday, Luke Kennard announced – after multiple Twitter reports spoiled it –  his commitment to play for the Blue Devils in 2015. 
Since Thad Matta arrived at Ohio State, only three other Ohio Mr. Basketball award winners have not ended up playing for the Buckeyes – O.J. Mayo, Trey Burke and Justin Fritts. Kennard's decision to play for Duke, the only school he took an official visit to, does not signal a mass-exodus out of the state. 
As I've written in the past, Matta relies heavily on Ohio and recruits the state well. The average retention rate for schools keeping their McDonald's All-Americans – Kennard certainly has a chance of being named one –  in state has dipped below 30 percent in the past decade. Even including Kennard, the number of Ohio All-Americans committing to OSU would be 71 percent. 
One way or the other, that figure will include five-star recruit Carlton Bragg (VASJ), the clear top Ohio target and a must-get for Matta. Kennard is a big loss, but incoming depth on the wing includes D'Angelo Russell, Jae'Sean Tate, Keita Bates-Diop, and Mickey Mitchell, not to mention redshirt freshman Kam Williams. 
More Ohio talent can be found on Kennard's AAU team, which includes 2015 Buckeye commit A.J. Harris at point guard, and it will be stacked with potential Buckeye targets. As Birm already wrote, those two will join Kipper Nichols (St. Edward) and Kyle Ahrens (Versailles), as well as 2016 OSU target V.J. King (St.Vincent-St.Mary) on the King James Shooting Stars, this summer.. 
Around the B1G

Michigan State is another Big Ten team still rounding out its 2014 recruiting class. 
The Spartans are digging for underrated talent, as they've missed out on a few big names and sit No. 50 in 247Sports' composite team rankings. Tom Izzo's latest find is 6-foot-7-inch forward Marvin Clark (Wichita, Kan.). 
He's the high school teammate of fellow MSU commit Lourawls Narin Jr., and, according to the Detroit Free Press, Clark merits comparisons to former Spartan Morris Peterson.