Andrew Lutschaunig put it bluntly.
With a chance to help Ohio State secure its first national championship in the final round of the NCAA men's tennis team tournament in Orlando on May 21, the redshirt senior admitted "I didn't play very well at all." 
Lutschaunig and teammate James Trotter were one of two Buckeye duos to drop doubles matches to Virginia, conceding the opening point of the overall match to the team that ultimately swept Ohio State, 4-0, to hoist the most prestigious prize in collegiate team tennis. For the third time in head coach Ty Tucker's decorated career at the helm of the program, the Buckeyes – who appeared poised to get over the hump in 2023 – finished as the national runner-up.
Not the trophy we were looking for. Tough finish to a great season. Thanks for being with us every step along the way. #GoBucks pic.twitter.com/xtThPDB7K8

— Ohio State M Tennis (@OhioStateMTEN) May 21, 2023
But Lutschaunig and Trotter didn't have the luxury of sulking in sorrow after coming up short. Both Buckeyes still had national championship opportunities on the line in the following days, and they had no choice but turn the page – as difficult as it was to do so.
"It was obviously tough to bounce back from that, because it's such a quick turnaround. Especially for James, it was the next day. For myself, it was two or three days later. At that point, it was pretty tough to get back into the tournament mindset," Lutschaunig said. "Because I was still obviously thinking about the loss. I didn't play very well at all against UVA in the doubles. But yeah, I was just focused on the next match. Honestly, all I was really focused on at the time was taking it one at a time and hoping to come out with All-American and then go from there. It was tough to regroup."
Lutschaunig had a few days to collect himself before starting doubles play in the individual NCAA championships in Orlando. For Trotter, who was vying for titles in both singles and doubles, the timeline was sped up considerably. Trotter's next campaign for championship glory started the very next day.
"Obviously we all wanted to win the team tournament, because that's the one we train for as a school. We got to the finals, the doubles point, I think we had like six or seven deuce points that we lost, and those little things could've changed the outcome," Trotter said. "But I mean, we couldn't do anything. So I just moved on. Especially because I had a match the next day. So I just had to focus on trying to get All-American in singles and doubles. So it was tough to switch my emotions, but I had to do it."
More disappointment followed for Trotter. The fifth-year senior hadn't lost a singles match all season entering the NCAA championship bracket, but saw his dreams of a national title dashed once again in the Round of 16, falling to Michigan's Andrew Fenty.
That match started at noon on May 24, and by 4 p.m., Trotter had to wipe the sour taste of defeat out of his mouth to begin doubles play alongside Lutschaunig. But from there on out, neither Buckeye would be denied again. With a shot at redemption on the table, the pair won five matches in as many days, culminating in a national championship victory over Texas' third-ranked duo of Cleeve Harper and Eliot Spizzirri this past Sunday. Lutschaunig and Trotter became Ohio State's first NCAA doubles champions since 2012, and just the second-ever pair to claim the crown.
2023 NCAA Doubles National Champions!! pic.twitter.com/rFDMYuoRes

— Ohio State M Tennis (@OhioStateMTEN) May 27, 2023
It wasn't the first meeting between the two teams this year. And despite Texas' rank, you might've thought the Buckeyes entered as the favorite, given that they won both previous matches against the Texas tandem. But as Lutschaunig explained, that didn't provide much in the way of alleviation entering the final.
"I think going in, you don't really think too much about it. Even though we beat them twice already, so we knew how to play them, I wouldn't say it was comforting, because we know that they had a ton of wins this year," Lutschaunig said. "They beat a lot of top teams. Both of the wins were indoors, and one of them was at home. So it's a completely different game outdoors and at a neutral site. Two compared to three sets as well. We knew that they got to the final for a reason, so I wouldn't say it was comforting. But it gave me a sense, at least, to know that we were, of course, capable of taking the title because we were playing a team that we already beat."
"I was very calm for some reason. I wasn't really nervous. Because maybe I just knew that I was going to make it."– Trotter on his final serve to win the title
Once match point came around, though, the Buckeyes were imbued with confidence. Trotter took the serve, hit an ace and gave the program its first doubles championship in more than a decade.
"In that game, we were down love-40, and obviously the other team has a better chance to win it. And I just told myself, I'm just gonna hit my serve as hard as I can, trust my serve and go for it," Trotter said. "And if we lose that game, we lose it. But I just didn't want to lose that game with me just trying to make the serve defensive. Like Andrew mentioned, we both play big. Like, big serve, big shots. So I mean, it's just not our tennis not going for big shots. So I just needed to trust myself to go for it.
"I was very calm for some reason. I wasn't really nervous. Because maybe I just knew that I was going to make it. It was a matter of the opponent getting to the shot or not. Maybe I was just super focused. I was just relieved after the point was done."
What a way to finish! Coming back from 0-40 and capping it with an ace! pic.twitter.com/ha2ZZwmTzy

— Ohio State M Tennis (@OhioStateMTEN) May 27, 2023
Trotter and Lutschaunig had won big tournaments before. As sophomores at Ohio State, the pair took home the Big Ten individual title in doubles play. The year after, they made it to the finals in a professional tournament that boasted an $80,000 prize for the winner. But none of that compared to what they accomplished last weekend in Florida.
Lutschaunig said Thursday that it still felt surreal.
"It still honestly probably hasn't fully set in yet. It still feels pretty crazy. I remember our second year in school, we won the Big Ten individuals tournament. And I thought that was like the greatest thing that will ever happen in my tennis (career)," Lutschaunig said. "Looking back, it's such a minor – obviously it's a good achievement – but it's minor compared to what we've done in the past few years. It takes a while to fully settle in. I just keep thinking about it honestly, thinking about when it was deuce and I was standing at the net. I knew where he was going to serve and I knew it was either going to be an ace or a fault. And I was just praying that it would go in and I remember that feeling. So that's the moment that I keep playing (in my head). Just hearing the sound of the ball hit his racket and then hit the fence in a second's time."
The circumstances surrounding Ohio State's final match in doubles play mirrored the team tournament. Just like Trotter and Lutschaunig had already beaten Harper and Spizzirri twice, the Buckeyes bested Virginia on two occasions before the team final, too. Trotter sensed the Ohio State coaching staff might have been "kind of worried" about the same outcome from the team tournament taking place in the doubles match.
But Trotter and Lutschaunig defied any such concern, which made the win that much sweeter for Tucker, his staff and the entire team.
---
United in championship victory, Trotter and Lutschaunig took different paths to the top of the collegiate tennis landscape since entering the program together as freshmen in 2018. Trotter, a native of Japan, enjoyed early success in his career, capturing a Big Ten doubles championship in his first year at Ohio State. By his second year, Trotter tied for the team lead in singles wins.
Lutschaunig didn't even play as a freshman, redshirting in 2018-19 before clawing his way up the ranks to make an impact for the Buckeyes. His slower ascent required patience and a commitment to the development he received from Tucker and the Buckeye staff, and all of that paid off in spades this past weekend.
"(Tucker is) obviously one of, if not, in my opinion, the best in the game to do it. Him and (associate head coach Justin Kronauge) and (assistant coach Mikael Torpegaard) this year. When I was getting recruited by both of them, they were very upfront with me in saying that their program is very unique and it's not made for everyone and you're gonna have to work harder than you've probably ever worked if you want to see success at this school," Lutschaunig said. "And I was willing to do that, obviously. I didn't know quite what it would be like. I thought I did, but I didn't. 
"And throughout the years, he just pushes us in practice in ways that show that the only limits you have are the ones that you put on yourself. You put in the time, if you put in the work, if you gain the trust from the coaches, if you trust how they coach and what they coach and the system, the doubles and stuff, you will see time on the court. And if you win, you'll keep getting the ball. So that's something that I just kept sticking to."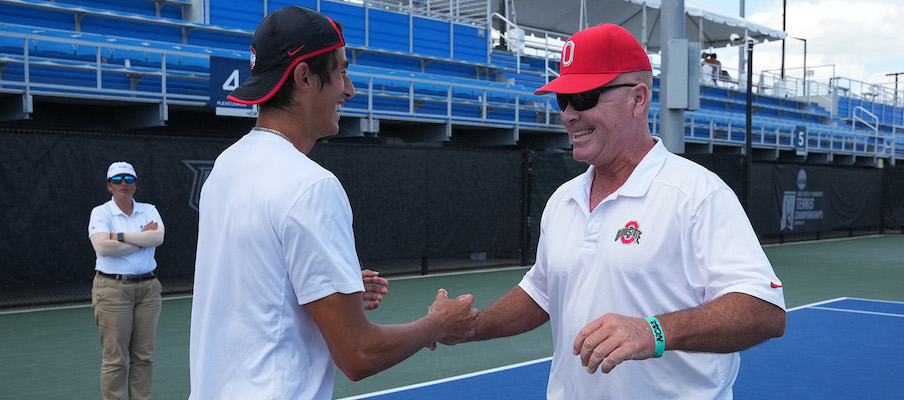 To make their championship run even more impressive, Lutschaunig fought through a torn labrum and an injured rotator cuff the whole way through. He first received a torn labrum diagnosis two years ago, but managed to hold off on eyeing an operation until things continued to get worse at the start of 2023. Lutschaunig scheduled surgery two months before the end of the season, and the timing worked out perfectly. After being "carried a lot by adrenaline" late in the title run, Lutschaunig underwent surgery three days after earning championship hardware. 
Lutschaunig said the procedure will require a long recovery, but his national title just might ease any residual pain.
For a healthy Trotter, the grind won't stop. Having exhausted his eligibility at Ohio State, the Buckeye star will begin playing professionally in just a couple weeks, starting a pro career during which he hopes to add to his trophy case. But he won't forget his time in scarlet and gray along the way, especially the manner in which he capped off his collegiate tenure.
"I don't think many people can say the last match that they played was for the national championship and they won it. So obviously it feels nice," Trotter said. "I'm able to say that my last shot I ever hit for college was an ace to win the national championship. So that obviously feels nice, but I'll also kind of miss the five years that I fought every match for Ohio State, for my teammates. So I'll definitely miss that, but feels good."
Lutschaunig will have to take the fall off to lick his wounds, but he'll be back at Ohio State for a sixth season next year. And he doesn't just have his sights set on repeating as a national doubles champion. During his final act, Lutschaunig hopes to help deliver Tucker and the Buckeyes the team trophy that's long eluded them.
"The energy will definitely carry over," Lutschaunig said. "Obviously, I'm really hoping to be right back where we were in that final, and this time come out with the gold, because I think everyone on our team, especially the coaching staff, deserves it."