Junior Logan Stieber, the first Ohio State wrestler to win three NCAA championships, and sophomore Catherine Shields, the Big Ten's rower of the year, were named Ohio State Athletes of the Year by the university Tuesday.
Stieber is fresh off a 30–1 season, improving his overall record to 90–3 (.968), which is tops in program history. Three months ago, he won his third national title in impressive fashion, 10–1. He is the second Ohio State wrestler to win the school's Male Athlete of the Year award, joining current Buckeye assistant wrestling coach J Jaggers, who capture the honor in 2009.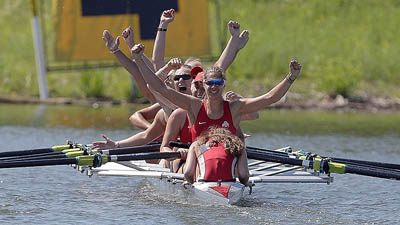 Shields is a 2014 Pocock First Team All-American and was named Collegiate Rowing Coaches Association (CRCA) First Team All-Central Region. She rowed the First Varsity Eight on Ohio State's first NCAA 1V8 title and was vital to the team's second-consecutive Big Ten and NCAA championships. Shields is the second rower in two years to win the Ohio State Female Athlete of the Year award, joining teammate Claire-Louise Bode, who captured the award in 2013.
Ohio State Athletes of the Year:
| Year | Male | Sport | Female | Sport |
| --- | --- | --- | --- | --- |
| 1982 | Art Schichter | Football |   |   |
| 1983 | Chris Perry | Golf | Cathy Kratzert | Golf |
| 1984 | John Frank | Football | Sarah Josephson | Synchronized Swimming |
| 1985 | Robert Playter | Gymnastics | Yvette Angel | Basketball |
| 1986 | Mike Lanese | Football | Tracey Hall | Basketball |
| 1987 | Butch Reynolds | Track & Field | Karen LaFace | Diving |
| 1988 | Chris Spielman | Football | Bridgette Tate | Track & Field |
| 1989 | Joe Greene | Track & Field | Nikita Lowry | Basketball |
| 1990 | Mike Rancanelli | Gymnastics | Susan Gottlieb | Swimming |
| 1991 | Jim Jackson | Basketball | Holly O'Leary | Volleyball |
| 1992 | Jim Jackson | Basketball | Leisa Wissler | Volleyball |
| 1993 | Chris Nelloms | Track & Field | Audrey Burcy | Basketball |
| 1994 | Chris Sanders | Track & Field | Katie Smith | Basketball |
| 1995 | Blaine Wilson | Gymnastics | Laura Davis1 | Volleyball |
| 1996 | Eddie George2 | Football | Katie Smith | Basketball |
| 1997 | Blaine Wilson2 | Gymnastics | Amy Langhals | Golf |
| 1998 | Hugo Boisvert | Hockey | Vanessa Wouters | Volleyball |
| 1999 | Sconnie Penn | Basketball | Dominque Calloway | Track & Field |
| 2000 | Jamie Natalie | Gymnastics | Donica Merriman | Track & Field |
| 2001 | Jamie Natalie | Gymnastics | Donica Merriman | Track & Field |
| 2002 | Raj Bhavsar | Gymnastics | Anna Smith | Softball |
| 2003 | Craig Krenzel | Football | Stacey Gordon | Volleyball |
| 2004 | Dan Taylor | Track & Field | Allison Hanna | Golf |
| 2005 | Mike Nugent | Football | Stacey Gordon | Volleyball |
| 2006 | A.J. Hawk | Football | Jessica Davenport | Basketball |
| 2007 | Troy Smith | Football | Jessica Davenport1 | Basketball |
| 2008 | Andras Horani | Fencing | Teresa Meyer | Pistol |
| 2009 | J Jaggers | Wrestling | Jantel Lavender | Basketball |
| 2010 | Evan Turner | Basketball | Sam Marder | Softball |
| 2011 | Steven Kehoe | Volleyball | Jantel Lavender | Basketball |
| 2012 | Zain Shaito | Fencing | Christina Manning1 | Track & Field |
| 2013 | Blaz Rola | Tennis | Claire-Louise Bode | Rowing |
| 2014 | Logan Stieber | Wrestling | Catherine Shields | Rowing |
1 Recipient of Big Ten Award as conference's female athlete of the year
2 Recipient of the Big Ten Jesse Owens Award as the conference's male athlete of the year