Here at Eleven Warriors, we operate under a simple maxim: You can cover all of the sports some of the time, and you can cover some of the sports all of the time, but you can't cover all of the sports all of the time.
Even with the Around the Oval column, not all of OSU's varsity athletes get their proper due. This is an attempt to rectify that, with a multi-part series on Ohio State's 36 varsity sports across the year. First up: sports that took place primarily in the fall.
CROSS COUNTRY

Men's cross country won its first two events of the year, the Flyer 5k Challenge and the Big Ten preview. The men's team also had some standout runners; the Big Ten named Jordan Redd runner of the week early in September. The Buckeyes had a few disappointing outings, finishing eighth in the Big Ten, but they rebounded to finish seventh in the NCAA Great Lakes Regional Championship less than a month later.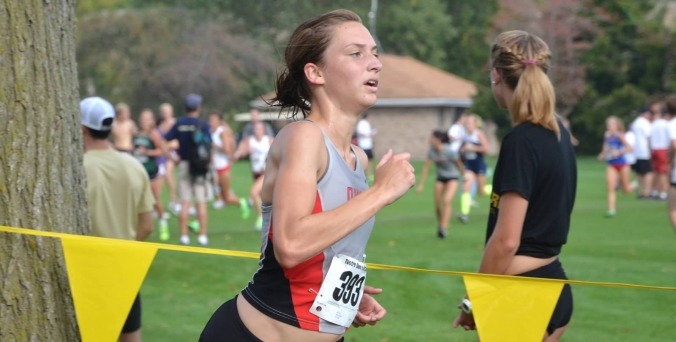 The women's team won their first event of the year, the Flyer 5k Challenge. As the year went on they progressed into more difficult events like the Pre-National Invitational and Big Ten Championship. Katie Borchers became OSU's first ever female All-American in cross country at the 2013 NCAA Cross Country Championships, and the team placed fifth in the conference. With the Big Ten finish and Borchers' achievement, it was a solid season.
FIELD HOCKEY

The women's field hockey team struggled through a difficult season, finishing 6-13 (0-6 in the conference).
There were some silver linings; for example, upsetting No. 13 Northwestern in the Big Ten Tournament and taking eventual Big Ten champions Michigan State to double overtime one game later.
Peanut Johnson and Mona Frommhold made second team all-Big Ten, and three Buckeyes (Johnson, Brooke Hiltz and Danica Deckhard) were selected to play in the 2014 USA Field Hockey Women's National Championship.
FOOTBALL

Eh, these guys didn't do much of note. Pass.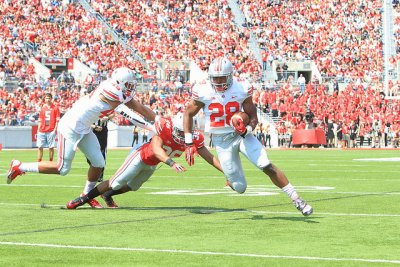 Quite a few words have been written about the 2013 football team, and a few more won't hurt. With heaps of pressure on them thanks to a preseason No. 2 ranking, the Buckeyes didn't dominate the early part of their schedule like they'd hoped. In Braxton Miller's absence Kenny Guiton took care of business, and once Miller returned he and Carlos Hyde began to dominate.
The Buckeyes worked through a stressful atmosphere to complete a second straight undefeated regular season. In spite of mind-numbingly stupid narratives for months on end, the Buckeyes were achingly close to the national championship game... until Michigan State ruined the Silver Bullets' dreams with a win in the Big Ten Championship Game. One Orange Bowl loss to Clemson later, and somehow a 12-2 season in which the offense set records and Ryan Shazier was a first team all-American felt... unsatisfying? Unsatisfying isn't even close to fair, but OSU football fans have incredibly high standards.
SHOOTING SPORTS

Rifle and pistol shooting are different sports, but they're so similar that they are often lumped together. They're two of only a handful of co-ed varsity sports, and OSU's men and women are good at both.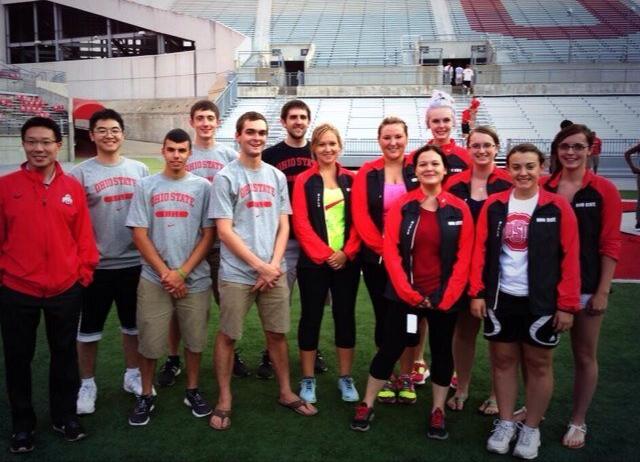 In March, the pistol team won its sixth NRA Intercollegiate National Championship. Senior Joe Totts won national championships in standard pistol and a three-gun aggregate competition, and Kimberly Hullings claimed second place in a women's two-gun aggregate competiton. The team had four First Team All-Americans (Totts, Hullings, A.J. Tourigny and Quentin Caufmann) and four more second team All-Americans (Seth Bearjar, Jason Reineck, Greyson McCaig and Mariah Skiles). For his team's excellence, pistol coach James Sweeney was named Distinguished Coach of the Year.
The rifle team was almost as good. The Buckeyes spent the entire year in the top 10 and hosted an NCAA qualifier; only an upset at their regional qualifier qualifier kept them from advancing further into the postseason. Amanda Luoma and Deanna Binnie were invited to the NCAA Tournament, where they finished in the top five of the smallbore and air rifle events. For their efforts, Luoma and sophomore Remington Lyman were named All-Americans.
SOCCER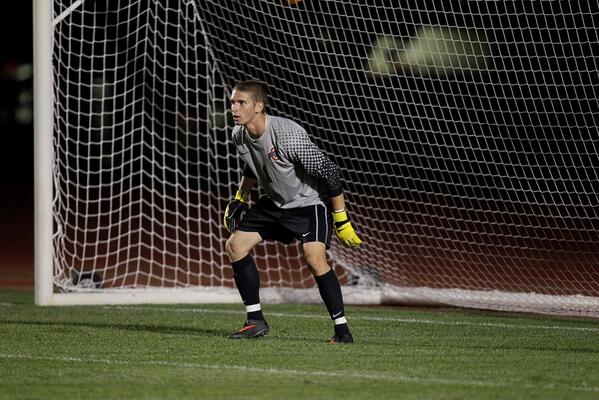 The women's soccer team celebrated its 20th anniversary by finishing 10-7-3 on the year, doing well enough in-conference to earn a bid to the NCAA Tournament. Nichelle Prince was refreshing as a freshman, earning several Big Ten weekly honors and getting two (Prince and Megal Fuller) named to the Second Team All-Big Ten.
Though the men's team struggled to a 5-8-4 record, they may have had an even greater high point. After starting off the year with a long losing streaks, the Buckeyes strung together three straight wins, including an upset No. 9 Penn State in double overtime. Otherwise, it was a season of tight games and misfortune; the Buckeyes tied with ranked Louisville, Northwestern and Michigan State teams and narrowly lost to Wisconsin and Akron. For next year, they're developing talent. Sage Gardner and Alex Ivanov were second-team All-Big Ten, and Danny Jensen and Tyler Kidwell made the All-American team.
WOMEN'S VOLLEYBALL

In a hellacious Big Ten, the OSU women's volleyball team finished 18-14 on the year. The Lady Buckeyes started the season 12-0 and were ranked as high as No. 13, and then... you know how everyone says Essss Eeeee Ceeee football is the greatest thing since sliced bread? Big Ten women's volleyball is everything the SEC wishes it could be.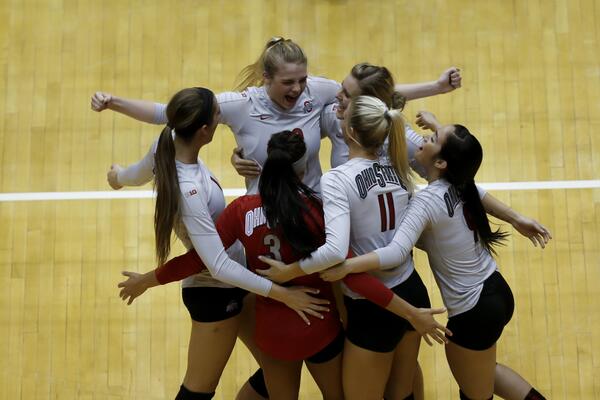 A record eight teams made the NCAA tournament, seven made it to the Sweet 16, and the final was Wisconsin-Penn State. Last year's Big Ten had one of the strongest sports seasons for any conference ever, which makes a 6-14 mark in Big Ten play pretty darn good. With a couple more upsets, maybe OSU gets into the tournament and does some damage; who knows?
Outside hitter Kaitlin Leary made All-Big Ten honorable mention, while middle blocker Taylor Sandbothe was named to the All-Freshman team. Sandbothe will lead the team in 2014-2015, and hopefully the Big Ten will be less brutal next time around.
---
So what to make of the fall teams? Two outfits were national championship caliber outfits (shooting sports), one excellent team couldn't get over the hump (football), and the remaining teams weren't quite at a conference championship level but were dangerous in their own right. Tune in next time for a breakdown of the winter sports; if you'll forget about men's basketball losing to Dayton in the NCAA Tournament, so will I.