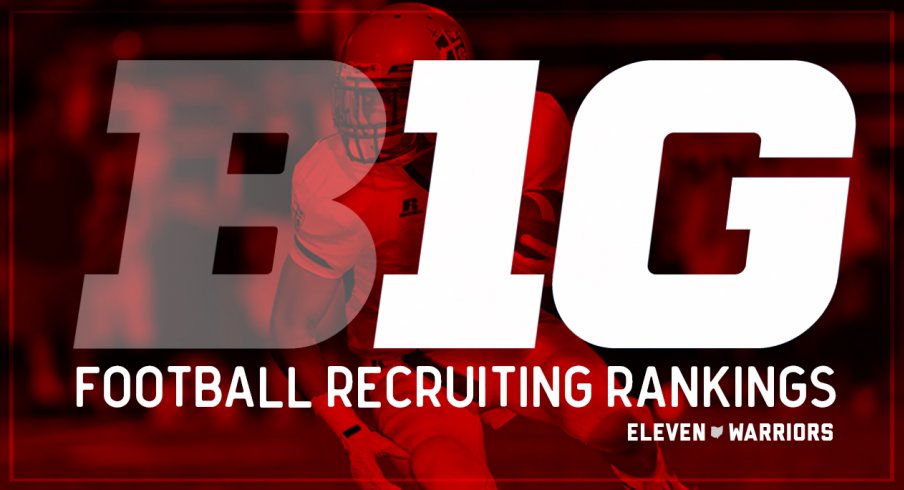 If you want to be a force in college football, you have to dominate on the field and in the living room. How are the Big Ten's teams faring in this cycle?
The Big Ten added 45 new commitments in May, but there were four decommitments. However, one of the players to rescind on his verbal pledged to another Big Ten school. What does all of that mean? After the math is settled (and the calculator thrown across the room) the conference currently has 172 commitments. 
Let's see where the teams now stand in the rankings.
NO. 14 ILLINOIS • 6 COMMITMENTS • 85.15 POWER RANKING
Five players committed to playing in Champaign. The best of the group was OG Brody Wisecarver (.8893) of Missouri. Every player in Illinois' 2021 class is a 3★ prospect.
Trending: Up and Down. The Illini currently has a six-pack, but Lovie Smith's class remains in last place. It might be time to start drinking if you are a fan of Illinois.


NO. 13 INDIANA • 6 COMMITMENTS • 90.80 POWER RANKING
Tom Allen is searching far and wide for this class. In May, he added WR Jordyn Williams and P James Evans. Williams is from Georgia and Evans is a fashionable Australian punter. A shame the kids will be travelling so far to get their asses handed to them in the Big Ten East.
Trending: Down. After doing some globe travelling, the Hoosiers fell one spot down to 13th.


NO. 12 PURDUE  • 8 COMMITMENTS  • 109.36 POWER RANKING
Only one team in the Big Ten received a single commitment since the last update. Can you guess who it was? That's right, Purdue. WR Deion Burks (.8540) was that lucky player became the eighth member of Jeff Brohm's 2021 class.
Trending: Down, But Up. Although the Boilermakers dropped two places in the rankings all of their committed players had their rating improve by at least 41 points.


NO. 11 NORTHWESTERN • 8 COMMITMENTS • 120.26 POWER RANKING
In April, Pat Fizgerald received a commitment from inside linebacker Mac Uihlein. At the time, Uihlen was the Wildcats' top player in the 2021 class. In May, Fitzgerald reeled in three more players...including SDE Najee Story (.9020) who was listed as a top prospect for Northwestern last month and is now the highest rated player in the class. 
Trending: Up. It took until March for Fitzgerald to get his first commits, but since then the Wildcats have added at least two new players each month. The men in purple climbed two spots since we last checked in.


NO. 10 MICHIGAN STATE • 10 COMMITMENTS • 128.60 POWER RANKING
Australian punters are hot in the Big Ten. Mel Tucker went Down Under to get Mark Vassett. He also picked up safety Michael Gravely Jr. (.8505) on the seventh of May.  After an extremely slow start, Sparty is now up to 11 players.
Trending: Down. MSU fell one position in the rankings and the entire 2021 class is made up of 3★ players.


NO. 9 NEBRASKA • 8 COMMITMENTS • 129.39 POWER RANKING
For the first time in during the 2021 recruiting season, Scott Frost was able to get more than one player to commit in a month. In fact, Frost was able to land three 3★ commits.  2021 class added some more beef to the offensive line and currently has five players. OT Branson Yager committed on the 27th of April. The native of Utah is the third offensive line player to verbal in this class.
Trending: Like a Yo-Yo. The Cornhuskers continue their up and down ride in the rankings. Last month they fell three spots, now they're up two. If Nebraska stays true to the trend they will fall a spot or two next month.
Absolutely honoured to announce I have committed and accepted a full scholarship to study and play football for THE Ohio State University in 2021. @OhioStateFB #GoBucks pic.twitter.com/qZP7EzJgXq

— Jesse Mirco (@Jesse_Mirco) May 6, 2020


NO. 8 WISCONSIN • 11 COMMITMENTS • 173.58 POWER RANKING
Paul Chryst's 2021 class is picking up a little momentum, but appears to be falling behind. The Badgers have only added three players since the calendar flipped to 2020. 

TE Jack Pugh became the latest player to pledge to Wisconsin. Hugh is from Hilliard, is a four-star player and has a .8932 rating.
Something to keep an eye on next month is to see if QB Deacon Hill's rating changes. Last month, the pro-style slinger checked in at .8405. This month his stock rose 275 points up to .8680. Not sure what the scouts saw from him during this quarantine, but it must have been impressive.
Trending: Like A Rock. Even with the addition of Pugh and the incredible rise in Hill's rating, the Badgers fell three spots in the rankings for the second straight month.
NO. 7 RUTGERS • 18 COMMITMENTS • 175.95 POWER RANKING
Greg Schiano had quite the month. Seven players committed to play in Piscataway. Unfortunately, the players aren't rated that great. In fact four of the seven are the lowest rated in Rutgers' 2021 class. Even worse, six of the new verbals make up six of the lowest-rated Scarlet Knight players in this class.
Trending: Down. Although Schiano brought in a league-high seven players, the Scarlet Knights only improved one spot in the rankings. In this case, quantity does not beat quality.


NO. 6 PENN STATE • 12 COMMITMENTS • 179.90 POWER RANKING
The Nittany Lions pilfered a player from Tom Allen and Indiana. Last month, WDE Rodney McGraw was committed to play in Bloomington. That was until Hoosier native had a change of heart and pledged his allegiance to James Franklin May 3rd. It will be interesting if the Indiana fans remember this betrayal in the years to come.
Trending: Slightly Down. Although Franklin and the Nittany Lions remained in the six-spot, six of the commits had their ratings drop. In fact, all of those players took double digit hits. Don't expect the non-rival to be out of the top tier in the conference in February. 
Thank you to @coachjfranklin for the opportunity of a lifetime! I can't wait to join @PennStateFball #WeAre pic.twitter.com/CemIu0aKCv

— Rodney (@RodNey5161) May 3, 2020
NO. 5 MARYLAND • 12 COMMITMENTS • 191.84 POWER RANKING
Mike Locksley and Maryland had a quiet April, but came roaring back in May. The Terps picked up five players including 4★ DT Marcus Bradley. He is a Maryland native and has a .9241 rating. 
Maryland ended last month at 10th in the rankings, but with the impressive haul climbs up to fifth.
Trending: Up. Locksley and the Terps are trying to get things done with local talent. Eleven of the 15 players in the 2021 class are from Maryland or Washington DC. This appears to be a smart move as the class improves by two positions.



NO. 4 IOWA • 15 COMMITMENTS • 198.31 POWER RANKING
Kirk Ferentz's class added two players and lost a player. The new additions were ATH Keagan Johnson and DT Jeremiah Pittman. Both are three-star players and are from Nebraska and Illinios.
The player to leave was CB Jodran Oladokun. He is from Florida and was the only player in Iowa's 2011 class not from the Big Ten West geographic footprint. However, the loss of Oladokun is actually a little addition by subtraction. The CB was the lowest rated Hawkeye by 100 points. 
Trending: Slightly Down. Eight of Iowa's 15 commits had their ratings drop since last month and the team fell one spot in the rankings. Will Ferentz be able to land a player outside of the midwest?


NO. 3 MINNESOTA • 18 COMMITMENTS • 205.72 POWER RANKING
The recruits keep coming for P.J. Fleck and company. Five players joined the boat in May which makes 14 commits in the last two months.

30 days ago, RB Mar'Keise Irving was on the Gophers' top prospect list. Today, the 4★ talent from Illinois is in the 2021 class. 
Trending: Still Rowing. The Gophers fell a spot in the conference rankings, but that had nothing to do with the job Fleck and his staff are doing. It will be a fight, but Minnesota could finish sixth or better in the final standings.


NO. 2 MICHIGAN • 16 COMMITMENTS • 224.86 POWER RANKING
Jim Harbaugh has been hitting the trail hard the past two months. In the last two cycles, Khaki Boy has picked up 12 players with five of the commits coming in May.
All of May's additions are 4★ recruits with OLB Junior Colson (.9476) having the highest rating. Safety Rod Moore was the lone Ohioan in the group.
The best and the worst. WDE Dominick Guidice had his rating improve by 106 points. Unfortunately, he is still the lowest rated player on the team at .8160. Giudice will have to do a lot more moves in his driveway if he wants to get out of the basement and catch Casey Phinney (.8444).
Trending: Up. Another month and Michigan climbs another two spots. Of course that trend will end next month, unless Captain Khaki finds a way to recruit with an enthusiasm unknown to man kind and climb up two spots from No. 2.


NO. 1 OHIO STATE • 19 COMMITMENTS • 301.39 POWER RANKING
The latest additions to this ridiculously talented class are ATH Denzel Burke of Arizona and Punter Jesse Mirco of Australia. If things work out, Burke will be the only the eighth player from Arizona to make an Ohio State roster. 2020 classmates Jack Miller and Lathan Ransom are the sixth and seventh.  
Mirco is joining Cameron Johnston as the only players from Australia to play for the Buckeyes. They are both punters and both attended ProKick Australia.
Trending: Elite. The class is still tops in the Big Ten and is also the best in the nation. How much higher will this class climb?
*Kickers, Long Snappers and Punters are not included in the average composite rating.