Visitor List (Subject To Change)
September 6th (Virginia Tech)
'15 QB Torrance Gibson (Plantation, FL) - official
'15 RB Jordan Scarlett (Fort Lauderdale, FL) (Miami Commit) - tentative
'15 RB Jacques Patrick (Orlando, FL) - official
'15 WR Devante Peete (Fort Lauderdale, FL) - tentative
'15 OT Branden Bowen (Draper, UT) - official
'15 DE Josh Sweat (Chesapeake, VA) - official
'15 DE Mekhi Brown (Columbus, GA) - official
'15 LB Ricky DeBerry (Richmond, VA)
'15 DB Damon Arnette (Fort Lauderdale, FL) (South Carolina Commit) - tentative
'15 DB Kevin Toliver (Jacksonville, FL) (LSU Commit) - official
'16 WR Sam Bruce (Fort Lauderdale, FL) (Miami Commit) - tentative
'16 DE Nick Bosa (Fort Lauderdale, FL)
'17 WR Trevon Grimes (Fort Lauderdale, FL) - tentative
HOOPS - '15 SF Mickey Mitchell (Plano, TX) - official
HOOPS - '15 SG Austin Grandstaff (Rockwall, TX)
HOOPS - '15 PG A.J. Harris (Dayton, OH) - official
September 27th (Cincinnati)
'16 TE Jake Hausmann (Cincinnati, OH)
'16 WR Austin Mack (Fort Wayne, IN)
'16 OL Michal Menet (Reading, PA)
November 1st (Illinois)
'15 LB Malik Jefferson (Mesquite, TX) - official
November 29th (The Game)
'15 RB Damien Harris (Berea, KY) - official
'15 JuCo OL Tyler Howell (El Dorado, KS)
'15 S Will Sunderland (Midwest City, OK) - official
'16 RB Matthew Falcon (Southfield, MI)
'16 WR Austin Mack (Fort Wayne, IN)
'16 OT Michael Jordan (Canton, MI)
'16 OT Tommy Kraemer (Cincinnati, OH)
'16 LB Ethan Tucky (Delaware, OH)
'16 DB Lavert Hill (Detroit, MI)
'16 DB Jared Mayden (Sachse, TX)
'17 ATH Bruce Judson (Cocoa, FL)
Torrance Gibson Prepares for Repeat Run and Silencing Doubters (11W)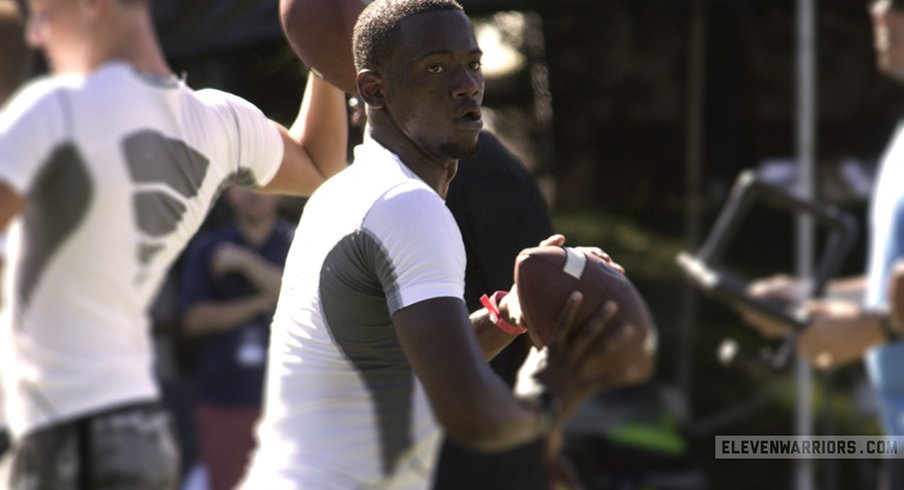 There are not many recruits right now with the cachet of Torrance Gibson.
cont...
'Being mentored by Braxton would be great': Four-star QB Torrance Gibson has Ohio State on top, would love to team up with Miller in '15 (Plain Dealer)
COLUMBUS, Ohio – When Torrance Gibson was joking around with Braxton Miller during his visit to Ohio State for Friday Night Lights in late July, that was one of the reasons the Buckeyes jumped to the top of his list.
cont...
Ohio State recruiting: State Secrets, 8/20 - Cassius Winston gains OSU offer (LGHL)
With Tuesday being mostly a dark day for Buckeye Nation, in wake of the Braxton Miller news, recruiting went on and there was some news from the football as well as the basketball program.
cont...