Visitor List (Subject To Change)
September 6th (Virginia Tech)
'15 QB Torrance Gibson (Plantation, FL) - official
'15 RB Jordan Scarlett (Fort Lauderdale, FL) (Miami Commit) - tentative
'15 WR Devante Peete (Fort Lauderdale, FL) - tentative
'15 OT Branden Bowen (Draper, UT) - official
'15 DE Josh Sweat (Chesapeake, VA) - official
'15 DE Mekhi Brown (Columbus, GA) - official
'15 LB Ricky DeBerry (Richmond, VA)
'15 DB Damon Arnette (Fort Lauderdale, FL) (South Carolina Commit) - tentative
'16 WR Sam Bruce (Fort Lauderdale, FL) (Miami Commit) - tentative
'16 DE Nick Bosa (Fort Lauderdale, FL)
'17 WR Trevon Grimes (Fort Lauderdale, FL) - tentative
HOOPS - '15 SF Mickey Mitchell (Plano, TX) - official
HOOPS - '15 SG Austin Grandstaff (Rockwall, TX)
HOOPS - '15 PG A.J. Harris (Dayton, OH) - official
September 27th (Cincinnati)
'16 TE Jake Hausmann (Cincinnati, OH)
'16 WR Austin Mack (Fort Wayne, IN)
'16 OL Michal Menet (Reading, PA)
November 1st (Illinois)
'15 LB Malik Jefferson (Mesquite, TX) - official
November 29th (The Game)
'15 RB Damien Harris (Berea, KY) - official
'15 JuCo OL Tyler Howell (El Dorado, KS)
'15 S Will Sunderland (Midwest City, OK) - official
'16 RB Matthew Falcon (Southfield, MI)
'16 WR Austin Mack (Fort Wayne, IN)
'16 OT Michael Jordan (Canton, MI)
'16 OT Tommy Kraemer (Cincinnati, OH)
'16 LB Ethan Tucky (Delaware, OH)
'16 DB Lavert Hill (Detroit, MI)
'16 DB Jared Mayden (Sachse, TX)
'17 ATH Bruce Judson (Cocoa, FL)
Porter Gustin Will Make Official Visit, Demario McCall Still Waiting and Other Updates (11W)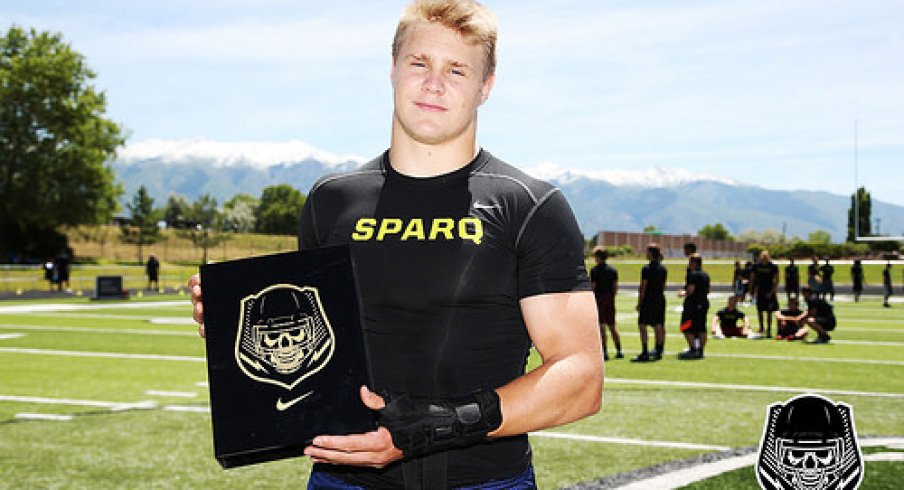 Good afternoon Buckeye fans. Welcome to your one chance today to not read about Braxton Miller's injured shoulder or any hypothesizing about what it means for Ohio State's 2014 season. We're talking recruiting and the Buckeyes' opportunity to impress a few big-time standouts who've circled "Columbus, Ohio" as one of their official visit destinations, as well as updates on a few other Ohio State targets.
cont...
4-Star G Josh Wariboko Announces His Top 8: Where Would He Fit Best? (Bleacher Report)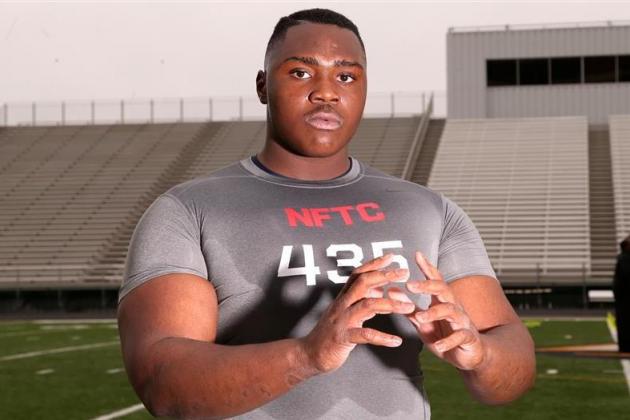 Coveted Oklahoma offensive guard Josh Wariboko is beginning to narrow things down in his nationwide recruitment process. The 6'3.5", 319-pound prospect is primarily focused on eight collegiate programs, a collection he tweeted to the masses Monday:
cont...
Ohio State recruiting: State Secrets, 8/19 - New Rivals top 100, Braxton Blackwell offered (LGHL)
Before today revolved around the potential season-ending news of Ohio State quarterback Braxton Miller (he has an MRI scheduled for this afternoon, which could determine whether he will be able to play this year or not), the Buckeyes were still going at it on the recruiting trail. While we'll get to how they did that in just a second, it might be a good chance to see what one of the top recruits in the country had to say when he heard the news about Miller.
cont...