Visitor List (Subject To Change)
September 6th (Virginia Tech)
'15 QB Torrance Gibson (Plantation, FL) - official
'15 RB Jordan Scarlett (Fort Lauderdale, FL) (Miami Commit) - tentative
'15 WR Devante Peete (Fort Lauderdale, FL) - tentative
'15 OT Branden Bowen (Draper, UT) - official
'15 DE Josh Sweat (Chesapeake, VA) - official
'15 DE Mekhi Brown (Columbus, GA) - official
'15 LB Ricky DeBerry (Richmond, VA)
'15 DB Damon Arnette (Fort Lauderdale, FL) (South Carolina Commit) - tentative
'16 WR Sam Bruce (Fort Lauderdale, FL) (Miami Commit) - tentative
'16 DE Nick Bosa (Fort Lauderdale, FL)
'17 WR Trevon Grimes (Fort Lauderdale, FL) - tentative
HOOPS - '15 SF Mickey Mitchell (Plano, TX) - official
HOOPS - '15 SG Austin Grandstaff (Rockwall, TX)
HOOPS - '15 PG A.J. Harris (Dayton, OH) - official
September 27th (Cincinnati)
'16 TE Jake Hausmann (Cincinnati, OH)
'16 WR Austin Mack (Fort Wayne, IN)
'16 OL Michal Menet (Reading, PA)
November 1st (Illinois)
'15 LB Malik Jefferson (Mesquite, TX) - official
November 29th (The Game)
'15 RB Damien Harris (Berea, KY) - official
'15 JuCo OL Tyler Howell (El Dorado, KS)
'15 S Will Sunderland (Midwest City, OK) - official
'16 RB Matthew Falcon (Southfield, MI)
'16 WR Austin Mack (Fort Wayne, IN)
'16 OT Michael Jordan (Canton, MI)
'16 OT Tommy Kraemer (Cincinnati, OH)
'16 DB Lavert Hill (Detroit, MI)
'16 DB Jared Mayden (Sachse, TX)
'17 ATH Bruce Judson (Cocoa, FL)
5. Josh Sweat
10. Damien Harris
22. Malik Jefferson
24. Rashad Roundtree
27. Drew Richmond
28. Tarvarus McFadden
29. Christian Kirk
31. Terry Beckner Jr.
36. Jerome Baker
41. Isaiah Prince
43. Kendall Sheffield
49. Justin Hilliard
53. Christian Wilkins
77. Josh Wariboko
87. Kevin Feder
90. Marcus Lewis
Scout $ - Two Visits For Howell '15 JuCo OL Tyler Howell
Visiting for The Game & is expecting an offer. Also has a visit planned to Arkansas for the LSU game.
Newly Offered: '16 PA TE Cary Angeline
Connor Heyward Hopes to Create Own Legacy (11W)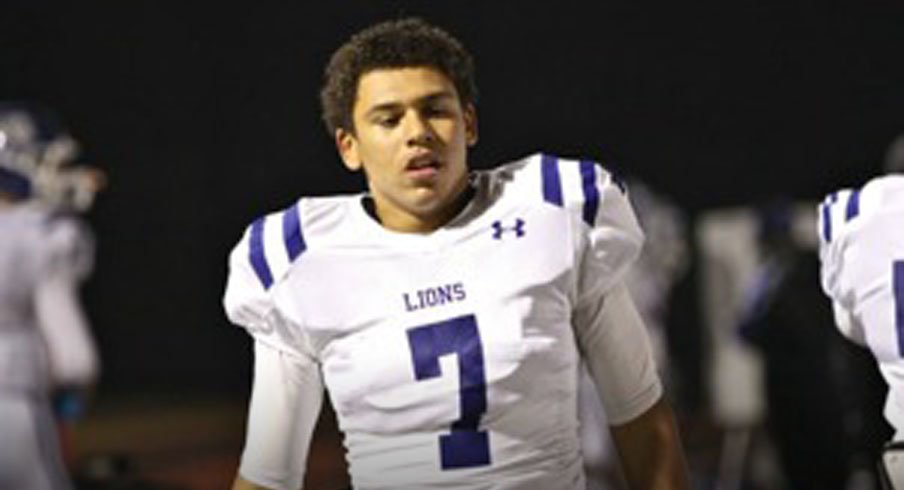 Ohio State's football program has attracted a number of brothers of the years. For class of 2017 athlete Connor Heyward, having a standout defensive lineman for an older brother makes familiarity with the Buckeyes even stronger.
cont...
Ohio State recruiting: State Secrets, 8/18 - Kieffer Longson talks top 3, Ohio State commits, targets standout on the court (LGHL)
A lot like last year, the offensive line has been one of the main focal points for Urban Meyer and the Ohio State coaching staff this recruiting cycle. OSU has already picked up commitments from 2015 linemen Grant Schmidt and Kevin Feder and is still in good shape with many targets on their big board, including Matthew Burrell, Drew Richmond, and Venzell Boulware.
cont...
High-school football: Good isn't enough for Athens QB Joe Burrow (Dispatch)
THE PLAINS, Ohio — At Athens High School, excitement swells even for mundane seven-on-seven drills when Joe Burrow is involved.
cont...