Visitor List (Subject To Change)
September 6th (Virginia Tech)
'15 QB Torrance Gibson (Plantation, FL) - official
'15 DE Josh Sweat (Chesapeake, VA) - official
'15 DE Mekhi Brown (Columbus, GA) - official
'15 OT Branden Bowen (Draper, UT) - official
'15 LB Ricky DeBerry (Richmond, VA)
HOOPS - '15 SF Mickey Mitchell (Plano, TX) - official
HOOPS - '15 SG Austin Grandstaff (Rockwall, TX)
November 1st (Illinois)
'15 LB Malik Jefferson (Mesquite, TX) - official
November 29th (The Game)
'15 RB Damien Harris (Berea, KY) - official
'15 S Will Sunderland (Midwest City, OK) - official
'16 OT Michael Jordan (Canton, MI)
'16 OT Tommy Kraemer (Cincinnati, OH)
'17 ATH Bruce Judson (Cocoa, FL)
BN$--Four-star WR Cager has a slight leader in his Top 3 '15 MD WR Lawrence Cager
Lawrence says tOSU is his leader but Alabama and Notre Dame are right behind.
BG$--Richmond talks return visit to Alabama '15 TN OL Drew Richmond
Drew enjoyed another visit to Alabama and says his 9/9 commitment will not be 100% done as he will still take visits.
BN$--Four-star stud DT Wilkins gives the latest '15 CT DL Christian Wilkins
Christian says Boston College, Ohio State, Clemson and Penn State are recruiting him the hardest but he has all schools equal right now. He really enjoys talking to Coaches Meyer and Johnson. Named a top 8 of Virginia, North Carolina, Stanford, Ohio State, Penn State, Clemson, Boston College and Notre Dame in this article here.
Rivals $ - Auburn (de)commit likes Stanford '15 FL DB Ben Edwards
Plans on taking officials to Stanford, Auburn, UCLA & Ohio State.
BG$--NC State impresses Nyheim Hines '15 NC ATH Nyheim Hines
Nyheim still plans an October commitment and has NC State, Duke, West Virginia, Ohio State, Florida and Georgia leading. He definitely wants to see tOSU one more time before deciding.
Scout $ - August decision for Abernathy? '15 GA ATH Micah Abernathy
Plans on deciding in August. Down to Oregon, Penn State, Georgia, Ohio State & Tennessee. Discusses his interest in Ohio State, Tennessee & Georgia.
BG$--Rivals100 QB talks BC visit '16 MD QB Dwayne Haskins
Dwayne was impressed with BC's campus and academic programs.
BG$--OSU in the lead for R250 DE Campbell '16 VA DE Kyree Campbell
Kyree again says the Buckeyes lead and that his father was coached by Coach Johnson in high school.
Damien Harris, Matt Burrell, Van Jefferson Highlight List of Familiar Names (11W)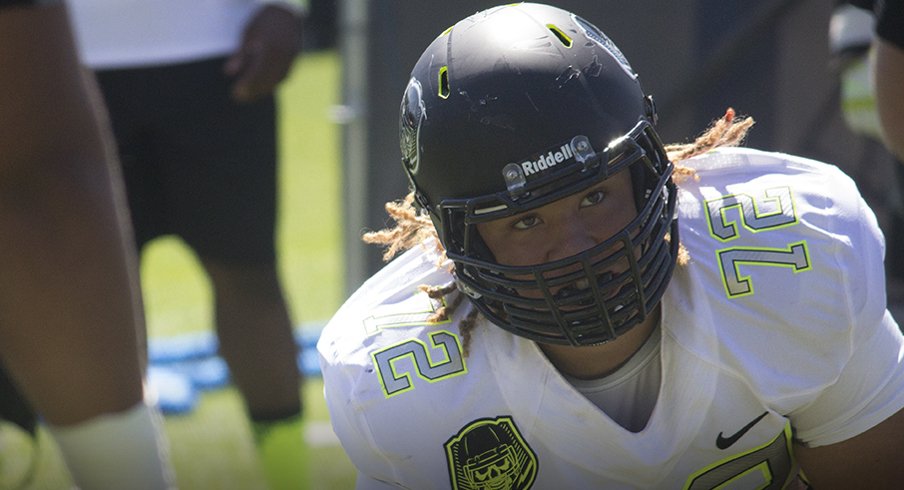 There's an oft-repeated adage that swirls around recruiting and recruiting websites: "recruiting is fluid." Things change, targets change, minds change and more often than not in the case of Urban Meyer's tenure at Ohio State, they change for the better. Lose on one player, strike gold with one that might be a better fit. Miss out on a prospect you thought would be a slam-dunk, sign one that was originally a long-shot. Ebb and flow, hit and miss, everything is fluid, everything works out.
cont...
Ohio State recruiting: State Secrets, 8/4 - Buckeyes make cut for Damien Harris, Rashad Roundtree, Ben Edwards (LGHL)
Ohio State's class of 2015 is currently sitting at 14 verbal commitments, and could grow at any moment. While the staff didn't pick up a pledge from a top prospect over the weekend, three soon-to-be senior standouts announced that the Buckeyes are towards the top of thier short lists.
cont...
Five-star Georgia safety Rashad Roundtree releases his top six, Ohio State and Michigan State make the cut: Buckeyes recruiting (Plain Dealer)
COLUMBUS, Ohio – Another five-star prospect trimmed his list, and Ohio State made the cut yet again.
cont...
Keyshawn Johnson Jr., Darnay Holmes - two top '17 prospects - enjoy unofficial visit to Ohio State: Buckeyes recruiting (Plain Dealer)
COLUMBUS, Ohio – You have probably heard of one, but not the other. But both are premier prospects in the 2017 recruiting class and both were on Ohio State's campus over the weekend.
cont...
Former Ohio State commit Ben Edwards, who flipped to Auburn in April, back on the open market again: Buckeyes recruiting (Plain Dealer)
COLUMBUS, Ohio – Ohio State once had four-star safety Ben Edwards of Jacksonville (Fla.) Trinity Christian in its 2015 recruiting class. Then he flipped from Ohio State to Auburn in April.
cont...
Venzell Boulware has Ohio State In Top Three (MotSaG)
A couple of months ago, class of 2015 OT Venzell Boulware, was coming off of his Ohio State visit and had nothing but good things to say about it. Now, the 6-4 Fairburn, Georgia resident, has a final three of Tennessee, Clemson, and Ohio State. Georgia has been good to Ohio State in the past couple of recruiting classes with Stephen Collier and Raekwon McMillan both hailing from the Peach State. Ohio State is hoping to continue that trend with Boulware. Boulware joined us to talk about his final three and what he likes about each one.
cont...