Visitor List (Subject To Change)
September 6th (Virginia Tech)
'15 QB Torrance Gibson (Plantation, FL) - official
'15 DE Josh Sweat (Chesapeake, VA) - official
'15 DE Mekhi Brown (Columbus, GA) - official
'15 OT Branden Bowen (Draper, UT) - official
'15 LB Ricky DeBerry (Richmond, VA) - official
November 1st (Illinois)
'15 LB Malik Jefferson (Mesquite, TX) - official
November 29th (The Game)
'15 RB Damien Harris (Berea, KY) - official
'15 S Will Sunderland (Midwest City, OK) - official
'16 OT Michael Jordan (Canton, MI)
'16 OT Tommy Kraemer (Cincinnati, OH)
Scout $ - Decision Day for Daniels '15 OH OL James Daniels
Announcing tomorrow at 11am in his HS gym. Down to Iowa and Ohio State.
Rivals $ - Simmons to visit then announce '15 VA LB Jahvoni Simmons
Announcing August 5th...visiting UVA this weekend...NC State and Wisconsin have turned up the heat...has visited Notre Dame, Clemson, NC State, and Tennessee this summer.
Rivals $ - UF decommit talking to UM `every day' '15 FL DB Marcus Lewis
Says he will take an official to Oregon, Miami and Michigan...also considering Florida, Ohio State, Mississippi and Kentucky.
Rivals $ - Holyfield shows off Ann Arbor '16 GA RB Elijah Holyfield
Visited Ann Arbor with his parents for the BBQ, including getting there a day early for some one-on-one time with the coaches...talks about his conversations with Coach Jackson and Coach Nussmeier.
BN$--Ferns Has Great Ohio State Visit '16 OH LB Brendan Ferns
Brendan says yesterday's brief visit answered all of their academic concerns and was a success.
BN$--No. 6 Cornerback Will Definitely Return To Ohio State '16 FL DB Trayvon Mullen
Trayvon says he will definitely camp again in Columbus and the coaches and team made them feel at home.
Eric Glover-Williams Shines Again at FNL (11W)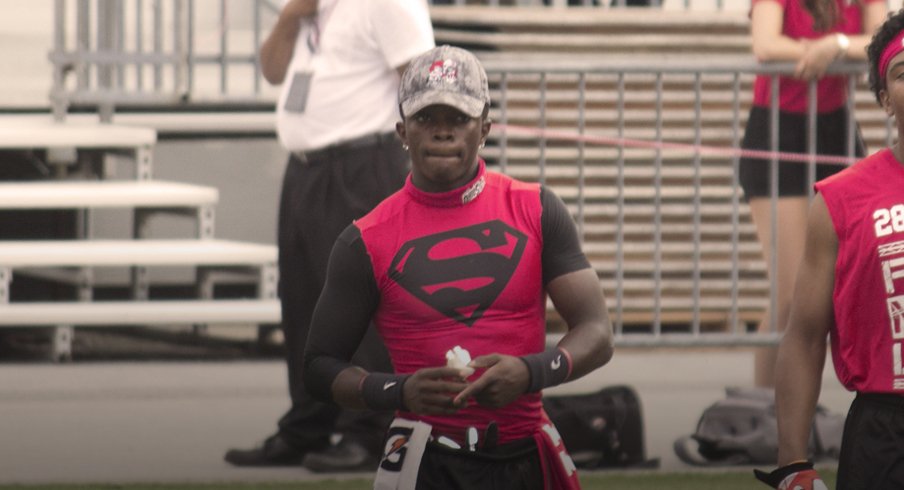 Last Friday night, Eric Glover-Williams found himself in the exact spot he was in one year ago. With nothing and everything to prove, Glover-Williams stepped onto the Ohio Stadium turf ready to put on a show.
cont...
Ohio State recruiting: State Secrets, 7/30 - Tristan Payton planning on visiting OSU (LGHL)
The all important Friday Night Lights camp has come and gone and while it was a huge success for the Buckeyes, it was quiet on the recruiting front on Tuesday.
cont...