Visitors List (Subject To Change)
Today
'15 WR A.D. Miller (Dallas, TX)
June 8th (One Day Camp)
'15 QB Joe Burrow (The Plains, OH) - commit/tentative
'15 WR AJ Alexander (Burke, VA)
'15 TE Josh Moore (Olathe, KS) - tentative
'15 OL Grant Schmidt (Sioux Falls, SD)
'15 OL Chandler Cotterman (Anna, OH) (Toledo Commit)
'15 DE Darius Fullwood (Olney, MD)
'15 LB CJ Stalker (West Chester, OH)
'15 DB Ronnie Harrison (Tallahassee, FL) (UNC Commit)
'15 DB Jeff Christian (Cincinnati, OH)
'15 DB Tyler Green (Hyattsville, MD)
'15 DB Kei Beckham (Trotwood, OH)
'16 RB Demario McCall (North Ridgeville, OH)
'16 OG Drake Jackson (Versailles, KY)
'16 DE Jonathon Cooper (Columbus, OH)
June 9th - 11th (Kicking & Long Snapping Camp)
'15 C/LS Liam McCullough (Columbus, OH)
'15 DB Meiko Dotson (Daytona Beach, FL) - tagging along with coach
'15 ATH Ray-Ray McCloud III (Tampa, FL) - visiting on 11th
June 12th - 14th (Three Day Camp)
June 17th - 18th (Skill & Big Man Camp)
'17 QB Danny Clark (Massillon, OH) - commit
'15 TE Chris Clark (Avon, CT)
'16 TE Luke Farrell (Perry, OH)
'16 OG Tyler Gerald (Portsmouth, OH)
June 19th (One Day Camp)
'15 WR Deric Phouthavong (Columbus, OH)
'15 WR Abu Daramy (Westerville, OH)
'15 DE Darius Fullwood (Olney, MD)
'15 LB Nick Conner (Dublin, OH) - tentative
'16 ATH Timothy Poindexter (Bronx, NY)
June 21st (One Day Camp)
'15 TE/DE Jake Pickard (Millburn, NJ)
'15 WR Kahlil Lewis (Miramar, FL) (West Virginia Commit)
'15 DE Kengera Daniel (Raleigh, NC)
'15 LB Nick Faulkner (Canton, OH)
'15 LB Nick Conner (Dublin, OH) - tentative
'15 DB Kendrell McFadden (Hollywood, FL) (West Virginia Commit)
'16 RB Matt Falcon (Southfield, MI)
'16 RB Robert Washington (Huntersville, NC) - tentative
'16 OL Gavin Cupp (Leipsic, OH)
'16 LB Ethan Tucky (Delaware, OH)
'16 DB Austin Andrews (Columbus, OH)
'16 ATH Tyrece Speaight (Akron, OH)
'18 OT Will Lawrence (Memphis, TN) - tentative
June 25th
'15 OL Branden Bowen (Draper, UT)
'17 WR Trevon Grimes (Fort Lauderdale, FL)
July 25th (Friday Night Lights)
'17 QB Danny Clark (Massillon, OH) - commit
'15 RB Damien Harris (Berea, KY)
'15 WR Tristan Payton (Jacksonville, FL) - tentative (Florida Commit)
'15 OT Drew Richmond (Memphis, TN)
'15 DE Darius Fullwood (Olney, MD)
'15 DB Will Sunderland (Midwest City, OK)
'16 WR Justin Layne (Cleveland, OH)
'16 DE Jonathon Cooper (Columbus, OH)
'16 LB Shaq Quarterman (Orange Park, FL) - tentative
Scout $ - Kirk Cuts To Ten '15 AZ ATH Christian Kirk
Stanford, Auburn, Tennessee, Ohio State, Oklahoma, Georgia, Texas A&M, Arizona State, USC & UCLA (no order).
Catching Up With Joey Burrow at the Elite 11 (11W)
Tonight was the Columbus regional event for the prestigious Elite 11 competition. Ohio State commits Joey Burrow and Danny Clark were in attendance along with many of the best quarterbacks in the country. No finalists for the Elite 11 championship were announced yet from this regional, but at least a few will end up in the finals in southern California.
cont...
Elite 11 Columbus: Joe Burrow and Danny Clark Impress Under Pressure (11W)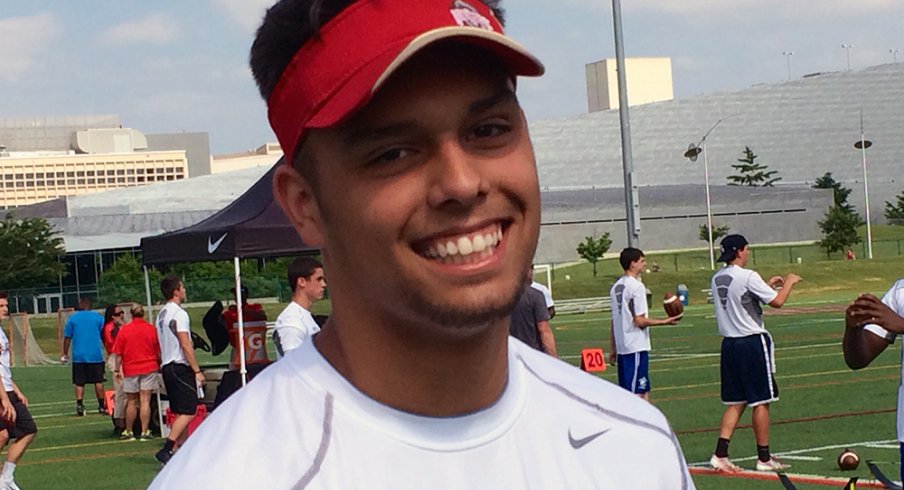 Beneath the shadow of their future home, a pair of Buckeye quarterback commitments stood front and center during Monday night's Elite 11 regional final in at Ohio State.
cont...
2017 Standout Kayden Lyles Talks First Buckeye Visit (11W)
When you're 6-foot-3 and 290 pounds as a high school freshman, people will notice you. When you're that big and playing football at Saguaro High School in Scottsdale, Arizona, college football coaches definitely notice you as well. Kayden Lyles is getting noticed and is on his way to becoming one of the country's most recruited 2017 offensive lineman. He already has scholarship offers from Oklahoma (they were his first), Arizona, Arizona State, Michigan State, Missouri, Notre Dame, Wisconsin, UCLA and Utah, and is likely to have his pick of any school in the country by the time he hits his pinnacle.
cont...
Ohio State recruiting: State Secrets, 6/3 - Bucks make cut for James Lockhart, Christian Kirk to release list (LGHL)
The Buckeyes were able to make it onto the list of James Lockhart while at the same time hoping to find a spot onto Christian Kirk's list.
cont...
Ohio State recruiting: 2016 OL Bailey Byrum talks visit, NFTC (LGHL)
The Tennessee native breaks down his weekend trip to Columbus.
cont...
Ohio State recruiting: Commits Joe Burrow, Danny Clark impress at Elite 11 (LGHL)
Ohio State commits Joe Burrow and Danny Clark shined at the 2014 Columbus Elite 11 regional.
cont...