Visitors List (Subject To Change)
May 31st - June 1st (Columbus NFTC & Elite 11)
'17 QB Danny Clark (Massillon, OH) - commit
'15 RB Natereace Strong (East Saint Louis, IL) (Mizzou Commit)
'15 RB L.J. Scott (Hubbard, OH)
'15 WR Alex Ofodile (Columbia, MO)
'15 WR Abu Daramy (Westerville, OH)
'15 WR Isiah Scott (Hubbard, OH)
'15 OL Matthew Burrell (Woodbridge, VA)
'15 DE Terry Beckner Jr. (East Saint Louis, IL)
'15 DT Sterling Johnson (Clayton, NC) (tentative - Clemson Commit)
'15 LB Justin Hilliard (Cincinnati, OH)
'15 DB Cameron Ordway (Pulaski, TN)
'15 DB Shaun Crawford (Lakewood, OH)
'15 ATH Nyheim Hines (Garner, NC)
'15 ATH Jerome Baker (Cleveland, OH)
'16 QB Dwayne Haskins (Potomac, MD) - tentative
'16 RB George Hill (Hubbard, OH)
'16 WR Jalen Martin (Harper Woods, MI)
'16 WR Austin Mack (Fort Wayne, IN)
'16 DE Kyree Campbell (Woodbridge, VA)
'16 LB Brendan Ferns (Saint Clairsville, OH)
'16 DB Devin Taylor (Lansing, MI)
'17 WR Jeff Thomas (East Saint Louis, IL)
'18 RB Ricky Slade Jr. (Woodbridge, VA)
June 8th (One Day Camp)
'15 QB Travis Waller (Anaheim, CA) - tentative
'15 TE Josh Moore (Olathe, KS) - tentative
'15 OL Grant Schmidt (Sioux Falls, SD)
'15 DE Darius Fullwood (Olney, MD) - tentative
'15 LB CJ Stalker (West Chester, OH)
'15 DB Ronnie Harrison (Tallahassee, FL) (UNC Commit)
'15 DB Jeff Christian (Cincinnati, OH)
'16 RB Demario McCall (North Ridgeville, OH)
'16 DE Jonathon Cooper (Columbus, OH)
June 9th - 11th (Kicking & Long Snapping Camp)
June 12th - 14th (Three Day Camp)
June 17th - 18th (Skill & Big Man Camp)
'17 QB Danny Clark (Massillon, OH) - commit
'16 OG Tyler Gerald (Portsmouth, OH)
June 19th (One Day Camp)
'15 WR Deric Phouthavong (Columbus, OH)
'15 WR Abu Daramy (Westerville, OH)
June 21st (One Day Camp)
'15 TE/DE Jake Pickard (Millburn, NJ)
'16 RB Matt Falcon (Southfield, MI)
'16 LB Ethan Tucky (Delaware, OH)
July 25th (Friday Night Lights)
'17 QB Danny Clark (Massillon, OH) - commit
'15 WR Tristan Payton (Jacksonville, FL) (Florida Commit)
'15 OT Drew Richmond (Memphis, TN)
'15 DE Darius Fullwood (Olney, MD)
'15 DB Will Sunderland (Midwest City, OK)
'16 WR Justin Layne (Cleveland, OH)
'16 DE Jonathon Cooper (Columbus, OH)
'16 LB Shaq Quarterman (Orange Park, FL) - tentative
Newly Offered: '15 VA ATH Darrell Taylor
Newly Offered: '16 GA WR Josh Imatorbhebhe
Analyzing the Lack of 2015 Football Commitments (11W)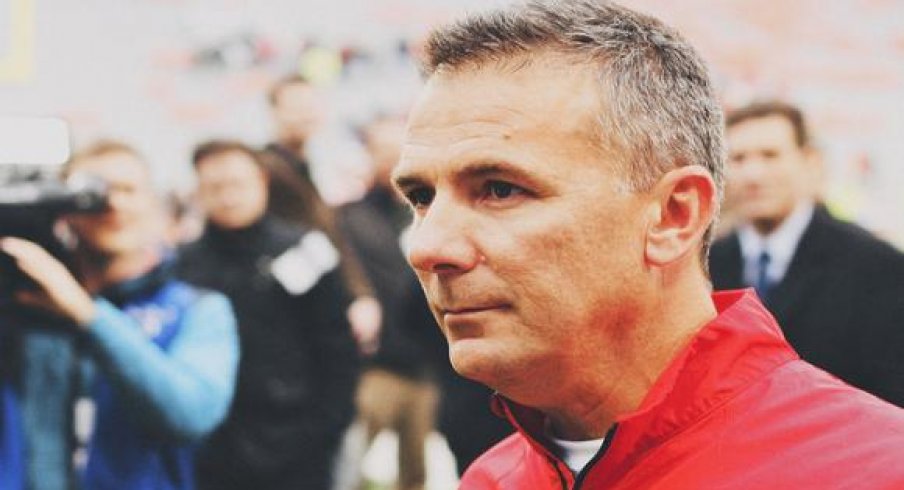 Western Michigan, Texas-San Antonio and Tulane.
What do they have in common? They all have better recruiting classes than Ohio State right now according to 247Sports ratings. As we advance further into 2014 the question needs to continue to be raised, why are the Buckeyes struggling to land commitments and should fans be concerned about the class?
cont...
Ohio State recruiting: State Secrets, 5/20 - 5 new offers, Florida commit to visit (LGHL)
The Buckeyes continued the hard work in the recruiting world, sending out five new offers while also connecting with a current Florida commit to get him to visit Columbus.
cont...
Ohio State Recruiting: Mid-May Evaluation (Buckeye Battle Cry)
As I am typing this, we are currently sitting at two commits in Eric Glover-Williams and Jamal Dean for the 2015 class. I have been saying there is not a need to panic and I am still saying it. We are in on so many national recruits that I refuse to look at it in any other way. Now if we are at two recruits in October or November, I'm sure my outlook would change.
cont...