Visitors List (Subject To Change)
May 17th
'15 DB Jordan Whitehead (Monaca, PA)
May 24th
'16 RB George Hill (Hubbard, OH)
May 31st - June 1st (Columbus NFTC & Elite 11)
'17 QB Danny Clark (Massillon, OH) - commit
'15 RB Natereace Strong (East Saint Louis, IL) (Mizzou Commit)
'15 WR Alex Ofodile (Columbia, MO)
'15 WR Abu Daramy (Westerville, OH)
'15 OL Matthew Burrell (Woodbridge, VA)
'15 DE Terry Beckner Jr. (East Saint Louis, IL)
'15 DT Sterling Johnson (Clayton, NC)
'15 DB Cameron Ordway (Pulaski, TN)
'15 ATH Nyheim Hines (Garner, NC)
'15 ATH Jerome Baker (Cleveland, OH)
'16 QB Dwayne Haskins (Potomac, MD) - tentative
'16 DE Kyree Campbell (Woodbridge, VA)
'16 LB Brendan Ferns (Saint Clairsville, OH)
'17 WR Jeff Thomas (East Saint Louis, IL)
'18 RB Ricky Slade Jr. (Woodbridge, VA)
June 8th (One Day Camp)
'15 TE Josh Moore (Olathe, KS) - tentative
'15 OL Grant Schmidt (Sioux Falls, SD)
'15 LB CJ Stalker (West Chester, OH)
'15 DB Ronnie Harrison (Tallahassee, FL) (UNC Commit)
June 9th - 11th (Kicking & Long Snapping Camp)
June 12th - 14th (Three Day Camp)
June 17th - 18th (Skill & Big Man Camp)
'16 OG Tyler Gerald (Portsmouth, OH)
June 19th (One Day Camp)
'15 WR Abu Daramy (Westerville, OH)
June 21st (One Day Camp)
'16 LB Ethan Tucky (Delaware, OH)
July 25th (Friday Night Lights)
'15 OT Drew Richmond (Memphis, TN)
'15 DB Will Sunderland (Midwest City, OK)
'16 LB Shaq Quarterman (Orange Park, FL)
Scout $ - Holyfield Likes Bucks '16 GA RB Elijah Holyfield
Likes the tradition of great running backs at Ohio State & compares his running style to Carlos Hyde. Plans on visiting Ohio State in June & might camp as well. Says Ohio State is one of his top schools.
Scout $ - Picou has his pick '15 GA DT Quay Picou
Ohio State leads, followed by Tennessee, Texas A&M & Missouri. Wants to visit & decide by this summer.
247 $ - Bolt '15 TN WR Van Jefferson
Visiting Georgia this weekend. Reporter says Ohio State still leads Tennessee, Ole Miss & Georgia. Wants to make a decision in June or July.
Scout $ - Cronkrite Still Listening To Other Schools '15 FL ATH Jordan Cronkrite
Recently visited by Coach Smith & talks about their great relationship. Wants to visit this summer.
Newly Offered: '15 OK OG Josh Wariboko
Newly Offered: '15 UT LB Porter Gustin
Newly Offered: '15 VA WR Aramis Alexander
Newly Offered: '16 FL WR Binjimen Victor
Newly Offered: '16 GA DB Jordan Griffin
Predicting the Defensive Side of the Ball for Ohio State's 2015 Class (11W)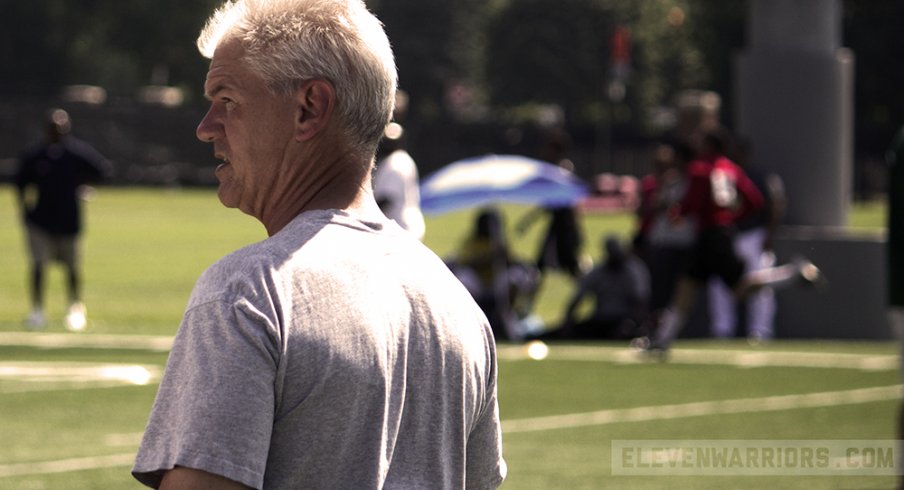 Last Tuesday night, we ventured a look into how Ohio State's currently struggling 2015 recruiting class could finish up. As a reminder, let's review how the offensive board could trend.
cont...
Ohio State recruiting: State Secrets, 5/13 - Jawon Pass and Zerrick Cooper offered (LGHL)
Since Ohio State head coach Urban Meyer has taken over the reins in coaching the Buckeyes, the state of Georgia has quickly become one of the most heavily recruited states by the Ohio State coaching staff. To continue that trend, the Buckeyes sent out two new offers to a pair of quarterbacks from the Peach State in the class of 2016.
cont...
Ohio State's Tom Herman to watch dual-threat California QB Sheriron Jones Jr. throw on Thursday: Buckeyes recruiting (Plain Dealer)
COLUMBUS, Ohio – Sheriron Jones never thought his recruitment would expand past programs from the Pac-12, but the dual-threat quarterback of Moreno Valley (Calif.) Rancho Verde could be on the verge seeing his recruitment explode.
cont...