Visitors List (Subject To Change)
May 10th (Core 6 Day)
'15 WR Miles Boykin (New Lenox, IL)
'16 RB George Hill (Hubbard, OH)
'16 WR Emmanuel Rugamba (Naperville, IL)
'17 DB Jared Payton (Columbus, OH)
May 17th
'15 DB Jordan Whitehead (Monaca, PA)
May 31st - June 1st (Columbus NFTC & Elite 11)
'17 QB Danny Clark (Massillon, OH) - commit
'15 RB Natereace Strong (East Saint Louis, IL) (Mizzou Commit)
'15 WR Alex Ofodile (Columbia, MO)
'15 WR Abu Daramy (Westerville, OH)
'15 OL Matthew Burrell (Woodbridge, VA)
'15 DE Terry Beckner Jr. (East Saint Louis, IL)
'15 DT Sterling Johnson (Clayton, NC)
'15 DB Cameron Ordway (Pulaski, TN)
'15 ATH Nyheim Hines (Garner, NC)
'15 ATH Jerome Baker (Cleveland, OH)
'16 QB Dwayne Haskins (Potomac, MD) - tentative
'16 DE Kyree Campbell (Woodbridge, VA)
'16 LB Brendan Ferns (Saint Clairsville, OH)
'17 WR Jeff Thomas (East Saint Louis, IL)
'18 RB Ricky Slade Jr. (Woodbridge, VA)
June 8th (One Day Camp)
'15 TE Josh Moore (Olathe, KS) - tentative
'15 OL Grant Schmidt (Sioux Falls, SD)
'15 LB CJ Stalker (West Chester, OH)
'15 DB Ronnie Harrison (Tallahassee, FL) (UNC Commit)
June 9th - 11th (Kicking & Long Snapping Camp)
June 12th - 14th (Three Day Camp)
June 17th - 18th (Skill & Big Man Camp)
June 19th (One Day Camp)
'15 WR Abu Daramy (Westerville, OH)
June 21st (One Day Camp)
July 25th (Friday Night Lights)
'16 LB Shaq Quarterman (Orange Park, FL)
24/7 $ - 2015 4-star OL talks the latest '15 GA OL Mike Horton
Recently offered by OSU who he likes a lot...visited Florida (offer) for their spring game...Georgia (offer) has been on him hard lately as well...he and Adonis Thomas has discussed playing together and wants to decide before his senior season.
Newly Offered: '15 GA DE Anree Saint-Amour
Newly Offered: '15 GA OL Mike Horton
Newly Offered: '16 GA RB Elijah Holyfield
Newly Offered: '16 MD DE Shane Simmons
Sheriron Jones, Jr. is Another 2015 Quarterback to Watch (11W)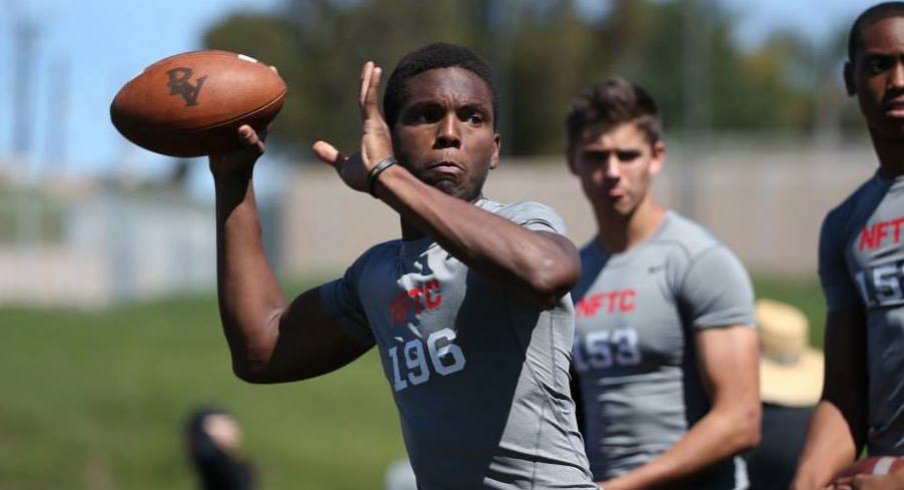 Be prepared, Buckeye fans, over the next few weeks and months you're likely to hear a number of new names being targeted as a potential quarterback for Ohio State. One of those names, Sheriron Jones, Jr. from Moreno Valley, California, has been hearing from the Buckeyes for roughly the last month. He's been recruited by the Buckeyes' Tom Herman, and he hopes to meet the Ohio State offensive coordinator in person sometime soon.
cont...
Ohio State recruiting: State Secrets, 5/7 - Eric Whitehead, Wayne Davis, Jalen Merrrick, Anree Saint-Amour offered (LGHL)
The Ohio State football staff was at it again on Tuesday as an offer was sent out to current defensive tackle prospect Eric Whitehead. Whitehead committed to the Hokies on May 3, but that won't have any effect on the amount of attention he'll receive up until signing day. With this Buckeye offer, his total count now stands at six. At 6'1, 300 pounds, Whitehead is a load off the line of scrimmage and just about impossible to move. There's no question that defensive tackle is a need for the Buckeyes in this year's recruiting class and Whitehead seems to fit the bill as a pure run-stopper. Obviously if Ohio State wants to become a huge threat a visit will need to happen and at this point that'll be the biggest thing to keep an eye on for the Indianapolis prospect. If you haven't seen it, here's the film on the big man.
cont...
What's next for Ohio State at QB after four-star prospect Brandon Wimbush picked Penn State? Buckeyes recruiting (Plain Dealer)
COLUMBUS, Ohio -- The news that Jersey City (N.J.) St. Peter's Prep quarterback Brandon Wimbush committed to Penn State on Tuesday evening was tough to swallow for Ohio State.
cont...